British Police Fell Race
<![if !vml]>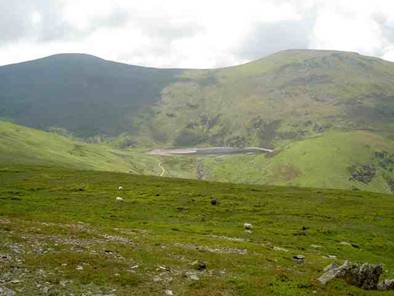 <![endif]>
Championships 2014
North Wales

2014 Final Results
The 2014 event will be hosted by North Wales Police on Wednesday 14 May 2014 starting at 1pm. The route will be about 8.5 miles with over 1000 metres of ascent. The main summit is Foel Fras with the start at Abergwyngregyn (just off the A55 8 miles before Bangor) Runners will pass the foot of the Aber falls on the way back to the finish.


Race Course
<![if !vml]>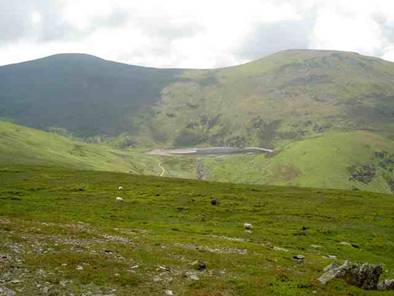 <![endif]>
<![if !vml]>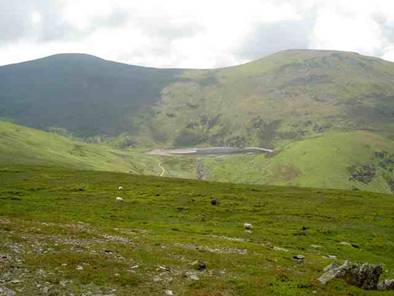 <![endif]>
<![if !vml]>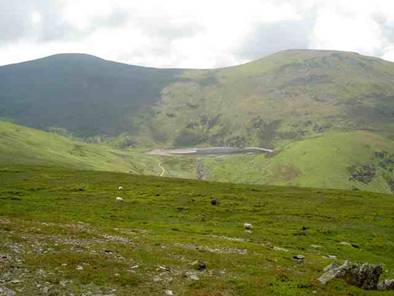 <![endif]>
<![if !vml]>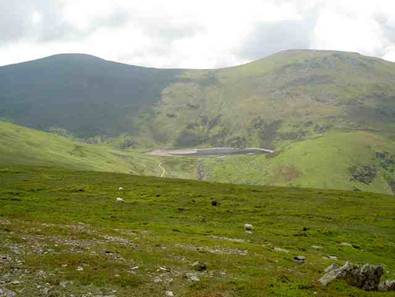 <![endif]>The course is a clockwise loop near to the famous Aber Falls. En route it visits the summit of Foel Fras (one of the 15 peaks in Wales over 3000' in height) and returns passing near to the falls.
The terrain is a mix of open fell, rocks and forestry. Navigational ability is essential. The distance is 8.5 miles with over 900 metres of ascent.

Race Venue, Race Registration and Presentation Venue

Registration will be at the Aber falls car park (GR 662719)
Race start at the parking area (GR675716) – this is a 20 minute walk from registration.
Presentation will be at the Split Willow Hotel, Penmaenmawr Road, Llanfairfechan LL33 0PA (10 minute drive from the finish)



Accommodation

As usual, there is no official accommodation provided. Competitors are asked to make their own arrangements. Bed and Breakfast and hotel accommodation can be found in the area.



Directions

Heading into North Wales pick up A55 following signs for Bangor/Holyhead.
Leave the A55 at junction 13, following the signs for 'Abergwyngregyn' and then the brown signs for 'Rhaeadr Aber' / 'Aber Falls'. (NB: the exit has a very short off slip)

Registration will be at the Aber Falls Car Park (GR 662719) - £2 pay and display
Race start is 1.5K UP steep minor road E of the car park (a 20 minute walk)
For presentation venue – return to A55 and pick up signs for Chester (initially L then R under the A55). After 2.7 miles take 2nd R at R.A.B. – venue will be on the L

Parking

Parking is available at the registration area (£2 pay and display)
Parking is also available at the presentation venue


Shower and Changing Facilities

As with most fell races there are no showers or changing facilities at the race venue but there are toilets at the car park.



Start

The start is a small parking area at (GR675716) – N.B. this is a 20 minute walk from registration


Map and Checkpoints

NB: The start is a 20 min walk away from registration.

Start: Parking area (GR675716)
CP1: Foel Ganol (GR 688715)
CP2: Carnedd y Ddelw (GR 707705)
CP3: Foel Fras (GR 696681)
CP4: Llwytmor (GR 689692)
CP5: Track Junction (GR 671709)
Finish: Car Park "Chicken Coop" (GR 663718)


Description

From the start follow the clear track N in the general direction of the pylons.
After path junction (GR676717) head E for saddle at 429m between Foel Dduarth and Foel Ganol (there is a feint track) and on to CP1
Follow broad ridge over Yr Orsedd – finding your own line down thereafter to broad track before climbing to pile of stones at summit of Carnedd y Ddelw (688m) CP2
Continue S along broad summit ridge to Drum (770m)
Descend same line on path at 720m before climbing alongside fence (later turning to stone wall) to CP3 at summit cairn of Foel Fras (terrain is rocky/boulder field)
Descend NW to plateau at 776m before climbing same line to CP4 at rocky summit of Llwytmor 849m (GR 689692)
Descend similar line to Llwytmor Bach 690m
Continue descending NW to stone wall at 500m (GR 675702)
Follow fire trail in long zig-zags descending to CP5 at track junction (GR 671709)
Follow fire trail/forestry paths to finish (GR 663718)

<![if !vml]>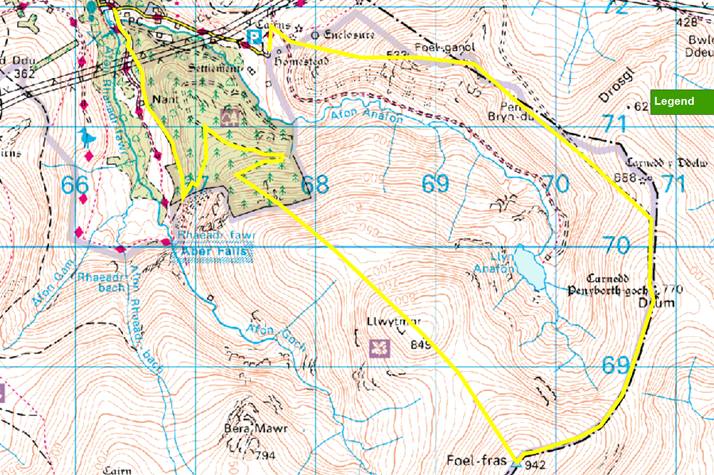 <![endif]>


Mapping

Printed A4 maps of the course will be provided. However, you still need to be able to navigate and this should not deter any competitor from taking such equipment as necessary to stay safe in the high mountains


Compulsory Kit Requirement

Competitors will need to carry the following equipment:-

1. Windproof top body cover
2. Map
3. Compass and Whistle
4. Suitable footwear for fell running
5. Waterproof full body cover (Only if poor weather conditions)

Each competitor should have navigational skills and be able to use a map and compass if required. Random kit checks will be carried out so please ensure you carry the required kit for the conditions. Any kit found missing will incur a time penalty.


Entry Field

The Championships are likely to attract between 50 and 70 runners from 20 UK police forces.


Registration and Pre-Race Briefing

Registration is at the Aber Falls Car Park (GR 662719) from 11.30 to 12.30pm. Race numbers and pins will be issued. A final pre-race briefing will take at 12.50 from the start. NB: Race start is a 20 minute walk from registration


Post Race Meal and Presentation of Trophies

A hot meal will be provided at the Split Willow Hotel, Llanfairfechan from 3.30pm. This will be followed by a formal presentation of trophies and prizes at approximately 4.00pm.


Trophies/Prizes

Men:

1st, 2nd and 3rd - Open
1st, 2nd and 3rd - Vet 40+
1st - Vet 45, Vet 50
1st, 2nd and 3rd Open Mixed Force Teams (First three to count including ladies)
1st - Veteran 40+ Mixed Team (First three to count)

Women:

1st, 2nd and 3rd - Open
1st - Vet 40+

NB. Additional prizes may be added subject to entry volume.


British Police Fell Race Entry

The entry fee will be £12.00. This fee covers the cost of the presentation buffet and the awards and prizes. A link to download the official entry form is below.


2014 Event Entry Form - Word Document

2014 Event Entry Form - Word Document

Qualification

Competitors must be fully paid members of their respective force sports clubs and be a police officer, police staff, retired police/police staff (in receipt of a police pension) or member of the special constabulary/police volunteers. (If in doubt please refer to the www.policesportuk.com website for a detailed definition) No guests are permitted.


Pre-Race Recognisance

There are no objections to teams or individuals reconnoitering the course.


Closing Date

The closing date is early May 2014 - There are no entry fee refunds but name substitutions to pre-paid entries will be allowed on the day.

Note: Late or on-day entries will be accepted from forces who have already submitted the bulk of their teams. Other late entries will be discretional with discussion with the event coordinator.


Entry Confirmation

All competitors will receive a confirmation of their entry and any late briefing information by email. If you are submitting block team entries then please ensure you include individual email on each entry form.

Please do not hesitate to contact me if you have any further questions or require any other information.

Vol 20785 Steve Broadbent
Police Sport UK Athletics Section – British Police Fell Race Coordinator

Mobile Tel: 07974 795466
Email: Steve Broadbent


Local Host/Contact

Dave Owens
David.owens@nthwales.pnn.police.uk
01745 539502
07919 228819
You may enter now:

2014 Event Entry Form - Word Document

2013 Event Links

2013 Final Results