British Police Fell Race




Championships 2018







Peak Distict - Wednesday 9 May 2018 - 1pm

Hosted by Cheshire Constabulary Athletics Club

Race located in the Goyt Valley on the Cheshire/Derbyshire border

Report and Results

Well done to everyone who took part! I am sure everyone will agree it was a great day, a great course that was challenging and offered some magnificent Derbyshire and Cheshire scenery.

Thank you to Malcolm Fowler and Claire Stanistreet and their team for organising a great 2018 venue.

We had 70 runners on the day with 19 Police Forces represented. There were 95 overall entries registered. Commiserations to Durham and Essex teams who were unable to attend on the day due to work commitments.

Derbyshire, on their home turf, took the 1st places in both men's and women's events with

Ian Phillips

winning the race in 01.04.28 and

Christine Howard

winning the ladies race in 01.30.52. However, hosts

Cheshire

were th first men and ladies teams.

Thank you to everyone who supported this event. It has achieved one of the highest numbers for some years which is very encouraging given the limitations on time off work.

The 2019 event will be hosted in North Wales - date and venue to be decided.

I will look forward to seeing you at the next event!!

Steve Broadbent - British Police Fell Race Co-ordinator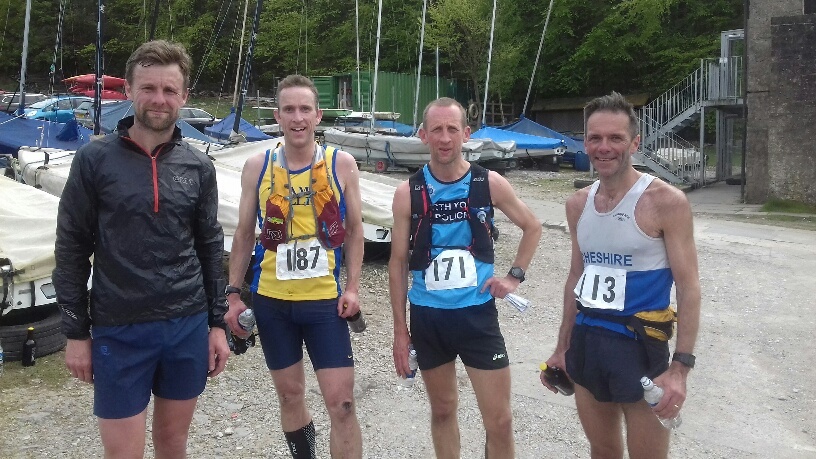 First four men to finish, Ian Phillips (Left – Derbyshire), 2nd Andrew Dobby (171 – North Yorkshire), 3rd Rob Grantham (113 - Cheshire) and 4th Colin Wood (187 - Thames Valley)
Overall Results

Pos

Race No.

Name

Surname

Force

Gender

Age

Time

1

134

Ian

Phillips

Derbyshire

M

V40

01:04:28

2

171

Andrew

Dobby

North Yorkshire

M

V45

01:08:31

3

113

Rob

Grantham

Cheshire

M

V45

01:11:07

4

187

Colin

Wood

Thames Valley

M

V40

01:13:05

5

115

Philip

Monks

Cheshire

M

01:13:55

6

117

Jack

Pilkington

Cheshire

M

01:14:00

7

128

Ross

Jenkin

Cumbria

M

01:14:54

8

131

Shaun

Bott

Derbyshire

M

01:16:06

9

170

Craig

Jones

North Wales

M

V45

01:16:32

10

116

Neil

Pettie

Cheshire

M

V45

01:17:00

11

172

Simon

Fricke

North Yorkshire

M

01:17:50

12

168

Neil

Coppack

North Wales

M

V45

01:18:08

13

148

Darren

Jones

Gloucestershire

M

V50

01:19:06

14

135

Karl

Webster

Derbyshire

M

V45

01:19:43

15

181

Chris

Meir

Staffordshire

M

V50

01:20:41

16

177

Tom

Smith

South Yorkshire

M

01:21:32

17

127

David

Banks

Cumbria

M

V50

01:22:30

18

163

Byron

Morgan

Lancashire

M

01:22:32

19

194

Don

Kenyon

North Wales

M

V45

01:24:19

20

130

John

Birkett

Derbyshire

M

V40

01:24:50

21

192

Tom

Prytherch

North Wales

M

V45

01:25:28

22

150

Dave

Wood

Gloucestershire

M

V50

01:25:29

23

107

Martin

Caldwell

Cheshire

M

V40

01:25:39

24

195

Tony

Harvey

North Wales

M

V40

01:26:00

25

180

Andrew

Maxfield

Staffordshire

M

V50

01:26:28

26

114

Simon

Mills

Cheshire

M

V40

01:26:43

27

102

Malcolm

Wright

BTP

M

V45

01:27:00

28

140

Darren

Brown

Dyfed-Powys

M

V45

01:27:33

29

105

Rob

Balfour

Cheshire

M

V45

01:27:41

30

179

Jay

Dale

Staffordshire

M

01:27:48

31

142

Marcus

Wright

Dyfed-Powys

M

V45

01:27:52

32

189

Bob

Salter

Wiltshire

M

V60

01:28:27

33

111

Dave

Edon

Cheshire

M

V50

01:28:37

34

125

Adrian

Martin

Cleveland

M

V55

01:29:05

35

183

Mark

Sharrock

Staffordshire

M

01:30:00

36

141

David

Steer

Dyfed-Powys

M

V50

01:30:15

37

154

Ronnie

Neilson

GMP

M

01:30:36

38

132

Christine

Howard

Derbyshire

F

V45

01:30:52

39

160

Janine

Fallon

Lancashire

F

V40

01:32:25

40

153

Gwyn

Dodd

GMP

M

01:33:06

41

152

Gary

Corns

GMP

M

01:33:07

42

149

Ashley

Shingler

Gloucestershire

M

01:33:20

43

129

Richard

Unwin

Cumbria

M

V60

01:34:14

44

169

Bob

Hind

North Wales

M

V60

01:34:30

45

133

Andy

MacAlister

Derbyshire

M

V45

01:35:34

46

193

Iwan

Jones

North Wales

M

V65

01:36:27

47

188

Rachel

Crossland

West Yorkshire

F

01:36:42

48

182

Nia

Nokes

Staffordshire

F

01:37:24

49

191

Andy

Collings

Metropolitan

M

V50

01:38:40

50

185

Michael

Hanson

Sussex

M

V50

01:39:40

51

118

Victoria

Reid-Kehoe

Cheshire

F

V45

01:40:06

52

155

Steve

Quinn

GMP

M

V40

01:40:30

53

147

Chris

Hanson

Gloucestershire

M

V45

01:41:00

54

190

Gareth

Jaggard

North Wales

M

01:41:48

55

106

Lance

Ball

Cheshire

M

V45

01:47:25

56

178

Carl

Callear

Staffordshire

M

V40

01:47:40

57

162

Laura

Lawler

Lancashire

F

V45

01:48:00

58

120

Patricia

Van Rooyen

Cheshire

F

V45

01:48:30

59

108

Martin

Campbell

Cheshire

M

01:49:25

60

157

Trevor

Taylor

Hampshire

M

V45

01:49:26

61

174

Lauren

Shuttleworth

North Yorkshire

F

01:55:56

62

156

Aiden

Blackwell

Hampshire

M

01:58:38

63

186

Lisa

Sammons

Thames Valley

F

01:59:28

64

159

Phil

Corris

Lancashire

M

V60

02:04:15

65

173

Jill

Rawson

North Yorkshire

F

V35

02:11:45

66

175

Kendra

Wedgwood

North Yorkshire

F

V35

02:11:45

67

104

Lesley

Anderson

Cheshire

F

V45

02:11:46

68

123

Dave

Jones

Cheshire - Guest

M

V40

01:25:00

69

126

Shelly

Gordon

Cleveland - Guest

F

V35

01:25:36

70

124

Cath

Kirwan

Cheshire - Guest

F

V40

02:11:46

71

158

Steve

Broadbent

Lancashire

M

V50

ORG

72

112

Malcolm

Fowler

Cheshire

M

V55

ORG

73

Dave

Wood

GMP

M

V45

ORG

74

119

Claire

Stanistreet

Cheshire

F

ORG

75

Dave

Young

Cheshire

M

V55

ORG

76

101

Ian

Mawdesley

Bedfordshire

M

DNS

77

103

Adam

Alexander

Cheshire

M

DNS

78

109

Lindsay

Chamberlain

Cheshire

F

V45

DNS

79

110

Andy

Doran

Cheshire

M

V45

DNS

80

121

Darren

Varley

Cheshire

M

V40

DNS

81

122

Ryan

Willis

Cheshire

M

V40

DNS

82

127

Simon

Gray

Cumbria

M

DNS

83

136

Ian

Blakemore

Durham

M

V40

DNS

84

137

Ian

Leach

Durham

M

V40

DNS

85

138

Sam

Oliver

Durham

M

DNS

86

139

Neil

Robinson

Durham

M

V45

DNS

87

143

Deborah

Cubberley

Essex

F

V40

DNS

88

144

Paul

Hollidge

Essex

M

V45

DNS

89

145

Paul

Ross

Essex

M

DNS

90

146

Alexandra

Warchol

Essex

F

DNS

91

151

Daniel

Appleby

GMP

M

DNS

92

161

Nikki

Kay

Lancashire

F

DNS

93

164

Will

Nelson

Lancashire

M

DNS

94

165

Arran

Sayle

Lancashire

M

V40

DNS

95

166

Tom

Smith

Lancashire

M

DNS

96

167

Richard

Winstanley

NCA

M

DNS

97

176

Jon

Marshall

Lancashire

M

DNS

98

184

Karl

Tyson

Staffordshire

M

V50

DNS
Men's Results

Pos

Race No.

Name

Surname

Force

Gender

Age

Time

1

134

Ian

Phillips

Derbyshire

M

V40

01:04:28

2

171

Andrew

Dobby

North Yorkshire

M

V45

01:08:31

3

113

Rob

Grantham

Cheshire

M

V45

01:11:07

4

187

Colin

Wood

Thames Valley

M

V40

01:13:05

5

115

Philip

Monks

Cheshire

M

01:13:55

6

117

Jack

Pilkington

Cheshire

M

01:14:00

7

128

Ross

Jenkin

Cumbria

M

01:14:54

8

131

Shaun

Bott

Derbyshire

M

01:16:06

9

170

Craig

Jones

North Wales

M

V45

01:16:32

10

116

Neil

Pettie

Cheshire

M

V45

01:17:00

11

172

Simon

Fricke

North Yorkshire

M

01:17:50

12

168

Neil

Coppack

North Wales

M

V45

01:18:08

13

148

Darren

Jones

Gloucestershire

M

V50

01:19:06

14

135

Karl

Webster

Derbyshire

M

V45

01:19:43

15

181

Chris

Meir

Staffordshire

M

V50

01:20:41

16

177

Tom

Smith

South Yorkshire

M

01:21:32

17

127

David

Banks

Cumbria

M

V50

01:22:30

18

163

Byron

Morgan

Lancashire

M

01:22:32

19

194

Don

Kenyon

North Wales

M

V45

01:24:19

20

130

John

Birkett

Derbyshire

M

V40

01:24:50

21

192

Tom

Prytherch

North Wales

M

V45

01:25:28

22

150

Dave

Wood

Gloucestershire

M

V50

01:25:29

23

107

Martin

Caldwell

Cheshire

M

V40

01:25:39

24

195

Tony

Harvey

North Wales

M

V40

01:26:00

25

180

Andrew

Maxfield

Staffordshire

M

V50

01:26:28

26

114

Simon

Mills

Cheshire

M

V40

01:26:43

27

102

Malcolm

Wright

BTP

M

V45

01:27:00

28

140

Darren

Brown

Dyfed-Powys

M

V45

01:27:33

29

105

Rob

Balfour

Cheshire

M

V45

01:27:41

30

179

Jay

Dale

Staffordshire

M

01:27:48

31

142

Marcus

Wright

Dyfed-Powys

M

V45

01:27:52

32

189

Bob

Salter

Wiltshire

M

V60

01:28:27

33

111

Dave

Edon

Cheshire

M

V50

01:28:37

34

125

Adrian

Martin

Cleveland

M

V55

01:29:05

35

183

Mark

Sharrock

Staffordshire

M

01:30:00

36

141

David

Steer

Dyfed-Powys

M

V50

01:30:15

37

154

Ronnie

Neilson

GMP

M

01:30:36

38

153

Gwyn

Dodd

GMP

M

01:33:06

39

152

Gary

Corns

GMP

M

01:33:07

40

149

Ashley

Shingler

Gloucestershire

M

01:33:20

41

129

Richard

Unwin

Cumbria

M

V60

01:34:14

42

169

Bob

Hind

North Wales

M

V60

01:34:30

43

133

Andy

MacAlister

Derbyshire

M

V45

01:35:34

44

193

Iwan

Jones

North Wales

M

V65

01:36:27

45

191

Andy

Collings

Metropolitan

M

V50

01:38:40

46

185

Michael

Hanson

Sussex

M

V50

01:39:40

47

155

Steve

Quinn

GMP

M

V40

01:40:30

48

147

Chris

Hanson

Gloucestershire

M

V45

01:41:00

49

190

Gareth

Jaggard

North Wales

M

01:41:48

50

106

Lance

Ball

Cheshire

M

V45

01:47:25

51

178

Carl

Callear

Staffordshire

M

V40

01:47:40

52

108

Martin

Campbell

Cheshire

M

01:49:25

53

157

Trevor

Taylor

Hampshire

M

V45

01:49:26

54

156

Aiden

Blackwell

Hampshire

M

01:58:38

55

159

Phil

Corris

Lancashire

M

V60

02:04:15

Women's Results

Pos

Race No.

Name

Surname

Force

Gender

Age

Time

1

132

Christine

Howard

Derbyshire

F

V45

01:30:52

2

160

Janine

Fallon

Lancashire

F

V40

01:32:25

3

188

Rachel

Crossland

West Yorkshire

F

01:36:42

4

182

Nia

Nokes

Staffordshire

F

01:37:24

5

118

Victoria

Reid-Kehoe

Cheshire

F

V45

01:40:06

6

162

Laura

Lawler

Lancashire

F

V45

01:48:00

7

120

Patricia

Van Rooyen

Cheshire

F

V45

01:48:30

8

174

Lauren

Shuttleworth

North Yorkshire

F

01:55:56

9

186

Lisa

Sammons

Thames Valley

F

01:59:28

10

173

Jill

Rawson

North Yorkshire

F

V35

02:11:45

11

175

Kendra

Wedgwood

North Yorkshire

F

V35

02:11:45

12

104

Lesley

Anderson

Cheshire

F

V45

02:11:46
Teams

Men

Pos.

Force

1

2

3

Points

1

Cheshire

3

5

6

14

2

Derbyshire

1

8

14

23

3

North Wales

9

12

19

40

4

Cumbria

7

17

41

65

5

Staffordshire

15

25

30

70

6

Gloucestershire

13

22

40

75

7

Dyfed-Powys

28

31

36

95

8

GMP

37

38

39

114

9

North Yorkshire

2

11

56

69

10

Lancashire

18

55

56

129

11

Hampshire

53

54

56

163

12

Thames Valley

4

56

56

116

13

South Yorkshire

16

56

56

128

14

BTP

27

56

56

139

15

Wiltshire

32

56

56

144

16

Cleveland

34

56

56

146

17

Sussex

46

56

56

158

18

Essex

56

56

56

168

19

NCA

56

56

56

168

Women

Pos.

Force

1

2

3

Points

1

Cheshire

5

7

12

24

2

North Yorkshire

8

10

12

30

3

Lancashire

2

6

13

21

4

Derbyshire

1

13

13

27

5

West Yorkshire

3

13

13

29

6

Staffordshire

4

13

13

30

7

Thames Valley

9

13

13

35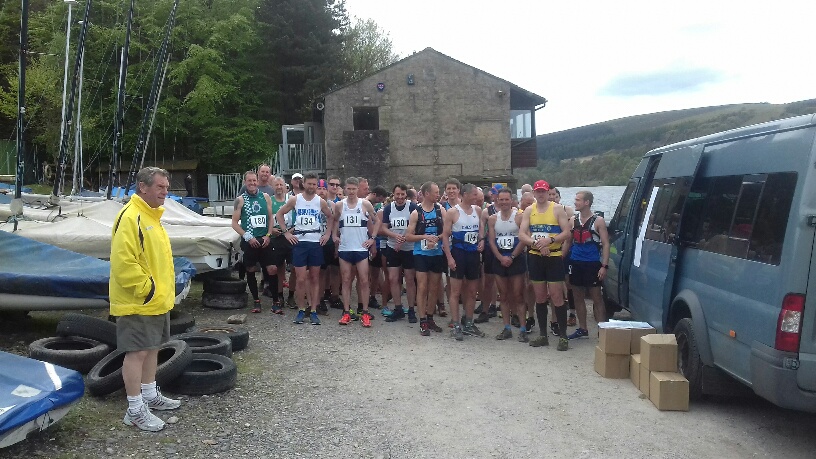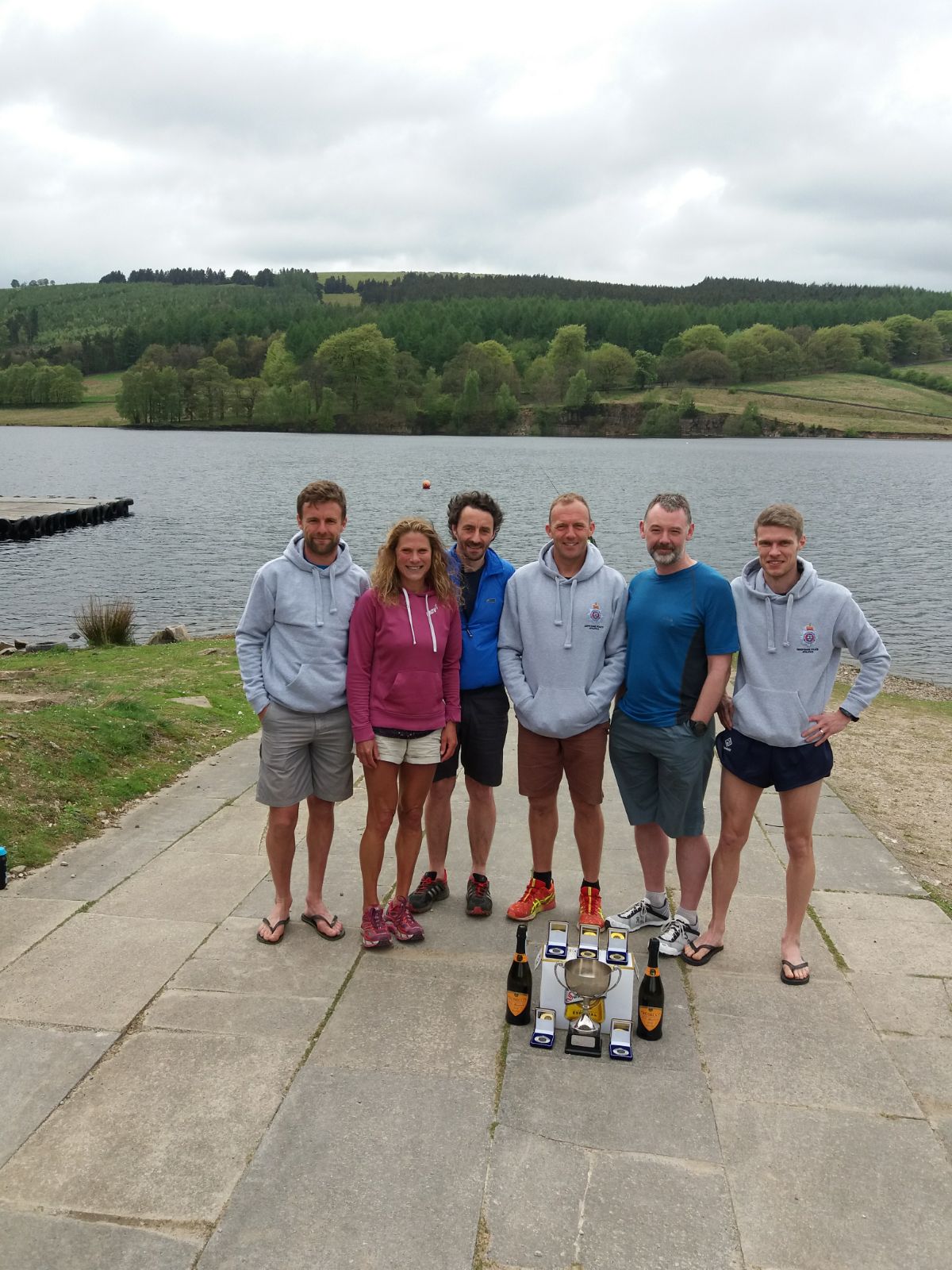 The Derbyshire Team present their well earned trophies!


Race Course




The course over some rather interesting, Peak District fell moorland. The distance will be circa 10 miles. Full description below.

Race Venue, Race Registration and Presentation Venue
Registration and the race start and finish will take place at the Errwood Reservoir Sailing Club.


Accommodation
As usual, there is no official accommodation provided. Competitors are asked to make their own arrangements. Bed and Breakfast and hotel accommodation can also be found in the area.


Directions

Address: Errwood Reservoir, Sandy Ln, Buxton SK17 6GJ
Phone: 01298 25641

Parking
At the Club


Shower and Changing Facilities
There are showers, changing rooms and toilets provided.

Start List - We had 95 confirmed entries for 2018 - We will still allow EOD or substitutions for teams already entered


Start
At 1pm.


Map (A revised map showing the CP's will be updated soon)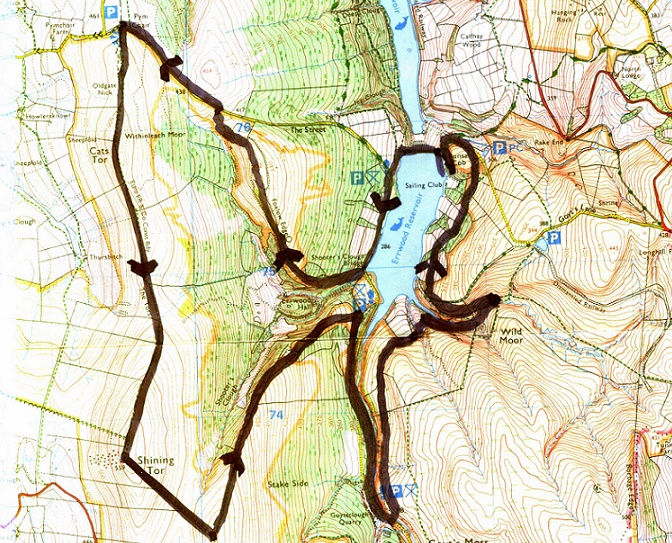 Description
Due to the bird nesting season we have agreed the route will stick to designated rights of way. Hence the route description looks complicated. But this is to keep you on the path rather than trying to find a shortcut across the grouse moor!

There will be marshals at the road crossings. But they won't be expected to stop traffic. The roads are quiet midweek. But take care crossing the road.
It is all on obvious footpaths so relatively easy to navigate but some tape and flags will be used at any path junctions where it might help.

Malcolm Fowler is organising the race route - Please feel free to contact him with any questions:malcolm.a.fowler@btinternet.com
Start

018756 Errwood Sailing Club

Follow road across reservoir dam and south to....

CP 1

013750 Shooters Clough Bridge

Turn right on path immediately before bridge to....

CP 2

004756 Foxlow Edge Summit

Follow Path to....

CP 3

004761 Path/Road junction

Cross the road and uphill on the grass path at the side of road. Please do not run on the road.

CP 4

996767 Path/Road junction at Pym Chair

Cross the road and follow the path south along the ridge over Cats Tor to.....

CP 5

995737 Shining Tor Trig Point

Continue following path to.....

CP 6

001732 Path junction

Follow the path downhill to.....

CP 7

012747 Path Junction

Turn right following the path south and across the road at....

CP 8

011741 Path/Road junction

Continue following the path south and then steeply uphill to join the road. Run south along road
for approx 300 metres past GoytsClough Quarry. Descend on footpath to....

CP 9

013733 Footbridge

ake footpath north heading towards Errwood Reservoir. Keep following footpath to....

CP 10

020747 Footbridge

Follow footpath initially West and then North to.....

CP 11

020757 Path/Road junction at Bunsall Cob

Follow road downhill to.....

Finish

018756 Errwood Sailing Club

Mapping
An A4 colour copy with route and description will be provided. It is recommended you purchase an original OS Map (OL24 Explorer Leisure) for better clarity.


Compulsory Kit Requirement
Competitors will need to carry the following equipment:-
1. Windproof top body cover
2. Copy Map (Provided)
3. Compass and Whistle
4. Suitable footwear for fell running
5. Waterproof full body cover (Only if poor weather conditions)
Each competitor should have navigational skills and be able to use a map and compass if required. Random kit checks will be carried out so please ensure you carry the required kit for the conditions. Any kit found missing will incur a time penalty. Those without the required kit will not be allowed to compete.


Entry Field
Pre-entry is required though late, EOD or substitution is still an option for additional force team members.

Registration and Pre-Race Briefing
Registration from 11am - Pre-Race briefing at 12.50pm.


Post Race Meal and Presentation of Trophies
A hot meal will be provided from 3pm. This will be followed by a formal presentation of trophies and prizes at approximately 3.30pm.

Trophies/Prizes

Men:

1st, 2nd and 3rd - Open
1st, 2nd and 3rd - Vet 40+
1st - Vet 45+, Vet 50+, Vet 55+, Vet 60+
1st, 2nd and 3rd Open Force Men's Teams (3 to count)

Women:

1st, 2nd and 3rd - Open
1st, 2nd and 3rd - Vet 40+
1st - Women's Team (3 to count)

British Police Fell Race Entry
The entry fee will be £12.00. This fee covers the cost of the presentation buffet and the awards and prizes. A link to download the official entry form is below.


2018 Event Entry Form - Word Document

Qualification
Competitors must be fully paid members of their respective force sports clubs and be a police officer, police staff, retired police/police staff (in receipt of a police pension) or member of the special constabulary/police volunteers.

Guests are permitted on special request.

Pre-Race Recognizance

There are no objections to teams or individuals reconnoitering the course.


Closing Date
The closing date is 1 May - Late entries or EOD and substitutions are acceptable to forces who have already pre-entered some runners. Please email me to discuss. Sorry, there are no entry fee refunds but named substitutions to pre-paid entries will be allowed on the day.

Entry Confirmation
All competitors will receive a confirmation of their entry and any late briefing information by email. If you are submitting block team entries then please ensure you include individual email on each entry form.
Please do not hesitate to contact me if you have any further questions or require any other information.

Vol 20785 Steve Broadbent
Police Sport UK Athletics Section – British Police Fell Race Coordinator
Mobile Tel: 07974 795466
Email: steve@policesport.net

Contact

Steve Broadbent - Lancashire Police Email: steve@policesport.org

You may enter now:

2018 Event Entry Form - Word Document

Past Event Links

2017 Final Results

2016 Final Results

2015 Final Results