31st British Police Fell Race
Championships 2021
Hosted by Gloucestershire Police Athletics Club
From Winchcombe, Cotswolds, Gloucestershire
Wednesday 22 September 2021 - Starting at 1.30pm

Individual Results - Below

Team Results and Race Report - To Follow

| | | | | | | | | | |
| --- | --- | --- | --- | --- | --- | --- | --- | --- | --- |
| Pos | Race No. | Forename | Surname | Sex | Age | Cat | Force | Time | Comment |
| 1 | 15 | Shaun | Bott | Male | 38 | Open Male | Derbyshire Constabulary | 01:16:52 | 1st Male Open |
| 2 | 10 | Malcolm | Fowler | Male | 58 | MV55 | Cheshire Constabulary | 01:20:04 | 2nd Male Open |
| 3 | 19 | Karl | Webster | Male | 51 | MV50 | Derbyshire Constabulary | 01:22:34 | 3rd Male Open |
| 4 | 42 | Dan | Robberts | Male | 40 | MV40 | Leicestershire Police | 01:22:57 | 1st Male Vet 40 |
| 5 | 53 | Tim | Wright | Male | 51 | MV50 | National Crime Agency | 01:24:21 | 1st Male Vet 50 |
| 6 | 27 | Roy | Jones | Male | 52 | MV50 | Gloucestershire Constabulary | 01:28:15 | 2nd Male Vet 50 |
| 7 | 3 | Adam | Harris | Male | 31 | Open Male | Bedfordshire Police | 01:28:58 | 1st Male Under 40 |
| 8 | 67 | Colin | Mattinson | Male | 47 | MV45 | Staffordshire Police | 01:29:54 | 1st Male Vet 45 |
| 9 | 2 | Dan | Foster | Male | 28 | Open Male | Bedfordshire Police | 01:30:04 | 2nd Male Under 40 |
| 10 | 21 | Philip | Bussy | Male | 41 | MV40 | Essex Police | 01:30:18 | 2nd Male Vet 40 |
| 11 | 65 | Joel | Callear | Male | 18 | Open Male | Staffordshire Police | 01:32:11 | |
| 12 | 71 | Paul | Baker | Male | 44 | MV40 | West Midlands Police | 01:33:31 | 3rd Male Vet 40 |
| 13 | 60 | Stephen | Rivers | Male | 52 | MV50 | North Yorkshire Police | 01:33:48 | |
| 14 | 70 | Paul | Slaymaker | Male | 40 | MV40 | West Mercia Police | 01:34:03 | |
| 15 | 22 | Tobias | Kemp | Male | 39 | Open Male | Essex Police | 01:34:33 | |
| 16 | 4 | Ian | Mawdesley | Male | 42 | MV40 | Bedfordshire Police | 01:34:40 | |
| 17 | 16 | Steve | Bruce | Male | 37 | Open Male | Derbyshire Constabulary | 01:35:26 | |
| 18 | 34 | John | Luck | Male | 59 | MV55 | Hertfordshire Constabulary | 01:35:33 | 1st Male Vet 55 |
| 19 | 50 | Amelia | Tearle | Female | 29 | Open Female | Metropolitan Police Service | 01:36:17 | 1st Open Lady |
| 20 | 84 | Stuart | Dudfield | Male | 51 | MV50 | Gloucestershire Constabulary | 01:37:24 | |
| 21 | 76 | Jonathan | Pittard | Male | 46 | MV45 | Wiltshire Police | 01:37:50 | 2nd Male Vet 45 |
| 22 | 46 | Kevin | Concannon | Male | 64 | MV60 | Metropolitan Police Service | 01:37:53 | 1st Male Vet 60 |
| 23 | 77 | Kiersty | Rose | Female | 34 | Open Female | Wiltshire Police | 01:38:05 | 2nd Open Lady |
| 24 | 9 | Martin | Caldwell | Male | 46 | MV45 | Cheshire Constabulary | 01:38:26 | |
| 25 | 51 | Mark | Freeman | Male | 39 | Open Male | National Crime Agency | 01:40:52 | |
| 26 | 57 | Iwan P G | Jones | Male | 68 | MV65 | North Wales Police | 01:41:24 | 1st Male Vet 65 |
| 27 | 43 | Roderick | Smart | Male | 54 | MV50 | Leicestershire Police | 01:41:27 | |
| 28 | 31 | Gary | Corns | Male | 42 | MV40 | Greater Manchester Police | 01:41:32 | |
| 29 | 61 | Thomas | Haworth | Male | 29 | Open Male | Metropolitan Police Service | 01:41:50 | |
| 30 | 68 | Robert | Jones | Male | 47 | MV45 | Suffolk Constabulary | 01:42:24 | |
| 31 | 54 | Michelle | Farrell | Female | 40 | FV40 | North Wales Police | 01:42:32 | 1st Lady Vet 40 |
| 32 | 55 | Bob | Hind | Male | 68 | MV65 | North Wales Police | 01:42:35 | 2nd Male Vet 65 |
| 33 | 85 | Andy | Collings | Male | 54 | MV50 | Metropolitan Police Service | 01:48:15 | |
| 34 | 72 | Jonathan | Beard | Male | 45 | MV45 | West Midlands Police | 01:48:59 | |
| 35 | 69 | Colin | Wood | Male | 46 | MV45 | Thames Valley Police | 01:50:59 | |
| 36 | 36 | Veronica | Singleton-Lawley | Female | 61 | FV60 | Hertfordshire Constabulary | 01:51:29 | 1st Lady Vet 60 |
| 37 | 20 | Martin | Slevin | Male | 58 | MV55 | Dyfed-Powys Police | 01:52:02 | 2nd Male Vet 55 |
| 38 | 73 | Andy | Carnall | Male | 52 | MV50 | West Midlands Police | 01:52:27 | |
| 39 | 82 | Jeff | Lloyd | Male | 50 | MV50 | Gloucestershire Constabulary | 01:53:08 | |
| 40 | 25 | Simon | Costello-Byrne | Male | 54 | MV50 | Gloucestershire Constabulary | 01:54:09 | |
| 41 | 75 | Lee | Kuklinski | Male | 41 | MV40 | Wiltshire Police | 01:54:32 | |
| 42 | 23 | Scott | Smith | Male | 41 | MV40 | Essex Police | 01:55:20 | |
| 43 | 26 | Lindsey | Goodrum | Female | 36 | Open Female | Gloucestershire Constabulary | 01:57:06 | 3rd Open Lady |
| 44 | 39 | Laura | Lawler | Female | 53 | FV50 | Lancashire Constabulary | 01:58:04 | 1st Lady Vet 50 |
| 45 | 79 | Gemma | Sole | Female | 37 | FV40 | Wiltshire Police | 01:58:28 | 2nd Lady Vet 40 |
| 46 | 44 | Tara | Tomson | Female | 33 | Open Female | Leicestershire Police | 01:58:38 | |
| 47 | 74 | Chris | Hanson | Male | 49 | MV45 | Wiltshire Police | 01:59:16 | |
| 48 | 48 | Sarah | Green | Female | 41 | FV40 | Metropolitan Police Service | 01:59:39 | 3rd Lady Vet 40 |
| 49 | 11 | Vicky | Kehoe | Female | 49 | FV45 | Cheshire Constabulary | 02:00:13 | 1st Lady Vet 45 |
| 50 | 45 | Martin | Wood | Male | 63 | MV60 | Lincolnshire Police | 02:00:30 | 2nd Male Vet 60 |
| 51 | 6 | Andy | Parsons | Male | 55 | MV55 | Bedfordshire Police | 02:01:05 | |
| 52 | 28 | Tandi | Pearce | Female | 46 | FV45 | Gloucestershire Constabulary | 02:01:27 | 2nd Lady Vet 45 |
| 53 | 5 | Baz | Omo | Male | 46 | MV45 | Bedfordshire Police | 02:01:55 | |
| 54 | 81 | Tina | Willison | Female | 50 | FV50 | Wiltshire Police | 02:05:22 | 2nd Lady Vet 50 |
| 55 | 64 | Carl | Callear | Male | 47 | MV45 | Staffordshire Police | 02:06:51 | |
| 56 | 13 | Anna | Moore | Female | 38 | Open Female | Cheshire Constabulary | 02:35:11 | |
| 57 | 12 | Deborah | Lack | Female | 42 | FV40 | Cheshire Constabulary | 02:35:12 | |
| 58 | 7 | Jessica | Barlow | Female | 39 | Open Female | Cheshire Constabulary | 02:35:13 | |
| 59 | 35 | Carina | Quayle | Female | 62 | FV60 | Hertfordshire Constabulary | 02:35:14 | 2nd Lady Vet 60 |
| 60 | 58 | Kate | Aspey | Female | 49 | FV45 | North Yorkshire Police | 02:36:25 | |
| 61 | 33 | Peter | Lawley | Male | 62 | MV60 | Hertfordshire Constabulary | 02:44:59 | 3rd Male Vet 60 |
| 62 | 24 | Rob | Teather | Male | 36 | Open Male | Essex Police | 03:02:58 | |
| 63 | 32 | Shannon | Davies | Female | 45 | FV45 | Greater Manchester Police | 03:04:10 | |
| 64 | 37 | Steve | Broadbent | Male | 62 | MV60 | Lancashire Constabulary | A-Organiser | |
| 65 | 30 | Ashley | Shingler | Male | 50 | MV50 | Gloucestershire Constabulary | B-Organiser | |
| 66 | 83 | Dave | Wood | Male | 57 | MV55 | Gloucestershire Constabulary | C-Marshal | |
| 67 | 38 | Michael | Horne | Male | 65 | MV65 | Lancashire Constabulary | C-Rear Flag Collector | |
| 68 | 1 | Rob | Clough | Male | 50 | MV50 | Bedfordshire Police | DNS | |
| 69 | 8 | Mel | Beamish | Female | 37 | Open Female | Cheshire Constabulary | DNS | |
| 70 | 14 | Ciara | Murphy | Female | 46 | FV45 | Cheshire Constabulary | DNS | |
| 71 | 17 | Christine | Howard | Female | 50 | FV50 | Derbyshire Constabulary | DNS | |
| 72 | 18 | Rob | Nicholls | Male | 38 | Open Male | Derbyshire Constabulary | DNS | |
| 73 | 29 | James | Pearce | Male | 40 | MV40 | Gloucestershire Constabulary | DNS | |
| 74 | 40 | Dennis | Nelson | Male | 57 | MV55 | Lancashire Constabulary | DNS | |
| 75 | 41 | Mark | Porter | Male | 58 | MV55 | Lancashire Constabulary | DNS | |
| 76 | 47 | Rich | Essl | Male | 53 | MV50 | Metropolitan Police Service | DNS | |
| 77 | 49 | Paul | Hollis | Male | 48 | MV45 | Metropolitan Police Service | DNS | |
| 78 | 52 | Laura | Reilly | Female | 25 | Open Female | National Crime Agency | DNS | |
| 79 | 56 | Craig | Jones | Male | 51 | MV50 | North Wales Police | DNS | |
| 80 | 59 | Simon | Fricke | Male | 41 | MV40 | North Yorkshire Police | DNS | |
| 81 | 62 | Andy | Lakeland | Male | 49 | MV45 | South Yorkshire Police | DNS | |
| 82 | 63 | Thomas | Smith | Male | 37 | Open Male | South Yorkshire Police | DNS | |
| 83 | 66 | John | Harrison | Male | 51 | MV50 | Staffordshire Police | DNS | |
| 84 | 78 | Bob | Salter | Male | 64 | MV60 | Wiltshire Police | DNS | |
| 85 | 80 | Stuart | Welch | Male | 40 | MV40 | Wiltshire Police | DNS | |
News Latest - Monday 20th September

Entries are still open but are filling up quickly.
The event is still planned to go ahead as arranged. We currently have 81 confirmed entries representing 24 UK Police Forces - start list below....
The Course Map and Grid References are posted. The six CP's will be kite marked ...see below

The course will now be waymarked with flags but competitors must still carry the map provided and required kit plus have navigational skills.

We have extended the cut-off times to 5.30pm. We would like to encourage novice runners and walkers who may want to complete the event as a 'Challenge' rather than a 'Race'.

Entries limited to 90 - Enter by clicking on the below link....
Click here to enter:

After a one-year break we are still hoping to stage the race in the Cotswolds in Gloucestershire. We always like to try and offer a different 'off the beaten track' venue each year so hopefully Gloucestershire has some interesting and different fell terrain to offer.

Race Course
The distance will be circa 9 - 10 miles/1600 feets ascent. It will traverse the North West Cotwolds..

Race Venue, Race Registration and Presentation Venue
Registration and the race start and finish will take place at the Winchcombe Cricket Club, Corndean Lane, Winchcombe, Gloucestershire. GL54 5NL.

Accommodation
As usual, there is no official accommodation provided. Competitors are asked to make their own arrangements. Bed and Breakfast and hotel accommodation can be found in the area by going to the local tourist information on-line.

Directions
Sat Nav: GL54 5NL

Parking
At the Cricket Club

Shower and Changing Facilities

T

here are toilets provided with some shower and changing facilities at the Club House.

Start List
We currently have 81 entries representing 24 UK Police Forces.

Start
At 1.30pm.

Map and Course
The course will be way-marked with pink and yellow flags left at intervals. Significant turns will also be maked with signs and cones. This is to ensure everyone runs the same course and does not get lost. This said, all competitors must still carry the map provided and be prepared to navigate themselves should flags go missing.

All Checkpoints will be identified with an Orienteering Kite that will have a punch code that competitors need to punch their race number in sequence.
Some checkpoints will be also manned with a race marshal.

British Police Fell Race 2021 - Cotswolds

90 Field

9.5 Miles/15.5 KM - 1600 Feet/490 metres

1.30pm Start

Location

Description

Grid Ref

Start

Winchcombe Cricket Club

019268

CP1

Belas Knap

021255

CP2

Upper Mill Lane

990247

CP3

Cleeve Hill

986265

CP4

Postlip Corner - Cotswold Way

998266

CP5

Woodpeckers/Lornedean Lane - Cotswold Way

008263

CP6

Onto Track - Cotswold Way

012250

Finish

Winchcombe Cricket Club

019270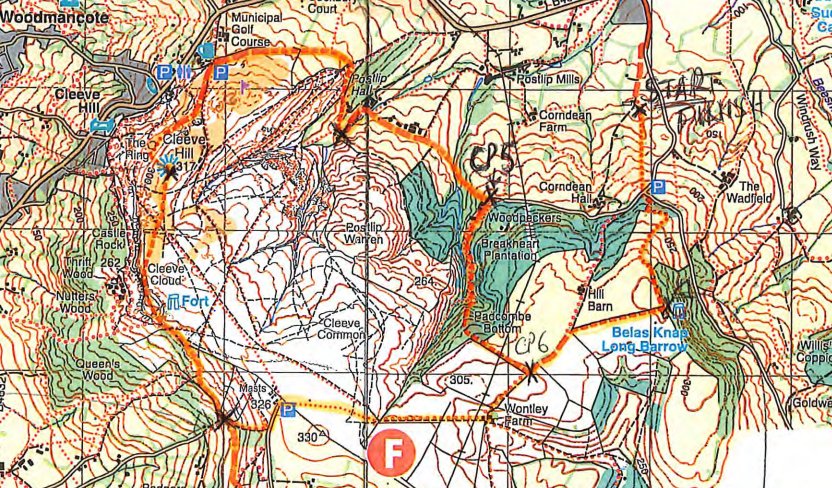 Elevation Profile
Profile shows 10.8 miles but actual course will be 9.5 to 10 miles.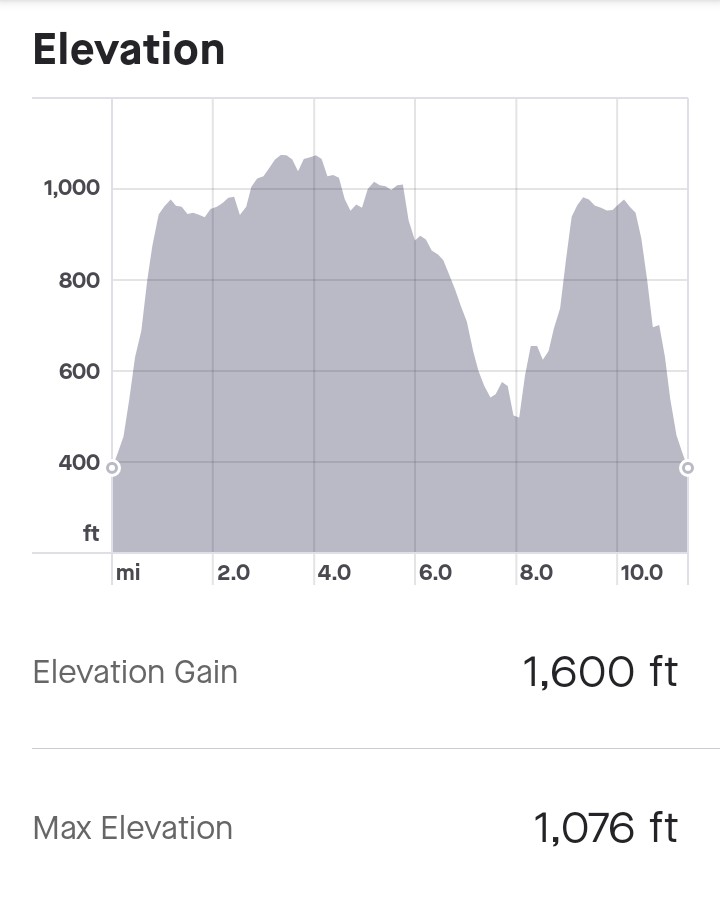 Portable Sat Nav Devices
Sat Nav devices are permitted in this event but maps should still be carried.

Route Description
The course is 9.5 miles and 1600 feet ascent. Fairly easy to navigate in good weather but in poor conditions be prepared to navigate! The course traverses parts of the scenic Cotswold Way route.

Check-Points and Waymarks

There will be check point markers at each of the six points and some will be manned. The course will now be waymaked but navigation skills are still required and all competitors must carry a map and compass. Copy maps will be provided to every competitor..


Novice Runners or Walking Challenge
We would like to encourage novice runners or walkers to take part in these races. Though the event is traditionally a 'race' it can also be titled as a 'Challenge' and can be run/walked at a progressive pace.

The cut-off time is 4 hours or 5.30pm. This would make it attractive to athletes wishing to complete the course at a steady but progressive pace.



Note:

The Prize presentation will take place around 4.00pm so likely that walkers will miss the presentation but refreshments and finishing memento will be still available when you finsih.


Mapping
An A4 colour copy with route and description will be provided. It is recommended you purchase an original OS Map for better clarity.

Compulsory Kit Requirement
Competitors will need to carry the following equipment:-
1. Windproof top body cover
2. Copy Map (Provided)
3. Compass and Whistle
4. Suitable footwear for fell running
5. Waterproof full body cover (Only if poor weather conditions)
Each competitor should have navigational skills and be able to use a map and compass if required. Random kit checks will be carried out so please ensure you carry the required kit for the conditions. Any kit found missing will incur a time penalty. Those without the required kit will not be allowed to compete.

Entry Field
Entry limit is 90. Pre-entry is required, though late, EOD or substitution is still an option for forces who have already entered a team before the closing date.

Registration and Pre-Race Briefing
Registration from 11am at the Cricket Club - Pre-Race briefing at 1.20pm.

Post Race Meal and Presentation of Trophies
Light refreshments will be provided from 3.00pm at the Cricket Club. This will be followed by a formal presentation of trophies and prizes at approximately at 4pm.
Note: Cut-off time is 5pm so runners/walkers who do not finish by 3.30pm will still recieve a finishing memento and the light refreshments will still be available.


Trophies/Prizes
Men:
1st, 2nd and 3rd - Open
1st, 2nd and 3rd - Vet 40+
1st - Vet 45-49, Vet 50-54, Vet 55-59, Vet 60-64, Vet 65-69
1st, 2nd and 3rd Open Force Male or Mixed Teams (3 to count) (Lady may be included at 2nd or 3rd counter)

Women:
1st, 2nd and 3rd - Open
1st, 2nd and 3rd - Vet 40+
1st - Vet 45-49, Vet 50-54, Vet 55-59, Vet 60-64, Vet 65-69

1st - Women's Team (3 to count)
NB: Under FRA Rules the Veteran age is 40+ for both men and women.

British Police Fell Race Entry

E

ntry fee will be £16.00. This fee covers the cost of the the awards, prizes, race memento and general organising costs.

Post-Race Presentation light refreshments is included in this cost.

Enter
We are using entry through Book It Zone again. The company a reputable on-line booking service.
Click here to enter:


Facebook
The British Police Fell Race is now on Facebook - Join here:
https://www.facebook.com/groups/2237701033168743/

Qualification
Competitors must be fully paid members of their respective force sports clubs and be a police officer, police staff, retired police/police staff (in receipt of a police pension) or member of the special constabulary/police volunteers.
Members include police officers, staff, PCSO's retired police/staff and Special Constables.
We now permit Spouse/Partner of a police member to participate and compete the same as a full entrant.
Guests are permitted but must be invited by another full Police Force entrant. Guests will not quilify for prizes but will receive a finishing memento and refreshments.

Pre-Race Recognizance
There are no objections to teams or individuals reconnoitering the course.

Closing Date
The closing date is 10 September 2021 - Entries after this date or EOD and substitutions are acceptable on request to forces who have already pre-entered some runners. Please email me to discuss. Sorry, there are no entry fee refunds but named substitutions to pre-paid entries will be allowed on the day.

Covid Restrictions

There may well be Covid19 Government guidlines imposed on this race. These will be advised to all entrants on the lead up to the event. It may be such that we have a staggered start. If this is the case we will communicate any changes to everyone in good time.


Entry Confirmation
All competitors will receive a confirmation of their entry from Book It Zone and any late briefing information will be by email..
This event is ONLY open to members of UK Police Force Sports Clubs and their spouse/partner.
Please do not hesitate to contact me if you have any further questions or require any other information?

Event Contact
Vol 20785 Steve Broadbent
Police Sport UK Athletics Section – British Police Fell Race Coordinator
Mobile Tel: 07974 795466
Email: steve@policesport.net

Gloucestershire Police AC Host Contact (Concerning Venue or Course)
Contact - Chris Hanson
Email: christopher.hanson@warwickshire.pnn.police.uk
Overall Coordinator - Steve Broadbent - Lancashire Police
Email: steven.broadbent@lancashire.pnn.police.uk

Past Event Links

2019 Final Results

2018 Final Results

2017 Final Results

2016 Final Results

2015 Final Results


Halls of Fame 1990 to 2019


No.

Year

Venue

Force

1st Male

Force

Team Winners

1st Veteran

Force

1st Lady

Force

1

Langdale

Cumbria

D.Orth

Greater Manchester

Greater Manchester

T.Pallister

Warwickskire

2

1991

Edale

Derbyshire

Malcolm Fowler

Cheshire

West Yorkshire

Ian Campbell

Greater Manchester

3

1992

Church Stretton

Shropshire

Malcolm Fowler

Cheshire

Warwickshire

Ian Campbell

Greater Manchester

4

1993

Rivington

Lancashire

P.Jebb

West Yorkshire

West Yorkshire

Ian Campbell

Greater Manchester

5

1994

Hebden Bridge

West Yorkshire

Malcolm Fowler

Cheshire

West Yorkshire

A.Orringe

Gwent

6

1995

Patterdale

Cumbria

Malcolm Fowler

Cheshire

Cheshire

A.Orringe

Gwent

Christine Cresswell

Nottinghamshire

7

1996

Rhayader

Mid-Wales

Malcolm Fowler

Cheshire

Avon & Somerset

S.Anning

Avon & Somerset

Christine Cresswell

Nottinghamshire

8

1997

Pendle Hill

Lancashire

Malcolm Fowler

Cheshire

Northumbria

R.Salter

Wiltshire

Christine Cresswell

Nottinghamshire

9

1998

Howgills

Cumbria

Malcolm Fowler

Cheshire

West Yorkshire

Jim Bentley

Greater Manchester

Katrina White

Cleveland

10

1999

Llanberis

North Wales

Andy Brown

West Yorkshire

Derbyshire

Jim Bentley

Greater Manchester

Christine Cresswell

Nottinghamshire

11

2000

Goyt Valley

Cheshire

Malcolm Fowler

Cheshire

Derbyshire

Tony Caulton

Derbyshire

Christine Howard

Derbyshire

12

2001

Isle of Arran

Isle of Arran

Malcolm Fowler

Cheshire

Derbyshire

M.Wood

Lincolnshire

Lisa Knights

Derbyshire

13

2002

Ribblehead

North Yorkshire

Malcolm Fowler

Cheshire

Derbyshire

Tony Caulton

Derbyshire

Christine Howard

Derbyshire

14

2003

Dark Peak

Derbyshire

Malcolm Fowler

Cheshire

West Yorkshire

D.Hall

Northumbria

Lisa Knights

Derbyshire

15

2004

Snowdonia

North Wales

Malcolm Fowler

Cheshire

Cheshire

Andrew Beaty

Cumbria

Christine Howard

Derbyshire

16

2005

Howgills

Cumbria

Malcolm Fowler

Cheshire

Cheshire

Andrew Beaty

Cumbria

Christine Howard

Derbyshire

17

2006

Rothbury

Northumbria

Malcolm Fowler

Cheshire

Northumbria

J.Ross

Northumbria

Christine Howard

Derbyshire

18

2007

Loggerheads

North Wales

Malcolm Fowler

Cheshire

North Wales

C.Smith

Cumbria

Christine Howard

Derbyshire

19

2008

Mungrisedale

Cumbria

Malcolm Fowler

Cheshire

Cheshire

Andrew Beaty

Cumbria

Christine Howard

Derbyshire

20

2009

Carlton Moor

Cleveland

Malcolm Fowler

Cheshire

Derbyshire

C.Smith

Cumbria

Christine Howard

Derbyshire

21

2010

Castleton

Derbyshire

Malcolm Fowler

Cheshire

Cheshire

Karl Webster

Derbyshire

Christine Howard

Derbyshire

22

2011

Bryntysilio

North Wales

Malcolm Fowler

Cheshire

Derbyshire

Karl Webster

Derbyshire

Christine Howard

Derbyshire

23

2012

Turnslack

GMP

Malcolm Fowler

Cheshire

Cheshire

Karl Webster

Derbyshire

Christine Howard

Derbyshire

24

2013

Askham Fells

Cumbria

Ian Phillips

Derbyshire

Cumbria

Rob Grantham

Cheshire

Kathleen Aubrey

Cumbria

25

2014

Abergwyngregyn

North Wales

Ian Phillips

Derbyshire

Derbyshire

Craig Jones

North Wales

Christine Howard

Derbyshire

26

2015

Dovedale

Derbyshire

Ian Phillips

Derbyshire

Cumbria

Andrew Slattery

Cumbria

Christine Howard

Derbyshire

27

2016

Osmotherley

North Yorkshire

Simon Gray

Cumbria

Cumbria

Andrew Dobby

North Yorkshire

Shelly Gordon

Cleveland

28

2017

Howgills

Cumbria

Rob Grantham

Cheshire

Cumbria

Andrew Dobby

North Yorkshire

Nina Walkingshaw

Cumbria

29

2018

Goyt Valley

Cheshire

Ian Phillips

Derbyshire

Cheshire

Andrew Dobby

North Yorkshire

Christine Howard

Derbyshire

30

2019

Llanberis

North Wales

31

2021

Winchcombe



Gloucestershire