32nd British Police Fell Race
Championships 2022
Wednesday 11 May 2022

Hosted by Cumbria Police Athletics Club
From Braithwaite, Keswick, Cumbria

News Latest - Friday 12 November 2021

Entries are now officially open.



Date/Start Time

1.30pm, Wednesday 11 May 2022


Race Course
The distance will be circa 8 miles and 3500 feet ascent. It will traverse the Coledale Horseshoe from Braithwaite in Cumbria, the heart of the English Lake District.


Race Venue, Race Registration and Presentation Venue

Registration and the race start and finish will take place from the Coledale Inn, Braithwaite, Keswick CA12 5TN
CP1 Grizedale Pike in the distance!


Accommodation

As usual, there is no official accommodation provided. Competitors are asked to make their own arrangements. Bed and Breakfast and hotel accommodation can be found in the area (including the Coledale Inn) by going to the local tourist information on-line.

Directions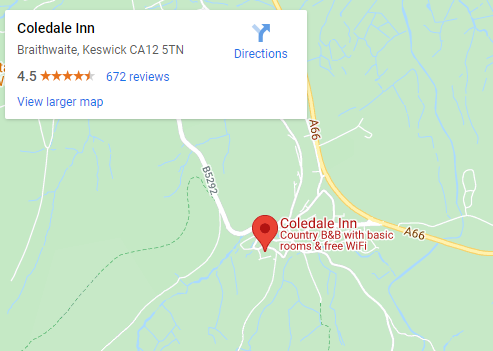 Sat Nav: CA12 5TN

Parking
At the Coledale Inn and surrounding area.

Shower and Changing Facilities

T

here are toilets provided at the Coledale Inn. There are no competitor changing or showers provided.

Start List
A start List will appear here once entries start to come in..

Start
At 1.30pm.

Map and Course
Distance - 8 Miles
Ascent 3500ft

Checkpoints:
1. Grizedasle Pike - 791m

2. Crag Hill - 832m
3. Outerside - 568m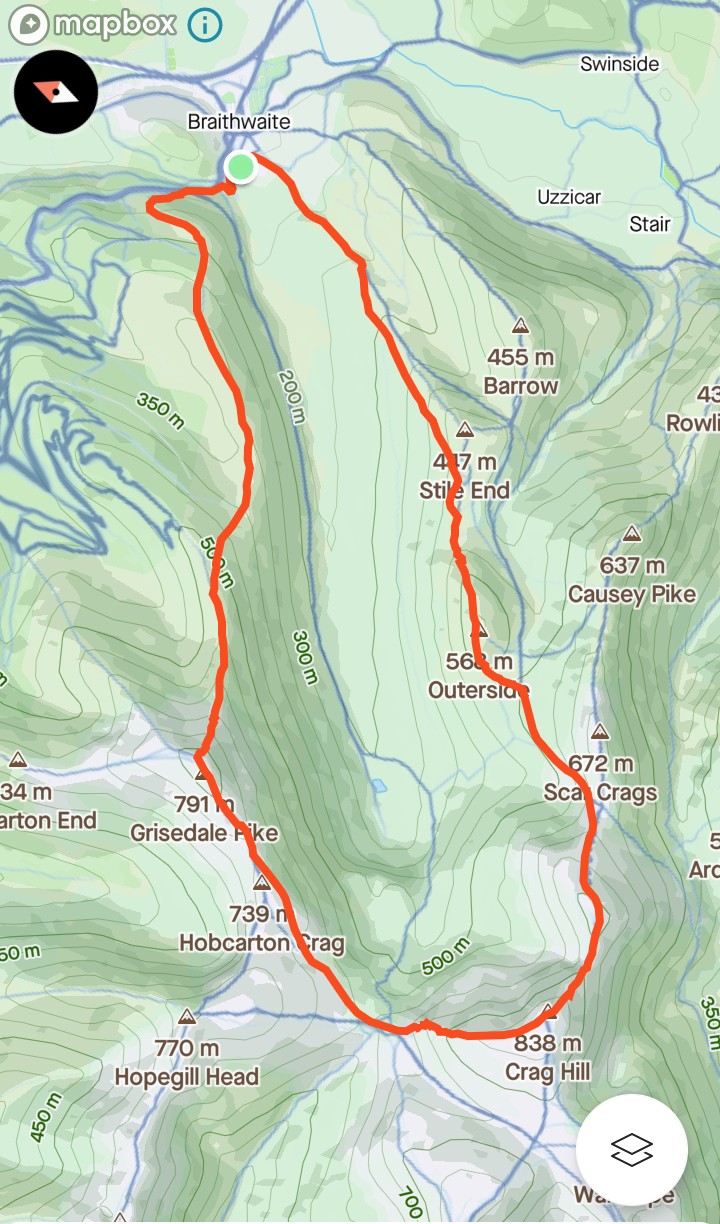 The course will be way-marked with pink and yellow flags left at intervals. This is to ensure everyone runs the same course and does not get lost. This said, all competitors must still carry the map provided and be prepared to navigate themselves should flags go missing.

All Checkpoints will be identified with an Orienteering Kite that will have a punch code that competitors need to punch their race number in sequence.
All three checkpoints will be also manned with a race marshal.


Portable Sat Nav Devices
Sat Nav devices are permitted in this event but maps should still be carried.

Route Description
The course is 8 miles and 3500 feet ascent. It traverses much of the 'Coledale Horseshoe' course.Fairly easy to navigate in good weather but in poor conditions be prepared to navigate! It is a very scenic course but has circa 3500 feet ascent so it is a tough, demanding eight-mile course.

Maps, Check-Points and Waymarks
The course is considered as tough, rugged fell terrain. It will be way-marked with pink and yellow flags left at intervals. This is to ensure everyone runs the same course and does not get lost. This said, all competitors must still carry the map provided and be prepared to navigate themselves should flags go missing or in bad weather.
There will be check point markers at each of the three points and some or all will be manned. Navigation skills are still required and all competitors must carry a map and compass. Copy maps will be provided to every competitor but we suggest you purchase a detailed 1:25000 OS Map OL4.

Novice Runners or Walking Challenge
We would like to encourage novice runners or walkers to take part in these races. Though the event is traditionally a 'race' it can also be titled as a 'Challenge' and can be run/walked at a progressive pace.
The cut-off time is 4 hours or 5.30pm. This would make it attractive to athletes wishing to complete the course at a steady but progressive walking pace.
Note: The Prize presentation will take place around 4.00pm so likely that walkers will miss the presentation but refreshments and finishing memento will be still available when you finish.

Competing in Pairs or a Group
There is no objection to competitors completing the course togeter as a pair or group. Each member would enter individually and receive a race number and carry the same kit.

Compulsory Kit Requirement
Competitors will need to carry the following equipment:-
1. Windproof top body cover
2. Copy Map (Provided)
3. Compass and Whistle
4. Suitable footwear for fell running
5. Waterproof full body cover - Top and Trousers All competitors must bring these to the event. - Only if poor weather conditions are forecast we will as they be carried - This will be announce at Registration.
Each competitor should have navigational skills and be able to use a map and compass if required. Random kit checks will be carried out so please ensure you carry the required kit for the conditions. Any kit found missing will incur a time penalty. Those at the start without the required kit will not be allowed to compete.

Entry Field
Entry limit is circa 100. Pre-entry is required, though late, EOD or substitution is still an option for forces who have already entered a team before the closing date.

Registration and Pre-Race Briefing
Registration from 11am at the Coledale Inn - Pre-Race briefing at 1.20pm.

Post Race Meal and Presentation of Trophies
Light refreshments will be provided from 3.00pm at the Coledale Inn. This will be followed by a formal presentation of trophies and prizes at approximately at 4pm.
Note:

Cut-off time is 5pm so runners/walkers who do not finish by 3.30pm will still receive a finishing memento and the light refreshments will still be available.
Runners who wish to invite a family member or guest to the presentation may purchase an additional meal ticket costing £5. This can be done through the entry portal.


Trophies/Prizes
Men and Women
1st, 2nd and 3rd - Open
1st, 2nd and 3rd - Veteran 40+
1st, 2nd and 3rd - Under 40
1st and 2nd - Male and Female Veteran 45-49, Vet 50-54, Vet 55-59, Vet 60-64, Vet 65-69, Vet 70-75
1st, 2nd and 3rd Open Force Male or Mixed Teams (3 to count) (Lady may be included as the 2nd or 3rd counter)
1st, 2nd and 3rd Ladies Teams (3 to count)

NB: Under FRA Rules the Veteran age is 40+ for both men and women.
Family/Guest Runners: Are not eligible for individual or team qualification or contend for any prizes. They should have paid the lesser guest entry fee but will receive a race mementos and prentation meal is also included..


British Police Fell Race Entry

E

ntry fee options are displayed below. This fee covers the cost of:

* Awards and prizes (Not Family/Guests)


* Individual Race memento

* Local Craft Beer

* Post-Race Presentation light refreshments

* General organising costs


* On-Line Booking Fees


Enter

The entry fee options are:

£20 Entry Fee - Includes Entry and Prize Qualification, Mementos, Presentation meal

£18 Family Guest Entry Fee - Includes Entry, Mementos, Presentation meal BUT NO Prize Qualification
£15 Main Entry Fee - Excludes Presentation meal
£25 Main Entry Fee - Plus additional meal for spectator
£5 Additional Spectator Meal

We are using entry through our usual Book It Zone portal. The company a reputable on-line booking service and the entry costs include any booking fees.


Facebook
The British Police Fell Race is now on Facebook - Join here:
https://www.facebook.com/groups/2237701033168743/

Qualification to Enter
This event is a 'Closed' Race.
Competitors must be fully paid 'police members' of their respective UK Force Sports Clubs and be a police officer, police staff, retired police/police staff (in receipt of a police pension) or member of the special constabulary/police volunteers.
NB: We now permit Spouse/Partner of an above defined 'police member' to participate and compete the same as a full entrant

Family Guests Entry

We now permit Spouse/Partner and Siblings (over 18) of an above defined 'police member' to participate. They compete in the same race but only as a 'Guest Familiy Member' and pay the cheaper entry fee but will not qualify for individual or team prizes.

They may be defined by a Police Sports Club as an 'Honorary Member' so could be entitled to claim their entry from the Club also.

Pre-Race Recognizance
There are no objections to teams or individuals reconnoitering the course.

Closing Date
The closing date is 1 May 2022 - Entries after this date or EOD and substitutions are acceptable on request to forces who have already pre-entered some runners. Please email me to discuss. Sorry, there are no entry fee refunds but named substitutions to pre-paid entries will be allowed on the day.

Entry Confirmation
All competitors will receive a confirmation of their entry from Book It Zone and any late briefing information will be by email..
This event is ONLY open to members of UK Police Force Sports Clubs and their spouse/partner.
Please do not hesitate to contact me if you have any further questions or require any other information?

Event Contact
Vol 20785 Steve Broadbent
Police Sport UK Athletics Section – British Police Fell Race Coordinator
Lancashire Police HQ, Hutton Preston. PR4 5SB

Mobile Tel: 07974 795466
Email: steve@policesport.net

Cumbria Police AC Host Contact (Concerning Venue or Course)
Contact - Simon Gray

Email: simon.gray@cumbria.pnn.police.uk

Overall Coordinator
Steve Broadbent - Lancashire Constabulary AC

Email: steven.broadbent@lancashire.pnn.police.uk

Past Event Links

2021 Final Results

2020 - Event Cancelled


2019 Final Results

2018 Final Results

2017 Final Results

2016 Final Results

2015 Final Results


Halls of Fame 1990 to 2021


| | | | | | | | | | | |
| --- | --- | --- | --- | --- | --- | --- | --- | --- | --- | --- |
| No. | Year | Venue | Force | 1st Male | Force | Team Winners | 1st Veteran | Force | 1st Lady | Force |
| 1 | 1990 | Langdale | Cumbria | D.Orth | Greater Manchester | Greater Manchester | T.Pallister | Warwickskire | | |
| 2 | 1991 | Edale | Derbyshire | Malcolm Fowler | Cheshire | West Yorkshire | Ian Campbell | Greater Manchester | | |
| 3 | 1992 | Church Stretton | Shropshire | Malcolm Fowler | Cheshire | Warwickshire | Ian Campbell | Greater Manchester | | |
| 4 | 1993 | Rivington | Lancashire | P.Jebb | West Yorkshire | West Yorkshire | Ian Campbell | Greater Manchester | | |
| 5 | 1994 | Hebden Bridge | West Yorkshire | Malcolm Fowler | Cheshire | West Yorkshire | A.Orringe | Gwent | | |
| 6 | 1995 | Patterdale | Cumbria | Malcolm Fowler | Cheshire | Cheshire | A.Orringe | Gwent | Christine Cresswell | Nottinghamshire |
| 7 | 1996 | Rhayader | Mid-Wales | Malcolm Fowler | Cheshire | Avon & Somerset | S.Anning | Avon & Somerset | Christine Cresswell | Nottinghamshire |
| 8 | 1997 | Pendle Hill | Lancashire | Malcolm Fowler | Cheshire | Northumbria | R.Salter | Wiltshire | Christine Cresswell | Nottinghamshire |
| 9 | 1998 | Howgills | Cumbria | Malcolm Fowler | Cheshire | West Yorkshire | Jim Bentley | Greater Manchester | Katrina White | Cleveland |
| 10 | 1999 | Llanberis | North Wales | Andy Brown | West Yorkshire | Derbyshire | Jim Bentley | Greater Manchester | Christine Cresswell | Nottinghamshire |
| 11 | 2000 | Goyt Valley | Cheshire | Malcolm Fowler | Cheshire | Derbyshire | Tony Caulton | Derbyshire | Christine Howard | Derbyshire |
| 12 | 2001 | Isle of Arran | Isle of Arran | Malcolm Fowler | Cheshire | Derbyshire | M.Wood | Lincolnshire | Lisa Knights | Derbyshire |
| 13 | 2002 | Ribblehead | North Yorkshire | Malcolm Fowler | Cheshire | Derbyshire | Tony Caulton | Derbyshire | Christine Howard | Derbyshire |
| 14 | 2003 | Dark Peak | Derbyshire | Malcolm Fowler | Cheshire | West Yorkshire | D.Hall | Northumbria | Lisa Knights | Derbyshire |
| 15 | 2004 | Snowdonia | North Wales | Malcolm Fowler | Cheshire | Cheshire | Andrew Beaty | Cumbria | Christine Howard | Derbyshire |
| 16 | 2005 | Howgills | Cumbria | Malcolm Fowler | Cheshire | Cheshire | Andrew Beaty | Cumbria | Christine Howard | Derbyshire |
| 17 | 2006 | Rothbury | Northumbria | Malcolm Fowler | Cheshire | Northumbria | J.Ross | Northumbria | Christine Howard | Derbyshire |
| 18 | 2007 | Loggerheads | North Wales | Malcolm Fowler | Cheshire | North Wales | C.Smith | Cumbria | Christine Howard | Derbyshire |
| 19 | 2008 | Mungrisedale | Cumbria | Malcolm Fowler | Cheshire | Cheshire | Andrew Beaty | Cumbria | Christine Howard | Derbyshire |
| 20 | 2009 | Carlton Moor | Cleveland | Malcolm Fowler | Cheshire | Derbyshire | C.Smith | Cumbria | Christine Howard | Derbyshire |
| 21 | 2010 | Castleton | Derbyshire | Malcolm Fowler | Cheshire | Cheshire | Karl Webster | Derbyshire | Christine Howard | Derbyshire |
| 22 | 2011 | Bryntysilio | North Wales | Malcolm Fowler | Cheshire | Derbyshire | Karl Webster | Derbyshire | Christine Howard | Derbyshire |
| 23 | 2012 | Turnslack | GMP | Malcolm Fowler | Cheshire | Cheshire | Karl Webster | Derbyshire | Christine Howard | Derbyshire |
| 24 | 2013 | Askham Fells | Cumbria | Ian Phillips | Derbyshire | Cumbria | Rob Grantham | Cheshire | Kathleen Aubrey | Cumbria |
| 25 | 2014 | Abergwyngregyn | North Wales | Ian Phillips | Derbyshire | Derbyshire | Craig Jones | North Wales | Christine Howard | Derbyshire |
| 26 | 2015 | Dovedale | Derbyshire | Ian Phillips | Derbyshire | Cumbria | Andrew Slattery | Cumbria | Christine Howard | Derbyshire |
| 27 | 2016 | Osmotherley | North Yorkshire | Simon Gray | Cumbria | Cumbria | Andrew Dobby | North Yorkshire | Shelly Gordon | Cleveland |
| 28 | 2017 | Howgills | Cumbria | Rob Grantham | Cheshire | Cumbria | Andrew Dobby | North Yorkshire | Nina Walkingshaw | Cumbria |
| 29 | 2018 | Goyt Valley | Cheshire | Ian Phillips | Derbyshire | Cheshire | Andrew Dobby | North Yorkshire | Christine Howard | Derbyshire |
| 30 | 2019 | Llanberis | North Wales | Malcolm Fowler | Cheshire | Cheshire | Rob Grantham | Cheshire | Christine Howard | Derbyshire |
| 29 | 2020 | Cancelled | Cancelled | | | | | | | |
| 29 | 2021 | Winchcombe | Gloucestershire | Shaun Bott | Derbyshire | Derbyshire | Malcolm Fowler | Cheshire | Amelia Tearle | Metropolitan |
| 29 | 2022 | Braithwaite | Cumbria | | | | | | | |