<![if !vml]>

<![endif]>
<![if !vml]>

<![endif]>
Inverness - Northern Constabulary
Wednesday 30 May 2012
Event Details
The 2012 Police Sport UK Track & Field and Tug of War Championships will take place at Queens Park Stadium, Inverness, Northern Constabulary on Wednesday 30 May 2012. Details and entry forms for the event:-
<![if !vml]>
<![endif]>Event Entry Form - Track & Field MS Word Document
<![if !vml]>
<![endif]>Event Entry Form - Tug of War MS Word Document
<![if !vml]>
<![endif]>Event Details - MS Word Document
<![if !vml]>
<![endif]> Results
Event Details
The 2012 Police Sport UK Track & Field and Tug o' War Championships will take place at Queens Park Athletics Stadium, Inverness Sports Centre, Bught Park, Bught INVERNESS IV3 5SS. Telephone: 01463 667506.
<![if !vml]>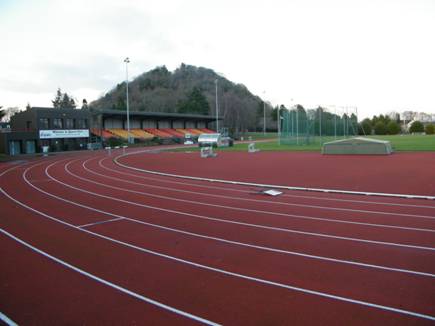 <![endif]>
The stadium is part of the adjacent Inverness Sports Centre which is an excellent and modern sports facility which features not only the recently renovated athletics track but also a 25m competition standard swimming pool, a leisure pool with wave machine and flumes, a climbing wall and a health suite spa.
Competitors will be given free access to the track on Tuesday 29th May up until 7.00pm and then again after 9.00pm to assist in their preparations for the event although restrictions are placed on field events with no throwing allowed unless accompanied by a coach (credentials required) and a separate hire of the field completed which essentially rules out anything other than running in terms of warming up the day before. Just quote POLICE SPORT at the reception desk for access. Free parking is available.
There will also be free swim vouchers included in the welcome pack as well courtesy of the centre management team. These will cover a free swim for up to a family of five per voucher.
There's plenty to see and do in and around Inverness – just leave yourself enough time. Browse city shops old and new, from the Victorian Market to the new award-winning shopping complex, Eastgate. Take a stroll to Inverness Castle (see below), currently used as a courthouse, and St Andrew's Cathedral, which dominate the River Ness and what has been described as one of the most beautiful riverside settings in Britain. Enjoy the fine circular walk from the castle along the river and through the Ness Islands.
<![if !vml]>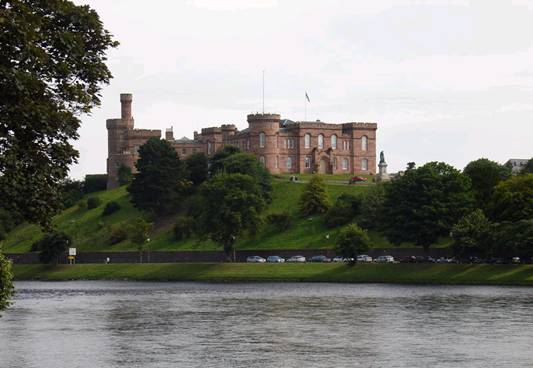 <![endif]>
Above the city lies Craig Phadrig, once the stronghold of Pictish Kings, which offers interesting forest walks. From here you can enjoy magnificent views of the Moray Firth, home to a diverse range of wildlife including bottlenose dolphins which can be seen from the shore or on trips available from harbours along the coast.
Inverness is The Gateway to the Highlands of Scotland and the surrounding area, including our famous Loch Ness and Nessie, its fabled monster. It's easy to get out of Inverness and visit many attractions close by and further afield. These can be arranged by day trips using buses, hire cars or by boat through the canal and down Loch Ness.
Our local Tourist Information Centres can give you information on the many places to visit in and around Inverness and where to stay. Historical and cultural attractions are popular and include the large battlefield and visitor centre at Culloden, the historic Caledonian Canal and Clava Cairns, a fascinating archaeological site.
<![if !vml]>

<![endif]> Location – Stadium Access
Coming from the south on the A9:

Follow the A9 dual carriageway all the way down into Inverness, passing the large "Thistle Hotel" on the left. Approaching the Kessock Bridge roundabout, stay in the left hand lane. At the roundabout turn left (signed for Fort William A82).
Follow the dual carriageway now for about 400 yards and at the next roundabout go straight on, following road signs for Fort William A82. Go straight on at the next two roundabouts following markings for the A82, and cross the River Ness on the Friar's Bridge.
At the roundabout immediately after crossing the Friar's Bridge take the second exit (Fort William A82). You will now be on Kenneth Street.
At the second set of lights stay in the right hand lane. Turn right following road signs indicating "Drumnadrochit, Invermoriston and Fort Augustus" and follow the road for approx. one mile. You will see a cemetery on your right; immediately after the cemetery gates turn off to the left and follow the road around as it bears right past the caravan park. Inverness Leisure is on your right.
Coming from the east on the A96:

Follow the dual carriageway into Inverness all the way to the "Raigmore Interchange" roundabout. Take the third exit, signposted "Ullapool A835 and Wick A9".
Follow the dual carriageway (A9) for approx. half a mile to the Kessock Bridge roundabout, directions from there are as above.
<![if !vml]>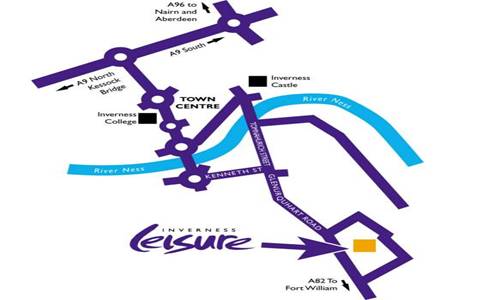 <![endif]>
Should you have any difficulty following any of these directions please contact Inverness Leisure reception on 01463 667500 for assistance.
<![if !vml]>

<![endif]> Travelling to Inverness
By Train: Inverness Railway Station is situated in the city centre on Academy Street and is well served by services from the south and east. Most of the accommodation mentioned in this document is easily reached on foot within 5 minutes. (Inverness West Premier Inn and the Holiday Inn Express would require transport and this can be arranged if required – please advise on entry form of estimated time of arrival)
By Air: Inverness Airport is situated at Dalcross to the east of Inverness on the A96 Inverness-Aberdeen road. It is about a 15 minute drive from the city centre. Transport to pick up competitors will be provided where requested. Flights area available to Inverness directly from London Gatwick, London Luton, Manchester, Birmingham, Bristol and Belfast.
By Road: Inverness has direct access to the A9, A96 and A82 roads which come in to the city from the south, east and west respectively. Examples of the distances involved travelling to Inverness are as follows: Plymouth – 643 miles, London – 562 miles, Manchester – 373 miles and Newcastle – 265 miles.
<![if !vml]>

<![endif]> Accommodation
Inverness and the Highlands have numerous options for accommodation as a significant tourist industry exists in the area.
Premier Inn: 35 rooms have been pre-booked at the brand new Inverness West Premier Inn at a rate of £49.00 per room. This is a specially negotiated rate which can be cancelled (if required) up to the day of arrival. Breakfast is extra. This hotel has a Beefeater Restaurant attached. The hotel is located on Glenurquhart Road, Inverness IV3 5TD and it is right across the road from the athletics stadium which is a very short 2 minute walk across the A82. This is about 2 miles from the city centre and the function venue. There may be some £29.00 rooms available for a short time however these are non-refundable. The £49.00 rate will be available up until 27th April after which they will revert to the normal rate of £70. To book a room at this hotel either email
PITL.InvernessSouth@Whitbread.com or call 01463701110 and ask for Carly. By quoting "POLICE SPORT" the correct rate will be offered.
There are also three other Premier Inns in the city but the only other one located in the city centre is the River Ness Hotel which opened on 20th February. Normal rates apply currently at this location with the special rate being confined at present to the West Premier Inn. This may be more attractive to those people who want a short walk back to their accommodation from the function which is located directly across the River Ness from this hotel. The address is 19-21 Huntly Street, Inverness, IV3 5PR. 01775 843413
Holiday Inn Express: Rooms are available at this Hotel on a first come, first served basis at the rate of £50 per room (rate includes breakfast). This rate will be held until 27th April for those attending the event by quoting "POLICE SPORT" when booking or until the hotel is fully booked, whichever comes first. This hotel is located on the east side of Inverness about 2 miles from the city centre and 4 miles from the athletics stadium. General manager Cathy MacLeod is aware of the arrangement and authorised the special rate (normally £109.99). Address is Holiday Inn Express, Stoneyfield, Inverness, IV2 7PA, 01463 732 700.
Mercure Hotel, Inverness: The Mercure Inverness hotel has a dramatic Highland backdrop and Inverness Old Town on the doorstep. This modern, 3 star Inverness hotel is 6 miles from Loch Ness and 200 metres from Inverness train station. The 106 rooms all offer internet access and satellite TV. The Arts Restaurant and bar are open for light meals and hot and cold drinks, and you can relax in the indoor pool or use the fitness centre. This is the venue for the evening function/dance. Rates for bed and breakfast are £99.00 per double/twin room (inc. breakfast). The address is Mercure Hotel, Church Street, Inverness, IV1 1QY.
There are many more accommodation options available within the city centre and surrounding areas from Hotels (independent hotels and Travelodges etc), guest houses and bed & breakfast accommodation. A vast amount of information on the Inverness area including links to hotels can be found on the internet by following this link: http://www.scotland-inverness.co.uk/inv-area.htm
<![if !vml]>

<![endif]> Police Sport UK Championships Entry
The entry fee will be £14 for each competitor's first event. Any additional events will be £4 each. Team relay entries will be £15 for each team. Please see separate entry form for Tug o' War. As per previous events £100 per team plus £15 per extra event.
All cheques to be made payable to "Northern Constabulary Sports & Athletic Club". Bank transfers can also be done, ring organiser for details.
Please pass the details to us when you make any payments this way. Contact Joyce Jack on 01463720278 or joyce.jack@northern.pnn.police.uk
The entry forms are attached with this document. Please ensure correct spelling of competitor's names and inclusion of personal best performances for inclusion in the programme of events.
<![if !vml]>

<![endif]> Prizes/Trophies
Prizes will be given to the first three competitors in each track and field discipline. Prizes will be given to the winners and runners up in the Tug o' War.
All events will take place inside the stadium.
Athletes are required to register at the stadium at least 1 hour before their event.
Registration to take place in the admin block beside the grandstand.
Can you please all ensure the return of all trophies, clean and engraved.
Presentations will take place shortly after the completion of the respective finals.
<![if !vml]>

<![endif]> Qualification
Competitors must be 18 or over to compete. All police competitors must be fully paid up members of their respective force sports clubs and be a police officer, police staff, retired police officer/police staff member or member of the Special Constabulary.
(If in doubt, please refer to the Police Sport website www.policesportuk.com for a detailed definition)
The Championship is a "Closed" event therefore NO force may permit GUEST COMPETITORS to participate. (If this rule is infringed then the force introducing the guest competitor is liable to disqualification).
Any number of competitors from any force may participate and there shall be no limit to the number of events a competitor may enter. In any relay event only one team from each force may win a prize.
All athletes must wear their force colours, Failure to do so will lead to disqualification.
<![if !vml]>

<![endif]> Closing Date
The closing date for entries is Friday 20th April 2012. No late entries can be accepted. No entries on the day and there can be no refunds for non attendance.
<![if !vml]>

<![endif]> Entry Confirmation
Entry confirmation will be sent on receiving entries and entry fees. Entries will be accepted by emailing david.ogilvie@northern.pnn.police.uk but will NOT be confirmed until payment has been received.
A pack containing all forms for each force entry will be grouped together to be collected on attendance at Police HQ on 29th May or at the track on 30th May for those not arriving the day before.
<![if !vml]>

<![endif]> Meal/Function
The evening's events will; be split into two parts.
A civic reception will be held between 6.30pm and 8.30pm within the historic Inverness Town House. During this reception competitors will be provided with a hot 2 course fork buffet meal. Please pre-order any special dietary needs on the entry form.
<![if !vml]>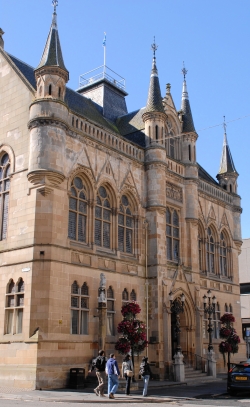 <![endif]><![if !vml]>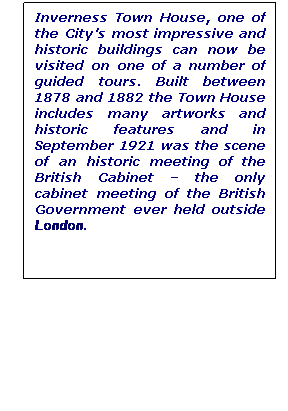 <![endif]>
Following the civic reception, a dance will be held with live local music of both a contemporary and traditional nature in the Inverness Suite of the nearby Mercure Hotel, a very short walk from the Town House.
Transport can be provided if required from the Inverness West Premier Inn (approx 2 miles west from city centre) or the Holiday Inn Express at Stoneyfield (approx 2 miles east of city centre).
Please indicate on entry form if you require transport from either of these hotels to the civic reception so that appropriate transport can be laid on.
Taxi fares from both locations would be approximately £6-£7 if you choose to travel independently. Inverness is a small city and distances are not huge.
Dress code should be smart and include a shirt, tie and trousers for men with a similar standard for women. Given the location, it is likely there will be a number of competitors sporting Highland Dress for the evening. Should you wish to enter into the spirit of things, there are various hire companies in the city that could provide appropriate attire for your night in the Highlands! Just contact Insp Ogilvie for details.
Total cost per person associated with both elements of the evening function will be £10 each. Please indicate whether you want to attend the evening events on your entry forms and include the payment with event entry fees.
<![if !vml]>

<![endif]> Welcome packs and information
A reception point will be set-up at room 24, Police Headquarters, Inverness between 1400hrs and 2100hrs on Tuesday 29th May to welcome those arriving on that date.
Police Headquarters is situated on Old Perth Road, Inverness, IV2 3SY and lies adjacent to the A9 road at the southern edge of the city. It is clearly signposted from the A9.
<![if !vml]>

<![endif]> Championship Information
Competitor numbers will be included in the force welcome packs when uplifted by the team captains on 29th May. Anyone arriving on the 30th May can uplift their packs in the admin block adjacent to the main stand.
Prior notice of any withdrawals would be appreciated as this may affect the requirement for heats in some cases.
After declaration of intention to compete in track events has been made, athletes WILL NOT be allowed to withdraw without due cause. If they do, they will be DISQUALIFIED from competing in any other event during the day including the relays.
Packed lunches will be provided to all competitors, officials and helpers and will be available for collection within sports hall 2 in the main building from 12.00pm.
Please note that most equipment will be provided on the day apart from pole vault poles. Due to health and safety, competitors are expected to bring their own poles.
Personal equipment should be handed to the Technical Manager (who will be Howard Rusher) for checking at least 1 hour before the event for which it is required. He will be situated at the garages adjacent to the Admin Block. Personal starting blocks should be handed to the Starter (who will be Brian Ross or George Bethune) for checking at least 1 hour before the event for which they are required. They too will be situated near the admin block. Equipment handed in will be taken by the Technical Manager to the relevant event site prior to the start of the event and should be collected and signed for by the athlete from the Technical Manager at the garages after the event.
Ropes and scales will be at the venue for the tug o' war.
There will be a team of first aiders available throughout the day at the track.
<![if !vml]>

<![endif]> Contact
Entries & queries to:
Inspector David Ogilvie
Policy & Co-ordination Unit
Police Headquarters
Old Perth Road
INVERNESS
IV2 3SY
Work: 01463 720834/07525407409
Personal Mobile: 07776305130
david.ogilvie@northern.pnn.police.uk
<![if !vml]>

<![endif]> Events
Track - Men and Women
<![if !vml]>

<![endif]> 100 metres
<![if !vml]>

<![endif]> 200 metres
<![if !vml]><![endif]>
400 metres
<![if !vml]><![endif]>
800 metres
<![if !vml]><![endif]>
1500 metres
<![if !vml]><![endif]>
5000 metres (Including Vets)
<![if !vml]>

<![endif]> Relay – Ladies 4 x 100 metres
Track - Men Only
<![if !vml]><![endif]>
110 metres hurdles
<![if !vml]><![endif]>
400 metres hurdles
<![if !vml]><![endif]>
3000 metres steeplechase
<![if !vml]>

<![endif]> 3000m walk
<![if !vml]>

<![endif]> Relay – Men's Medley (800x200x200x400)
Field - Men and Women
<![if !vml]>

<![endif]> Shot
<![if !vml]>

<![endif]> Discus
<![if !vml]>

<![endif]> Hammer
<![if !vml]>

<![endif]> Long Jump
<![if !vml]>

<![endif]> High Jump
<![if !vml]>

<![endif]> Pole Vault
<![if !vml]>

<![endif]> Javelin
<![if !vml]>

<![endif]> Triple jump
Tug of War
<![if !vml]>

<![endif]> 640k
<![if !vml]>

<![endif]> 680k
<![if !vml]>

<![endif]> 720k
<![if !vml]>

<![endif]> Catch Weight
Please note that most equipment will be provided apart from Pole vault Poles. Due to Health and Safety, competitors are expected to bring their own poles!!!
Timetable of Events (Provisional)
Time

Track Events

11:30

400m Hurdles Male Heats x 2

11:40

100m Male Heats x 3

11:55

100m Female Final

12:05

800m Male Final

12:15

800m Female Final

12:30

3000m Walk Male Final

13:00

110m Hurdles Male Final

13:15

100m Male Final

13:30

400m Male Heats x 2

13:40

5000m Male Final

14:10

400m Hurdles Male Final

14:20

200m Male Heats x 2

14:40

5000m Female Final

15:10

400m Male Final

15:20

400m Female Final

15:30

1500 Male Final

15:45

1500 Female Final

16:00

200m Male Final

16:10

200m Female Final

16:20

3000m Steeplechase Final

16:40

4 x 100m Female Final

17:00

Medley Male Final

Time

Field Event

11:00

All long throws will follow in the following order:

Hammer – Male and Female

Discus – Male and Female

Javelin – Male and Female

11:00

Long Jump – Male

11:30

Pole Vault – Male and Female

12:45

Long Jump – Female

13:15

High Jump – Male and Female

15:00

Triple Jump – Male and Female

15:15

Shot Putt – Male and Female
<![if !vml]>

<![endif]> <![if !vml]>

<![endif]>