Past Times - Classic Motorbike
Triumph Bonneville T100 - 2008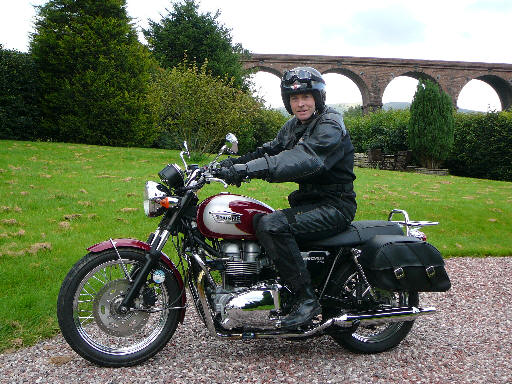 This is my 2008 Triumph Bonneville T100. In the 1970's they were very popular and at the time, the Bonneville was a dream bike to own.
I passed my test on a Honda CB175 and in later years owned a Kawasaki Z200, Yamaha Virago 250.
In January 2008 I left the full time police service and treated myself to a brand new Bonneville T100. I had considered buying a classic 60's or 70's machine for around the same price but decided to go to the low maintenance new model that has been styled on the 70's design.
To the novice eye you would not know it was a 2008 bike apart from perhaps the oil cooler at the front.
The bike is the 865cc injection model and rides and handles perfectly meeting all my expectations. I only take it out on dry days and clock up only 1000 miles a year. Nevertheless, a great way to blow away the cobwebs every now and then.
Other bikes
Previously owned:

Honda C50 - 1970 - (1975 - 1976)

Honda CB175- 1972 - (1976 - 1977)

Kawasaki Z200 - 1981 - (1984 - 1985)

Kawasaki Z200 - 1980 - (2004 - 2010)

Yamaha Virago 250 - 2001 - (2005)
Current Bike

Triumph Bonneville T100 865cc - (2008 - onwards)