Cardiff Marathon
Police Sport UK Marathon Championships
Cardiff
Sunday, 9 October 2005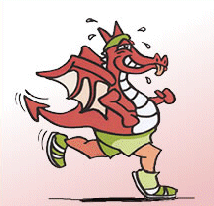 Just three members of the Lancashire Constabulary Athletics Section entered the 2005 Police Sport National Championships. Myself, Simon Banfield (Eastern Division) and Michael Horne (Retired Northern) travelled to Cardiff to take part in the annual Cardiff City Marathon event.
The police race was incorporated within the City Marathon and some 60 police entries joined the 1300 other marathon runners in this event.
The race started at 9am in the Cardiff High street and followed a two lap course around the City, down to the Cardiff Bay and back in and around the Pontcanna Park and along the banks of the River Taff.
The route was nice and flat. It was well marshalled with plenty of drinks stations and three Lucozade Power drink points. The weather was fine and sunny and temperatures did rise as the morning progressed.
The race followed the Cardiff Marathon that started at 8.15 am. Many of the lead marathon runners caught up with the tail end of the half marathon runners that caused a little congestion but at the same time we were able to use the slower runners as a pace.
The race finished with a lap of the football field inside the Millennium Stadium. The 400 meter finishing lap made a spectacular end to what was a very enjoyable race.
Lancashire Police Results

PC Steve Broadbent finished in 3 hours 14 minutes being placed 2nd in the PSUK Veteran 45+ category - 11th overall.

Mr Simon Banfield ran his 3rd marathon knocking 30 minutes off his previous best finishing in 3 hours 23 minutes - 16th overall.

Mr Michael Horne was running well to 16 miles but then developed a calf injury and dropped out of the race soon after.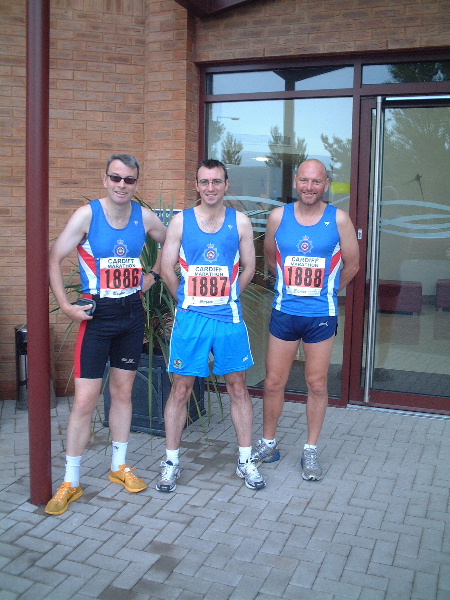 The 2005 Club marathon team - Steve Broadbent, Simon Banfield, Michael Horne
PSUK Results
Force details to be updated
Lothian and Borders Police, Steve Cairns ran a tremendous race finishing in 2.29.29 and was PSUK men's champion. He was 2nd in the main event only 15 seconds behind the overall winner.
Derbyshire Police, Lisa Knights was PSUK ladies champion finishing in 3.06.12.
| | | | | | | | | | | |
| --- | --- | --- | --- | --- | --- | --- | --- | --- | --- | --- |
| | Pos | Race# | Forename | Surname | Gender | Category | Club | Pos O/All | Gun Time | Chip Time |
| | 1 | 1897 | Steve | Cairns | Male | MSEN | Lothian & Borders | 3 | 02:29:29 | 02:29:28 |
| | 2 | 1921 | Peter | Murtagh | Male | M40-44 | PSNI | 11 | 02:42:54 | 02:42:52 |
| | 3 | 1859 | Peter | Orme | Male | M45-49 | Derbyshire Constabulary | 37 | 02:54:11 | 02:54:07 |
| | 4 | 1927 | Andy | Lakeland | Male | MSEN | South Yorkshire Police | 57 | 02:59:14 | 02:59:02 |
| | 5 | 1889 | Mark | King | Male | MSEN | | 59 | 02:59:27 | 02:59:18 |
| | 6 | 1890 | Duncan | Malloy | Male | M40-44 | | 69 | 03:01:20 | 03:01:10 |
| | 7 | 1860 | Lisa | Knight | Female | FSEN | Derbyshire Constabulary | 90 | 03:06:21 | 03:06:12 |
| | 8 | 1882 | Tim | Kelly | Male | M50-54 | | 104 | 03:09:41 | 03:09:32 |
| | 9 | 1891 | Mike | Brookshaw | Male | M40-44 | | 126 | 03:11:56 | 03:11:47 |
| | 10 | 1854 | Sid | Pask | Male | M55-59 | Central Scotland Police | 132 | 03:12:19 | 03:12:06 |
| | 11 | 1886 | Steven | Broadbent | Male | M45-49 | Lancashire Constabulary | 148 | 03:14:31 | 03:14:16 |
| | 12 | 1918 | Amanda | Clarke | Female | F35-39 | | 161 | 03:17:22 | 03:17:02 |
| | 13 | 1898 | Donald | Sandeman | Male | TBC | | 181 | 03:19:37 | 03:19:29 |
| | 14 | 1916 | Craig | Jones | Male | M40-44 | North Wales Police | 217 | 03:22:22 | 03:21:21 |
| | 15 | 1884 | Veronica | Singleton | Female | F45-49 | | 229 | 03:23:45 | 03:23:25 |
| | 16 | 1887 | Simon | Banfield | Male | MSEN | Lancashire Constabulary | 237 | 03:24:22 | 03:23:38 |
| | 17 | 1922 | Kieran | McKeown | Male | MSEN | | 269 | 03:27:13 | 03:25:07 |
| | 18 | 1867 | Darrell | Harrison | Male | MSEN | Dyfed Powys Police | 259 | 03:25:54 | 03:25:46 |
| | 19 | 1885 | John | Cooper | Male | M45-49 | | 267 | 03:27:00 | 03:26:45 |
| | 20 | 1861 | Nick | Davies | Male | M45-49 | Dyfed Powys Police | 305 | 03:30:43 | 03:30:10 |
| | 21 | 1923 | John | Diffey | Male | M40-44 | | 306 | 03:30:45 | 03:30:39 |
| | 22 | 1933 | Michelle | Greatrex | Female | FSEN | Gwent Police | 338 | 03:34:03 | 03:33:24 |
| | 23 | 1913 | Gerwyn | Lloyd | Male | M40-44 | North Wales Police | 356 | 03:36:08 | 03:35:29 |
| | 24 | 1912 | Ian | Roberts | Male | M40-44 | | 371 | 03:37:03 | 03:35:40 |
| | 25 | 1895 | Steven | Laurie | Male | MSEN | | 363 | 03:36:44 | 03:36:40 |
| | 26 | 1896 | Rachel | Hurst | Female | TBC | Lothian & Borders | 382 | 03:37:37 | 03:36:49 |
| | 27 | 917 | Robert | Hind | Male | M50-54 | North Wales Police | 385 | 03:37:44 | 03:37:06 |
| | 28 | 1914 | Gabby | Waring | Female | F45-49 | | 386 | 03:37:44 | 03:37:06 |
| | 29 | 1931 | Vaughan | Evans | Male | M40-44 | West Yorkshire Police | 404 | 03:39:14 | 03:38:14 |
| | 30 | 1915 | David | Owens | Male | MSEN | | 454 | 03:43:40 | 03:42:13 |
| | 31 | 1877 | Dean | Burgess | Male | M40-44 | | 470 | 03:44:34 | 03:42:59 |
| | 32 | 1907 | Richard | Eccles | Male | MSEN | | 477 | 03:44:48 | 03:43:21 |
| | 33 | 1880 | Ronald | Retalic | Male | M50-54 | Grampian Police | 478 | 03:44:50 | 03:44:23 |
| | 34 | 1875 | Gerard | Navesey | Male | MSEN | | 547 | 03:48:58 | 03:47:22 |
| | 35 | 1863 | Alyn | Lewis | Male | MSEN | Dyfed Powys Police | 544 | 03:48:44 | 03:48:10 |
| | 36 | 1911 | Deborah | Clift | Female | F35-39 | | 570 | 03:50:25 | 03:48:35 |
| | 37 | 1851 | Gary | Snailum | Male | MSEN | Avon & Somerset | 567 | 03:50:08 | 03:49:26 |
| | 38 | 1905 | Steven | Owens | Male | MSEN | | 591 | 03:52:07 | 03:50:37 |
| | 39 | 1908 | Paul | Bishop | Male | M45-49 | | 635 | 03:55:56 | 03:55:08 |
| | 40 | 1910 | Jim | Platt | Male | M40-44 | | 662 | 03:57:42 | 03:56:15 |
| | 41 | 1935 | James | Platt | Male | M40-44 | | 661 | 03:57:41 | 03:56:15 |
| | 42 | 1928 | Jan | Lavis | Female | F40-44 | Sussex Police | 664 | 03:57:43 | 03:56:16 |
| | 43 | 1925 | Andrew | Lewis | Male | M40-44 | | 645 | 03:56:43 | 03:56:30 |
| | 44 | 1903 | Paul | Anderson | Male | TBC | | 659 | 03:57:27 | 03:56:40 |
| | 45 | 1930 | Heather | Mitchell | Female | F50-54 | West Yorkshire Police | 744 | 04:03:43 | 04:03:22 |
| | 46 | 1934 | Stephen | New | Male | M40-44 | Gwent Police | 789 | 04:09:10 | 04:08:04 |
| | 47 | 1873 | John | Rees | Male | M40-44 | Dyfed Powys Police | 816 | 04:11:48 | 04:10:20 |
| | 48 | 1906 | Richard | Sidney | Male | MSEN | | 863 | 04:16:42 | 04:15:12 |
| | 49 | 1920 | Karen | Mulholland | Female | F35-39 | PSNI | 946 | 04:25:41 | 04:24:48 |
| | 50 | 1924 | Kevin | Russell | Male | M45-49 | South Wales Police | 961 | 04:27:34 | 04:25:57 |
| | 51 | 1852 | Jim | Rowe | Male | MSEN | Avon & Somerset | 1040 | 04:38:37 | 04:36:32 |
| | 52 | 1904 | Jacqueline | Reid | Female | F35-39 | | 1047 | 04:39:09 | 04:38:55 |
| | 53 | 1864 | Stuart | Mann | Male | MSEN | Dyfed Powys Police | 1057 | 04:39:49 | 04:39:18 |
| | 54 | 1902 | Adrian | Dixon | Male | TBC | | 1153 | 04:56:31 | 04:55:28 |
| | 55 | 1874 | Martin | Lansley | Male | MSEN | Dyfed Powys Police | 1192 | 05:03:59 | 05:01:42 |
| | 56 | 1909 | Mark | Gibbs | Male | M40-44 | | 1188 | 05:02:58 | 05:02:19 |
| | 57 | 1881 | Andrew | Amos | Male | M40-44 | | 1257 | 05:26:08 | 05:24:52 |
| | 58 | 1857 | Kevin | Loftus | Male | M45-49 | Derbyshire | 1324 | 18:22:13 | 18:21:51 |
| | 59 | 1901 | Teresa | Gover | Female | TBC | | 1336 | 19:13:09 | 19:12:21 |
| | 60 | 1888 | Michael | Horne | Male | M45-49 | Lancashire Constabulary | | DNF | DNF |