Tyrolean Speed Marathon
Innsbruck - Austria - 25 June 2005
Each year, the Athletics and Running Section organise a number of running fixtures that form part of their calendar of events. In more recent years some of these trips have ventured far and wide to more exotic locations around Europe. These weekend trips offer an ideal opportunity for members to represent the Club in a competitive sporting event and in addition combine a cultural, social activity to destinations that one may not normally venture. Members are often accompanied by there partners or friends.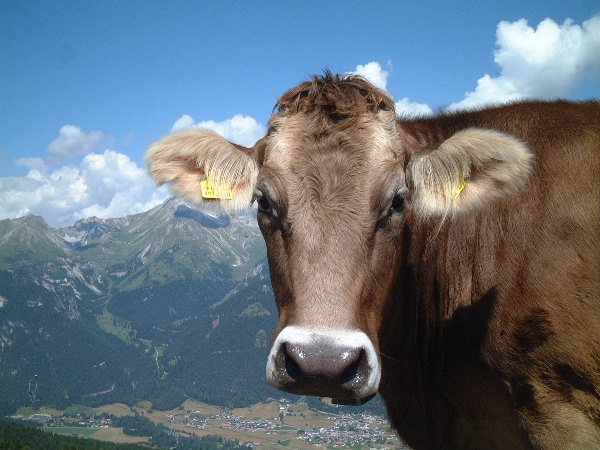 The Sound of Music and cow bells - breathtaking Austrian scenery 6000 feet high above the Brenner Pass
In June 2005, eight members of the Athletics and Running Section travelled to the Austrian Tyrol. As always, these trips away are intended to be on a budget taking advantage of the internet to book cheap airlines and make all arrangements on-line.
Surprisingly, Innsbruck hasn't been invaded by the budget airlines. There are some package companies flying there but this would mean booking a whole week via a package travel company.
After much research I was able to get us to the Tyrol by Easyjet who flew Liverpool / Basel. Our flight departed late morning, arriving in Basel mid-afternoon. We then collected our pre-hired a nine seat Transit minibus and drove 250 miles across Switzerland, stopping for dinner in Liechtenstein before arriving in Innsbruck late evening.
A 250 mile drive might sound daunting but this was an effortless journey mostly on dual carriageway and motorway through absolutely breathtaking scenery.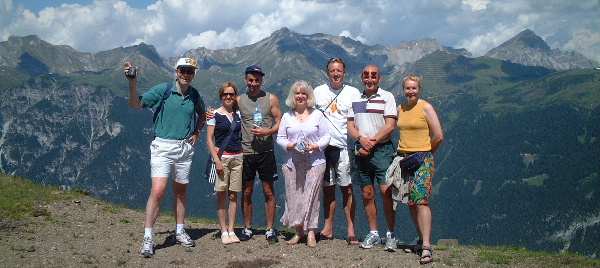 We booked into a hotel halfway up the Brenner Pass in a quaint Austrian ski village called Steinach. The Hotel Aktiv Zur Rose was a tremendous find. It was actually recommended by the Tyrol Speed Marathon organisers. We could not have been better looked after with comfortable rooms, a welcome host and excellent food. Our hotel stay included a free area travel pass that gave us free use of the cable cars taking us up high into the mountains.
On Friday we visited Innsbruck and all registered for the race. Innsbruck was a very nice compact Austrian city with lots of charm and character. Seven of us took a thirty minute horse and carriage ride around the city costing around £4 a head.
Saturday - Marathon Race Day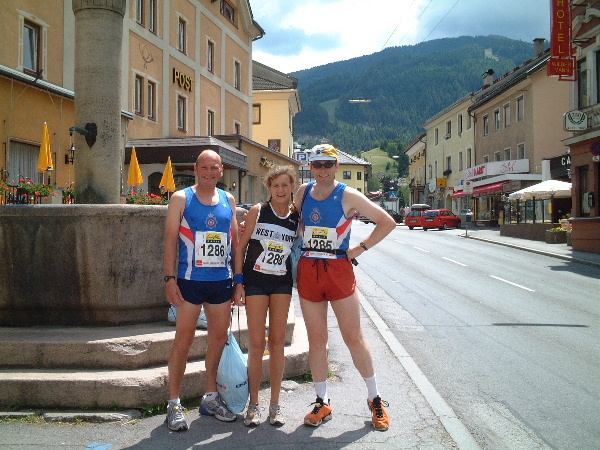 Steinach before the Marathon in 90 degrees of sunshine - Michael Horne, Heather Mitchell (West Yorks Police) and Steve Broadbent
Marathon
The start of the marathon race was at 4pm on Saturday from the Italian border town of Brenner. We travelled a short train journey from Steinach to Brenner arriving in good time to allow us a relaxing hour in an Italian street cafe in 90 degrees of glorious sunshine.
The start area was well organised. Baggage lorries and staff were on hand to collect kit right up to minutes before the race. We started on time in 'no man's land' between the Austrian/Italian borders. We headed into Italy some 2 km descending gently down the Italian side of the pass before turning back uphill to cross back into Austria. We then started to make the 2500 foot, 24 mile descent toward Innsbruck. Our race numbers seemed to be accepted as our 'passports' between the two counties!
Not so fast down!
When I first read about the Tyrolean Speed Marathon I thought this must be a PB event. However, I was disappointed to find that the 'downhill' didn't assist that much. Only a month earlier I achieved a 3.20 marathon time over an undulating course. Today I struggled to finish in 3.40. Somehow my speed did not increase on the descents, I only managed short bursts of speed before my legs wanted to resume their normal cruising speed. Much of the course was flat and certain sections were a little uphill.
Excellent Course
Despite the disappointment of the 'not so fast' speed marathon course the views along the 26 mile route were magnificent. For the first half of the race the sun shone and temperatures were 80 to 90 degrees. The second half of the run was a different story. The skies darkened with torrential rain, thunder and lightening during the final hour of the race right above us. The rain cooled me down nicely and I later learned this was the worse electrical storm in Austria for many years!
I finished in the lovely city of Innsbruck with excellent crowd support and was greeted by the half marathon team who had all finished the race.
Half Marathon
The bulk of the team opted for the half marathon that started just south of our village and traversed the same route into Innsbruck. The team achieved good finishing times despite the thunder storms that they also endured while entering Innsbruck.
Steve Cooney and Ray Entwistle finished together in an excellent time of 1.34. The remainder finished well with my wife, Anne completing her debut 'half' in just under three hours!
Journey Home
All in all our visit to Austria was one our most enjoyable Club trips so far. I think Austria is one of the most delightful countries in Europe. Tremendous countryside, excellent climate (despite the storm) charming towns and villages and very friendly people. The Euro rate is good and prices in Austria are equal to UK. No longer the expensive country it used to be.
We were sorry to depart on Sunday but clear blue skies and excellent views on our return trip to Basel made the weekend complete.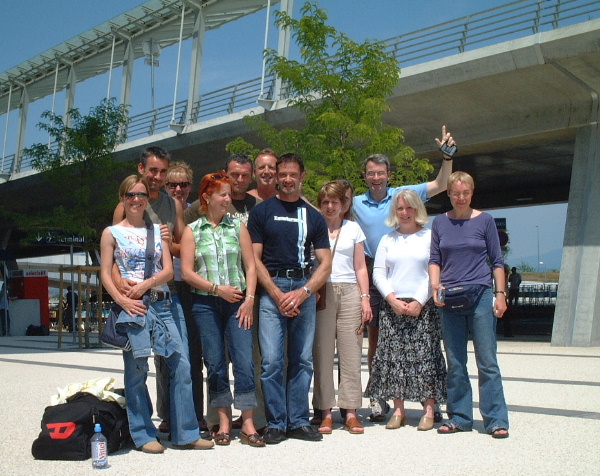 The Lancashire Constabulary running party and guests line up at Basel Airport
The Team and Results

Marathon

PC Steven Broadbent - 3 hours 40 minutes

Mr Michael Horne (Retired PC) - 4 hours 11 minutes

Ms Heather Mitchell - West Yorkshire Police - 3 hours 49 minutes
Half Marathon

DC Ray Entwistle - 1 hour 34 minutes

DC Steve Cooney - 1 hour 34 minutes

Ms Shirley Worrall - 1 hour 50 minutes

PC David Watkinson - 1 hour 54 minutes

Ms Sue Harrison - 2 hours 21 minutes

Mrs Anne Broadbent - 2 hours 59 minutes
Thinking of Visiting Innsbruck?
Marathon Score Ratings
Organisation
Registration - 8/10
Start/Finish - 8/10
Course - 8/10
Location
Registration - 8/10
Start/Finish - 9/10
Course - 9/10
City and Valley - 10/10
Overall
Recommended - 9/10
Trip Costs

Easyjet Flights - Liverpool - Basel - £35

Minibus Hire , Fuel and Tolls - £40

Hotel Room/Breakfast - £28 pp per night

Hotel Dinner - £7.50

Marathon Entry Fee - £27

Half Marathon Entry Fee - £14

Wipptal-Steinach area travel pass - Free with hotel accommodation

Horse and carriage ride - Innsbruck - £28 (7 persons)
Links

Tyrol Speed Marathon

Hotel Aktiv Zur Rose - Recommended
Further Information

Contact: Athletics and Running Secretary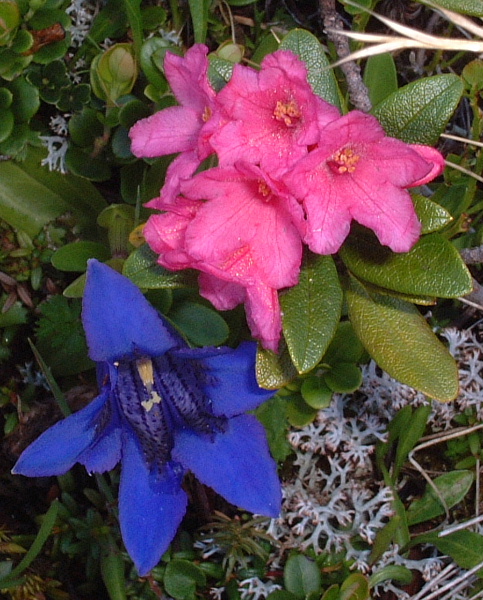 Alpine flora and fauna