Windermere Marathon
Windermere, Cumbria, UK
Sunday18 May 2008
This was a revisit to my debut marathon race back in 1982. Circumnavigating Windermere Lake the 26.2 mile course started from Brathay House on the north west side of the lake and went anti-clockwise to Newby bridge, Bowness, Ambleside and back to finish at Brathay.
The weather was fairly warm and sunny and the course was an undulating route through beautiful countryside with glimpses of the lake much of the time.
I ran a respectable 3 hours 38 minutes and was pleased with my time given my recent "Long Way Up" journey the previous month.
There was a big turn-out from the Lancashire Police AC with Simon Dent, Jools ready, Jon Shaw, Brian Shepherd and Neil Smith completing the course in excellent times with some PB's achieved.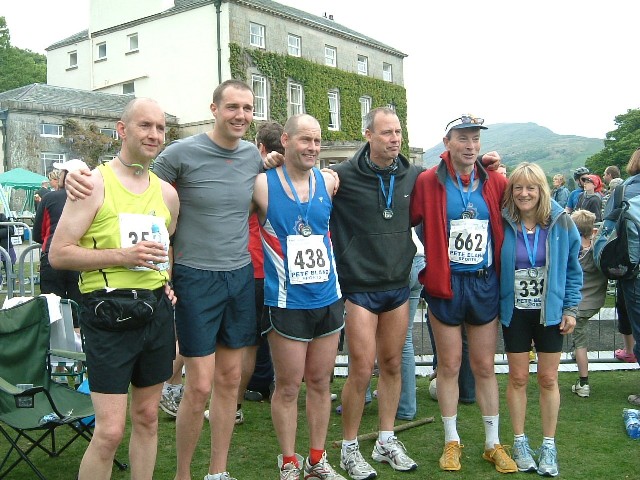 Brian Shepherd, Simon Dent, Jon Shaw, Neil Smith, Steve Broadbent and Jools Ready line up at the start

Pre-Race organisation - 8/10

Marathon Course - 8/10

Race day organisation - 8/10

Overall - 8/10

Further Information

Contact: Steve Broadbent