Features
Timex Trailrunner - Sports Watch - GPS - Heart Rate Monitor
The Timex Trailrunner GPS systems is designed primarily for running and walking but can also be used by cyclists. The device use global positioning satellites to work out coordinates on the ground that will then determine speed, distance, direction and height.
League runner PC Steve Broadbent purchased his Timex Trail Runner system Christmas 2005. The package costing £250 comprises:

Wristwatch - Featuring all data readout

GPS Device - fitted to upper forearm

Heart rate monitor - fitted as chest strap

Computer download device - worn on waist band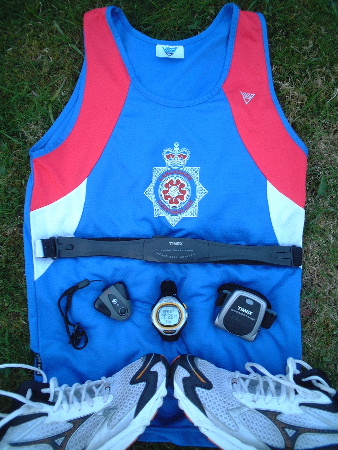 After three months usage Steve gave his evaluation on the Timex Trailrunner…..
I have read about such devices for a couple of years but wondered whether they were more a hassle to carry rather than a way of improving my running performance. I purchased the full package for £250 from The Running Centre in Lancaster. I had looked at rival models such as Garmin but felt the Timex was the best as the digital data readout was incorporated within the wristwatch. This could be worn as a 'normal watch' when you weren't operating the other devices. It also looked smart and wearable at any time or place.

GPS Device
This was operated by a single, rechargeable battery and strapped to my upper forearm. It has one single on-off button and within a minute will detect sufficient satellites to send accurate data to the wristwatch. The watch then displays speed, time, distance and height and refreshes this data every three seconds.
I was amazed at the immediate response of the device and as I started to walk, the display immediately began reading MPH, minutes per mile - pace as well as height and metres travelled. Absolutely remarkable!

Heart Rate Monitor
I then strapped my HRM to my chest and waited for response. Within a minute the watch was now reading my HR as well as speed, distance and so on. It was like having your own on board computer.
Timex Trail Runner, GPS, HRM and download pod.

Computer Download Device
To add to the watch, GPS and HRM there was a small 'pod' that collects data from both the GPS and HRM. A simple one touch button synchronised one device then a second press the other. This would now capture all the ongoing data for up to five hours. Then connected to a USB lead the data can be transferred to your PC. The results were fantastic.
Not only was I able to view a detailed graph of my last training run I was also able to view a map of the course I had taken with coordinates. These can be imported into an OS map and superimpose upon the given legend fairly accurately.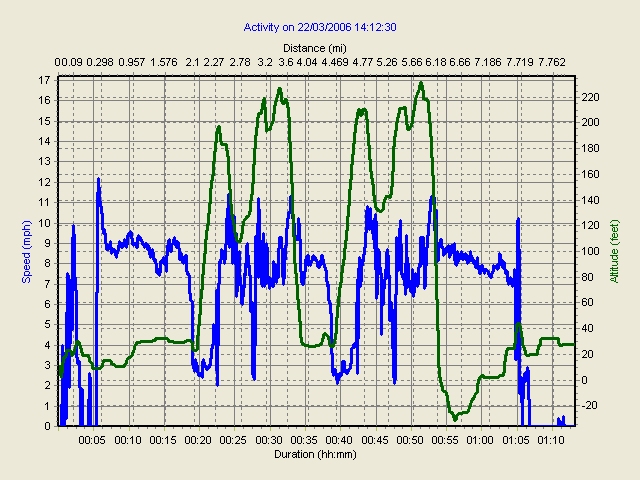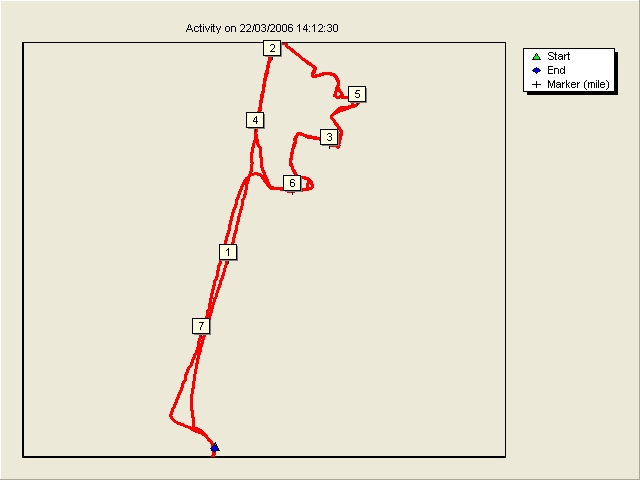 Pictured above - Computer graph and map showing speed and height over distance in the
2006 Police Sport UK Cross Country Championships in Perranporth, Cornwall.

Conclusion
In the main, all devices function well most of the time. However, common faults with all GPS devices are buildings and dense trees that can obscure and break up GPS signals - not a fault of the device. Also, I understand there can be up to a 30 foot difference in coordinates - something to do with the satellites themselves.
The Timex devices can be occasionally temperamental. GPS to watch - spot on. However, HRM to watch (When GPS is fitted) can give erratic high and low read-outs - this is common with HRM used with GPS.
On the downside I do wonder whether Timex could incorporate the GPS and computer download pod into one wristwatch device. Garmin, the rival manufacturer has now achieved this and has produced a fairly wearable one-piece device worn on the wrist that contains everything but the HRM.
I would give the Timex Trailrunner 8/10 but as technology progresses (as it always does) may look to upgrading it to a smaller device in a couple of years.

To find out more about the Timex Trailrunner Email Steve Broadbent