10 Mile Road Race Championships 2011
Hertfordshire - Wednesday 14 September 2011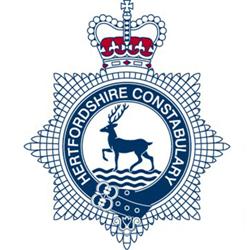 Race Report and Results
By Katherine Willoughby - PSUK Athletics Committee
This years Police National 10 Mile Road race Championships were hosted by Hertfordshire in Stevenage. The 2 lap designed race course had received a UK Athletics Gold Grade status which threw in a couple of cheeky little rises to challenge the athletes on what turned out to be a hot Wednesday afternoon. The race director namely Insp Ron Singleton is in her last year of service and having spent 30 years as a competing athlete wanted to give something back to the sport by organising this year's event in Hertfordshire's 175yh year. The theme throughout was dominated by the Hertfordshire Hedgehog which is the traditionally known name for local people originating from "a haystack" as the county's primary medieval export to the markets in London.
At 1300 hours the race was started by the guest of honour Mrs Joyce Smith MBE who was team captain at the Munich Olympics and came 11th in the LA Olympic Marathon. In 1978 she set a world record time over 3000m of 9m.11secs for W40 and that record still stands today. The PSUK were thrilled to have such a guest to start the race.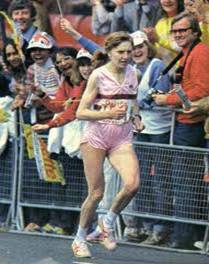 This year's race had a total of 215 men and 110 ladies cross the finish line. Numbers this year were possibly hindered by the cancellation of leave during the riots and staff trying to catch up on some time off but those that took part did so, full of vigour and ran their hearts out.
In the men's race an early lead was established by the home county's Dave Mitchinson who has decided to come back from Triathlon and concentrate on his running. He was being chased hard by 2 giants from the Met namely John Franklin and Jim Cooper but Mitchinson kept his lead in front of a home crowd to storm home in 52.56. Franklin was 2nd in 54.28 followed by his team mate Cooper in 54.34.
4th place went to the first male vet 40 namely Steve Cairns from Lothian and Borders in 55.30. The Met managed to squeeze 4 men home in the top ten which convincingly gave them the first men's team prize. 1st and 2nd plus Peter Tucker and Simon Riley. Dave Rayfield from Northamptonshire was the first male over 45 and came in 25th place in a time of 61.39. He was closely followed by the first male over 50 in 29th place from Lothian and Borders in a time of 61.57 namely Toni Kott. Another home boy namely Desmond Michael won the over 60 category by storming home in an incredible time of 66.12. 2nd team prize was taken by Cheshire with Rob Grantham, Vince Van Woerkom and Malcolm Fowler and 3rd team prize went to Hampshire with Paul Cardy, Tony Rickman, Andy Proctor and Tom North.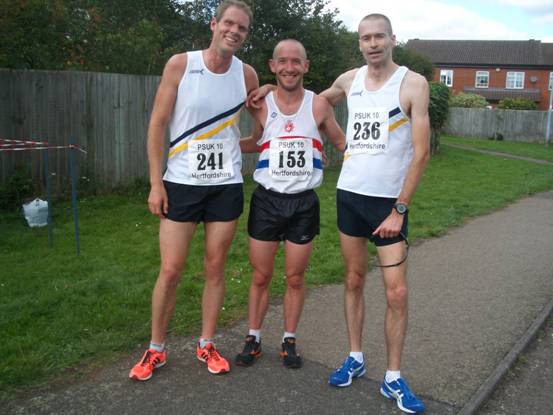 The ladies race over the first lap was more evenly contested with Natalie Farrow from Lincs, Diane Lauder from Lothian and Sarah Hill from Hampshire all breathing down each others neck. However by the second lap a gap had appeared and Farrow showed her form by breaking away. The following two then began to split with Lauder getting the better of Hill on this occasion. The ladies remained in this position over the line recording respective times of 61.51, 62.37 and 63.45. Lauder was also the first lady vet over 35. First vet 40 was Chris Howard from Derbyshire in 6th place with a time of 66.17 and first vet over 45 was Polly Randall-Johnson from Devon and Cornwall in 19th place with 72.27. Hampshire 2nd runner namely Kate Towerton was 4th and their 3rd lady namely Rachel Melhuish came 23rd to secure Hampshire ladies the winning team trophy. 2nd team prize went to the Met with Caroline Walsh, Libby Free and Jo Ravenhill and 3rd team went to Lothian and Borders with Di Lauder, Gillian Duncan and Lianne Logan.
Results
Men's Results
Pos
Cat
Pos M/F
No.
Name
Cat
Force
Time
1
1
1
153
Dave Mitchinson
MS
Hertfordshire
52:56
2
2
2
241
John Franklin
MS
Met
54:28
3
3
3
236
Jim Cooper
MS
Met
54:34
4
1
4
203
Steve Cairns
M40
Lothian & Borders
55:30
5
4
5
17
Rob Grantham
MS
Cheshire
56:24
6
5
6
263
Peter Tucker
MS
Met
56:38
7
6
7
117
Paul Cardy
MS
Hampshire
57:03
8
7
8
408
Simon Newton
MS
West Yorkshire
57:33
9
8
9
24
Vince Van Woerkom
MS
Cheshire
57:58
10
9
10
261
Simon Riley
MS
Met
58:06
11
10
11
323
Justin Maxwell
MS
PSNI
58:09
12
11
12
44
Ian Philips
MS
Derbyshire
58:30
13
12
13
179
Mark Penny
MS
Kent
58:37
14
13
14
354
Cameron Wilson
MS
Strathclyde
58:59
15
14
15
412
Ben Brewster
MS
Wiltshire
59:39
16
15
16
319
Ben Skellern
MS
Nottinghamshire
59:42
17
16
17
324
Ryan Maxwell
MS
PSNI
59:44
18
17
18
402
Harvey Rose
MS
West Midlands
59:45
19
18
19
55
Alex Daniels
MS
Devon & Cornwall
59:47
20
2
20
102
Rick Lloyd
M40
GMP
60:25
21
19
21
160
Blake Vivian
MS
Hertfordshire
61:15
22
20
22
257
Rhys Peters
MS
Met
61:22
23
21
23
365
Peter Crisp
MS
Thames Valley
61:26
24
22
24
11
Neil Sloan
MS
Cambridgeshire
61:34
25
1
25
295
Dave Rayfield
M45
Northamptonshire
61:39
26
23
26
361
Colin Wood
MS
Surrey
61:44
27
24
28
250
John Knight
MS
Met
61:53
28
1
29
215
Toni Kott
M50
Lothian & Borders
61:57
29
3
30
87
Darren Jones
M40
Gloucestershire
62:03
30
2
31
22
Myles Robertson
M45
Cheshire
62:06
31
4
32
289
Andy Blaize
M40
Northamptonshire
62:23
32
5
34
72
Dave Wood
M40
Essex
62:44
33
3
35
81
Michael Harvey
M45
Fife
62:47
34
25
36
9
Ed McNeil
MS
Cambridgeshire
62:48
35
4
37
256
Steve Oliver-Crockett
M45
Met
62:59
36
26
38
330
Andy Lakeland
MS
South Yorkshire
63:06
37
5
39
97
Dave Fulton
M45
GMP
63:25
38
27
40
130
Anthony Rickman
MS
Hampshire
63:27
39
6
41
384
Carl Dunne
M40
West Midlands
63:29
40
28
42
420
Ricky Lee
MS
Wiltshire
63:35
41
29
44
266
Kris Barnard
MS
Norfolk
64:04
42
30
45
217
Stevie Laurie
MS
Lothian & Borders
64:09
43
6
46
16
Malcolm Fowler
M45
Cheshire
64:10
44
31
47
68
Daniel Corr
MS
Essex
64:28
45
32
48
387
Steve Goult
MS
West Midlands
64:40
46
33
49
128
Andrew Proctor
MS
Hampshire
64:43
47
34
52
127
Tom North
MS
Hampshire
64:52
48
7
53
191
Duncan Malloy
M45
Leicestershire
65:21
49
7
54
243
Chris Fuller
M40
Met
65:25
50
8
55
322
Dougie Grant
M40
PSNI
65:40
51
2
56
299
David Hall
M50
Northumbria
65:42
52
8
57
415
Stuart Dinwoodie
M45
Wiltshire
65:49
53
35
58
334
Thomas Smith
MS
South Yorkshire
65:55
54
36
59
416
Sam Edwards
MS
Wiltshire
65:55
55
9
60
245
Steve Harrison
M40
Met
66:04
56
1
61
151
Desmond Michael
M60
Hertfordshire
66:12
57
37
63
399
Andrew Pye
MS
West Midlands
66:18
58
9
64
404
Martin Slevin
M45
West Midlands
66:27
59
38
65
248
Rob Jackaman
MS
Met
66:28
60
10
67
287
Gary Zoller
M45
Norfolk
66:39
61
39
68
47
John Aked
MS
Devon & Cornwall
67:01
62
10
69
58
Simon James
M40
Devon & Cornwall
67:03
63
40
70
267
Stuart Barnard
MS
Norfolk
67:12
64
41
71
49
James Blight
MS
Devon & Cornwall
67:12
65
11
73
142
Steve Hague
M40
Hertfordshire
67:41
66
12
75
193
Robert Gregory
M40
Leicestershire
68:04
67
42
76
78
Russ Welch
MS
Essex
68:09
68
43
77
325
Andrew Gardiner
MS
South Wales
68:14
69
44
78
5
Mike Branston
MS
Cambridgeshire
68:16
70
11
79
168
Nigel Cook
M45
Kent
68:18
71
45
80
427
Paul Wooley
MS
Wiltshire
68:29
72
46
81
80
Roger Bond
MS
Fife
68:35
73
47
82
50
Simon Boobyer
MS
Devon & Cornwall
68:35
74
3
85
389
Steve Harrison
M50
West Midlands
68:58
75
13
87
229
Princeton Akpojaro
M40
Met
69:17
76
48
88
233
Richard Brooks
MS
Met
69:19
77
49
89
252
Luke Lazell
MS
Met
69:21
78
50
90
425
Rich Stephenson
MS
Wiltshire
69:28
79
12
91
386
Kevin Ellor
M45
West Midlands
69:39
80
13
92
171
Bob Fursey
M45
Kent
69:48
81
51
93
320
Andy Williams
MS
Nottinghamshire
69:49
82
52
94
421
Mac McDonald
MS
Wiltshire
69:57
83
14
95
398
Tony Price
M45
West Midlands
70:01
84
15
96
222
Gavin Philip
M45
Lothian & Borders
70:15
85
4
97
395
Roberts Mills
M50
West Midlands
70:17
86
16
98
94
Dave Wood
M45
Gloucestershire
70:24
87
53
100
385
Glyn Edwards
MS
West Midlands
70:38
88
54
102
265
Jon Waterfield
MS
Met
70:42
89
55
103
59
Steve Mahoney
MS
Devon & Cornwall
70:45
90
14
104
45
Karl Webster
M40
Derbyshire
70:47
91
17
105
244
Rob Harding
M45
Met
70:49
92
18
107
167
Stuart Champion
M45
Kent
71:01
93
5
108
280
Peter Laddiman
M50
Norfolk
71:03
94
56
109
315
Tom Beeby
MS
Nottinghamshire
71:17
95
57
111
382
Paul Davey
MS
West Midlands
71:21
96
15
112
52
Tim Brooks
M40
Devon & Cornwall
71:29
97
16
113
154
Andy Pope
M40
Hertfordshire
71:36
98
19
114
101
Bryan Lawton
M45
GMP
71:40
99
20
116
138
Jim Buttleman
M45
Hertfordshire
71:47
100
1
118
207
John Donnoghue
M55
Lothian & Borders
71:52
101
6
119
316
Pete Gilbert
M50
Nottinghamshire
72:01
102
58
120
349
Campbell Petrie
MS
Strathclyde
72:08
103
21
121
392
Steve Ingleby
M45
West Midlands
72:12
104
59
122
113
Damian Waite
MS
Gwent
72:18
105
17
123
69
John Jackson
M40
Essex
72:25
106
7
125
41
Kevin Loftus
M50
Derbyshire
72:31
107
18
127
302
Lee Bailey
M40
North Wales
72:40
108
22
128
335
Nigel Braun
M45
Staffordshire
72:41
109
19
129
75
Charles Quaey
M40
Essex
72:57
110
60
130
157
Andrew Shepherd
MS
Hertfordshire
72:59
111
2
132
146
Tim Kelly
M55
Hertfordshire
73:03
112
23
133
48
Ian Baggott
M45
Devon & Cornwall
73:06
113
8
134
328
Kevin Russell
M50
South Wales
73:08
114
61
136
258
Liam Phair
MS
Met
73:15
115
62
137
262
Stephen Rodgers
MS
Met
73:19
116
63
139
339
Philip Fortun
MS
Staffordshire
73:29
117
9
140
67
Pete Bryan
M50
Essex
73:31
118
64
141
176
Chris Spencer
MS
Kent
73:39
119
24
144
149
John Luck
M45
Hertfordshire
73:47
120
25
145
156
Dave Rhodes
M45
Hertfordshire
73:48
121
20
146
221
Dougie Paton
M40
Lothian & Borders
73:55
122
21
147
119
Martin Cole
M40
Hampshire
74:00
123
65
150
186
Will Nelson
MS
Lancashire
74:08
124
66
152
278
Craig Johnstone
MS
Norfolk
74:18
125
26
154
174
Adrian Moody
M45
Kent
74:22
126
67
155
85
Matt Aston
MS
Gloucestershire
74:25
127
10
156
60
Don Pearson
M50
Devon & Cornwall
74:27
128
68
158
137
Dominic Buck
MS
Hertfordshire
74:33
129
2
159
332
David Needham
M60
South Yorkshire
74:34
130
27
160
276
Chris Gay
M45
Norfolk
74:39
131
11
161
93
Pete Wand
M50
Gloucestershire
74:46
132
69
163
231
Adam Baker
MS
Met
74:59
133
12
165
190
David Wilkinson
M50
Lancashire
75:09
134
22
168
341
Tony McKenzie
M40
Staffordshire
75:29
135
23
169
109
Andrew Mariner
M40
Gwent
75:30
136
13
170
95
Jim Bentley
M50
GMP
75:38
137
24
172
304
Kevin Clark
M40
North Wales
75:49
138
25
174
358
Jonathan Edwards
M40
Surrey
75:53
139
70
175
178
Paul Withrington
MS
Kent
76:00
140
71
177
169
Samantha Dixon
MS
Kent
76:11
141
26
181
368
Graham Horton
M40
Thames Valley
76:18
142
27
183
397
Jason Moseley
M40
West Midlands
76:21
143
72
184
369
Richard Hughes
MS
Thames Valley
76:29
144
28
186
163
Neil Pattison
M45
Humberside
76:51
145
28
190
270
Richard Collyer
M40
Norfolk
77:11
146
14
192
370
David Jamieson
M50
Thames Valley
77:38
147
15
193
180
Steve Broadbent
M50
Lancashire
78:01
148
3
194
165
Steve Adelsberg
M55
Kent
78:22
149
29
195
372
Granville Williams
M40
Thames Valley
78:24
150
29
196
18
Andrew Morriss
M45
Cheshire
78:27
151
73
199
247
Jon Hughes
MS
Met
78:49
152
16
200
124
Derek Nichols
M50
Hampshire
79:02
153
74
203
35
Simon English
MS
Derbyshire
79:06
154
75
206
423
Dan Poole
MS
Wiltshire
79:34
155
17
207
271
Dale Cooper
M50
Norfolk
79:37
156
76
210
388
Chris Hanson
MS
West Midlands
79:45
157
77
212
391
A. Nother
MS
West Midlands
80:06
158
30
213
79
Glen Westley
M40
Essex
80:13
159
78
214
413
Tim Chandler
MS
Wiltshire
80:26
160
79
215
321
Graham Whitt
MS
Nottinghamshire
80:30
161
80
216
234
Jamie Collett
MS
Met
80:34
162
30
217
32
Adrian Martin
M45
Cleveland
80:40
163
31
218
197
Steve Plumb
M45
Leicestershire
80:55
164
81
219
297
Alan Bowman
MS
Northumbria
80:58
165
31
220
192
Will Cheshire
M40
Leicestershire
80:59
166
32
222
201
Alan Aitchison
M40
Lothian & Borders
81:08
167
32
224
110
Stephen New
M45
Gwent
81:15
168
33
226
147
Paul Lawrence
M40
Hertfordshire
81:37
169
34
228
224
Bill Sneddon
M40
Lothian & Borders
81:55
170
35
229
136
Ian Blundell
M40
Hertfordshire
82:04
171
36
230
377
Dave Nown
M40
Warwick
82:05
172
33
233
36
Gary Goacher
M45
Derbyshire
82:14
173
4
234
211
John Forsyth
M55
Lothian & Borders
82:31
174
37
235
115
Richard Baldwin
M40
Hampshire
82:31
175
18
237
132
Greg Roulston
M50
Hampshire
82:46
176
19
238
375
Paul Fulham
M50
Warwick
82:59
177
34
239
141
Andrew Ewing
M45
Hertfordshire
83:04
178
82
242
298
Craig Brown
MS
Northumbria
83:12
179
38
243
12
Dave Stilwell
M40
Cambridgeshire
83:15
180
83
245
394
Richard Mallinson
MS
West Midlands
83:26
181
35
246
112
Colin Prosser
M45
Gwent
83:28
182
36
247
13
Nigel Trippett
M45
Cambridgeshire
83:33
183
20
249
57
Malcolm Hall
M50
Devon & Cornwall
83:47
184
21
250
356
Nigel Cook
M50
Surrey
83:51
185
22
253
164
Mike Bowron
M50
Jersey
84:29
186
39
258
411
Mark Braithwaite
M40
Wiltshire
84:54
187
84
260
309
Gareth Jaggard
MS
North Wales
85:07
188
85
261
139
Paul Chalkley
MS
Hertfordshire
85:10
189
3
265
61
Adrian Page
M60
Devon & Cornwall
85:22
190
5
268
214
Bob Hope
M55
Lothian & Borders
86:19
191
86
269
188
Richard Schollicar
MS
Lancashire
86:38
192
40
273
145
Paul Jennings
M40
Hertfordshire
87:15
193
87
277
99
Nick Joynt
MS
GMP
88:16
194
41
279
150
Kelvin Mackenzie
M40
Hertfordshire
88:22
195
23
280
373
Michael Bennett
M50
Warwick
89:05
196
4
281
380
David Chapman
M60
West Midlands
89:12
197
5
283
185
Bill Murray
M60
Lancashire
89:21
198
42
285
111
Christopher O'Driscoll
M40
Gwent
89:33
199
24
289
10
Simon Parr
M50
Cambridgeshire
90:20
200
37
290
187
Mark Porter
M45
Lancashire
90:46
201
38
291
175
Mel Moore
M45
Kent
90:54
202
88
298
268
Glen Barnes
MS
Norfolk
92:09
203
43
300
7
Jeff Hill
M40
Cambridgeshire
93:37
204
39
301
3
George Barr
M45
Cambridgeshire
93:37
205
44
302
232
Talal Mahmood
M40
Met
94:01
206
89
303
424
Gareth Snoad
MS
Wiltshire
94:14
207
6
304
288
Graham Bayes
M60
Northamptonshire
94:18
208
6
305
357
Steve Davis
M55
Surrey
94:21
209
90
311
274
Michael Flower
MS
Norfolk
97:09
210
7
312
161
Phil Wynes
M55
Hertfordshire
97:27
211
91
313
76
Gavin Timms
MS
Essex
97:46
212
7
316
282
Brian Moore
M60
Norfolk
1:44:08
213
25
318
331
Gary Morewood
M50
South Yorkshire
1:45:48
214
45
319
120
Milan Desai
M40
Hampshire
1:47:25
215
26
321
1
Peter Lawley
M50
Bedfordshire
1:50:19
Women's Results
Pos
Cat
Pos M/F
No.
Name
Cat
Force
Time
1
1
27
200
Natalie Farrow
FS
Lincolnshire
61:51
2
1
33
216
Diane Lauder
F35
Lothian & Borders
62:37
3
2
43
121
Sarah Hill
F35
Hampshire
63:45
4
2
50
134
Kate Towerton
FS
Hampshire
64:44
5
3
51
364
Jill Christie
FS
Thames Valley
64:48
6
1
62
37
Christine Howard
F40
Derbyshire
66:17
7
4
66
327
Kelly Morgan
FS
South Wales
66:37
8
5
72
100
Kate Kelly
FS
GMP
67:26
9
6
74
264
Caroline Walsh
FS
Met
67:43
10
3
83
286
Alex Smith
F35
Norfolk
68:45
11
1
84
62
Polly Randall-Johnson
F45
Devon & Cornwall
68:55
12
7
86
242
Libby Free
FS
Met
69:00
13
4
99
90
Emma Skeen
F35
Gloucestershire
70:28
14
8
101
355
Natalia Wojcik
FS
Strathclyde
70:40
15
5
106
336
Lynne Callaghan
F35
Staffordshire
70:56
16
9
110
259
Jo Ravenhill
FS
Met
71:19
17
10
115
83
Jacqueline Macintyre
FS
Fife
71:42
18
6
117
209
Gillian Duncan
F35
Lothian & Borders
71:50
19
2
124
53
Caroline Chesterfield
F45
Devon & Cornwall
72:27
20
7
126
381
Sophie Clement
F35
West Midlands
72:33
21
11
131
218
Lianne Logan
FS
Lothian & Borders
73:01
22
2
135
194
Natasha Hassell
F40
Leicestershire
73:10
23
8
138
123
Rachel Mellhuish
F35
Hampshire
73:25
24
3
142
31
Kate Swanson
F40
City of London
73:41
25
9
143
155
Paula Reynolds
F35
Hertfordshire
73:46
26
1
148
296
Catherine Williams
F50
Northamptonshire
74:03
27
12
149
208
Rachel Drummond
FS
Lothian & Borders
74:05
28
2
151
2
Kate Armstrong
F50
Cambridgeshire
74:13
29
4
153
162
Rachel Love
F40
Humberside
74:19
30
13
157
63
Emma Sidebotham
FS
Devon & Cornwall
74:29
31
10
162
23
Trish Van Rooyen
F35
Cheshire
74:55
32
14
164
227
Alison Wylie
FS
Lothian & Borders
75:07
33
15
166
82
Sally Kinsell
FS
Fife
75:14
34
16
167
43
Caroline Moss
FS
Derbyshire
75:17
35
3
171
195
Katrina Kemp
F50
Leicestershire
75:41
36
5
173
144
Nicola Hunt
F40
Hertfordshire
75:50
37
3
176
54
Jo Church
F45
Devon & Cornwall
76:10
38
17
178
277
Maria Greaves
FS
Norfolk
76:13
39
6
179
184
Laura Lawler
F40
Lancashire
76:15
40
7
180
403
Gillian Russon
F40
West Midlands
76:16
41
11
182
15
Maggie Fenn
F35
Cheshire
76:19
42
12
185
353
Carol Summers
F35
Strathclyde
76:34
43
4
187
260
Jacqueline Reid
F45
Met
76:57
44
18
188
343
Laura Sandy
FS
Staffordshire
77:02
45
19
189
84
Joanna Wilson
FS
Fife
77:07
46
20
191
422
Jenny Morison
FS
Wiltshire
77:35
47
4
197
158
Ron Singleton
F50
Hertfordshire
78:33
48
21
198
396
Kelly Monaghan
FS
West Midlands
78:41
49
22
201
345
Michelle Bertram
FS
Strathclyde
79:04
50
23
202
351
Lynne Rogers
FS
Strathclyde
79:05
51
24
204
73
Rachel O'Connor
FS
Essex
79:30
52
13
205
371
Nicola Rodger
F35
Thames Valley
79:30
53
25
208
310
Yvie Johnson
FS
North Wales
79:39
54
26
209
249
Sarah James
FS
Met
79:44
55
27
211
118
Gail Chippendale
FS
Hampshire
80:01
56
28
221
183
Nikki Kay
FS
Lancashire
81:01
57
29
223
292
Ellie Lock
FS
Northamptonshire
81:10
58
8
225
20
Susan Poole
F40
Cheshire
81:27
59
30
227
91
Jessica Straw
FS
Gloucestershire
81:40
60
14
231
344
Deborah Wilne
F35
Staffordshire
82:05
61
15
232
337
Clare Davenport
F35
Staffordshire
82:11
62
31
236
223
Caroline Rogers
FS
Lothian & Borders
82:41
63
5
240
329
Helen Cutmore
F45
South Yorkshire
83:10
64
32
241
303
Sian Beck
FS
North Wales
83:11
65
16
244
125
Heather Noad
F35
Hampshire
83:23
66
9
248
338
Sharon Edwards
F40
Staffordshire
83:44
67
5
251
281
Ann Lewin
F50
Norfolk
84:09
68
6
252
293
Madeleine Moutrie
F50
Northamptonshire
84:11
69
33
254
40
Sarah Holmes
FS
Derbyshire
84:43
70
17
255
406
Anna Gached
F35
West Yorkshire
84:50
71
18
256
173
Toni Mathew
F35
Kent
84:51
72
10
257
428
Sharon Graham
F40
Kent
84:53
73
19
259
230
Mary Allieu
F35
Met
84:57
74
1
262
407
Heather Mitchell
F55
West Yorkshire
85:17
75
11
263
340
Julie Lovatt
F40
Staffordshire
85:21
76
34
264
27
Rhea Evans
FS
City of London
85:22
77
7
266
306
Pam Grant
F50
North Wales
86:15
78
8
267
254
Mel McLure
F50
Met
86:18
79
35
270
285
Louise Rout
FS
Norfolk
86:48
80
36
271
204
Louise Campbell
FS
Lothian & Borders
87:14
81
12
272
378
Samantha Oakley
F40
Warwick
87:14
82
37
274
419
Rachel Law
FS
Wiltshire
87:16
83
20
275
143
Claire Halfpenny
F35
Hertfordshire
87:23
84
38
276
300
Sally Youden
FS
Northumbria
87:24
85
39
278
189
Viv Sherry
FS
Lancashire
88:21
86
6
282
312
Melanie Williams
F45
North Wales
89:16
87
40
284
269
Dawn Collyer
FS
Norfolk
89:27
88
41
286
103
Hannah Mandel
FS
GMP
89:49
89
42
287
291
Joanne Lee
FS
Northamptonshire
90:00
90
13
288
38
Diane Hamilton
F40
Derbyshire
90:16
91
2
292
199
Jill Sharpe
F55
Leicestershire
90:59
92
43
293
418
Melissa Gregg
FS
Wiltshire
91:00
93
44
294
290
Kristie Brooks
FS
Northamptonshire
91:28
94
14
295
51
Sue Bookless-Brown
F40
Devon & Cornwall
91:50
95
15
296
170
Caroline Filmer
F40
Kent
91:53
96
7
297
126
Maggie Norgate
F45
Hampshire
91:55
97
45
299
28
Samantha Garwood
FS
City of London
93:07
98
46
306
8
Jenny Massie
FS
Cambridgeshire
94:29
99
8
307
46
Julia Adcock
F45
Devon & Cornwall
95:21
100
16
308
213
Terri Gover
F40
Lothian & Borders
96:02
101
9
309
376
Beverley Graham-Older
F45
Warwick
96:19
102
17
310
172
Wendy Gilham
F40
Kent
96:30
103
47
314
367
Vanessa Hall
FS
Thames Valley
1:40:00
104
18
315
284
Debbie Pearson
F40
Norfolk
1:41:22
105
3
317
182
Sue Harrison
F55
Lancashire
1:44:38
106
10
320
66
Liz Lawrence
F45
Essex
1:49:37
107
19
322
6
Rachel Gourlay
F40
Cambridgeshire
1:52:25
108
48
323
4
Jenni Brain
FS
Cambridgeshire
1:52:25
109
9
324
71
Elaine Michaels
F50
Essex
2:03:54
110
21
325
273
Hazel Flower
F35
Norfolk
2:03:54
Women's Team Results
1
Hampshire
30
3 Sarah Hill
4 Kate Towerton
23 Rachel Mellhuish
L
2
Met
37
9 Caroline Walsh
12 Libby Free
16 Jo Ravenhill
L
3
Lothian & Borders
41
2 Diane Lauder
18 Gillian Duncan
21 Lianne Logan
L
4
Devon & Cornwall
60
11 Polly Randall-Johnson
19 Caroline Chesterfield
30 Emma Sidebotham
L
5
Fife
95
17 Jacqueline Macintyre
33 Sally Kinsell
45 Joanna Wilson
S
6
Strathclyde
105
14 Natalia Wojcik
42 Carol Summers
49 Michelle Bertram
L
7
Hertfordshire
108
25 Paula Reynolds
36 Nicola Hunt
47 Ron Singleton
L
8
West Midlands
108
20 Sophie Clement
40 Gillian Russon
48 Kelly Monaghan
L
9
Derbyshire
109
6 Christine Howard
34 Caroline Moss
69 Sarah Holmes
L
10
Norfolk
115
10 Alex Smith
38 Maria Greaves
67 Ann Lewin
S
11
Staffordshire
119
15 Lynne Callaghan
44 Laura Sandy
60 Deborah Wilne
L
12
Cheshire
130
31 Trish Van Rooyen
41 Maggie Fenn
58 Susan Poole
L
13
Leicestershire
148
22 Natasha Hassell
35 Katrina Kemp
91 Jill Sharpe
L
14
Northamptonshire
151
26 Catherine Williams
57 Ellie Lock
68 Madeleine Moutrie
S
15
Thames Valley
160
5 Jill Christie
52 Nicola Rodger
103 Vanessa Hall
L
16
Lancashire
180
39 Laura Lawler
56 Nikki Kay
85 Viv Sherry
L
17
North Wales
194
53 Yvie Johnson
64 Sian Beck
77 Pam Grant
S
18
City of London
197
24 Kate Swanson
76 Rhea Evans
97 Samantha Garwood
S
19
Wiltshire
220
46 Jenny Morison
82 Rachel Law
92 Melissa Gregg
S
20
Cambridgeshire
233
28 Kate Armstrong
98 Jenny Massie
107 Rachel Gourlay
S
21
Kent
238
71 Toni Mathew
72 Sharon Graham
95 Caroline Filmer
L
22
Essex
266
51 Rachel O'Connor
106 Liz Lawrence
109 Elaine Michaels
L
Minor Forces Women's Teams
1
Fife
95
17 Jacqueline Macintyre
33 Sally Kinsell
45 Joanna Wilson
S
2
Norfolk
115
10 Alex Smith
38 Maria Greaves
67 Ann Lewin
S
3
Northamptonshire
151
26 Catherine Williams
57 Ellie Lock
68 Madeleine Moutrie
S
4
North Wales
194
53 Yvie Johnson
64 Sian Beck
77 Pam Grant
S
5
City of London
197
24 Kate Swanson
76 Rhea Evans
97 Samantha Garwood
S
6
Wiltshire
220
46 Jenny Morison
82 Rachel Law
92 Melissa Gregg
S
7
Cambridgeshire
233
28 Kate Armstrong
98 Jenny Massie
107 Rachel Gourlay
S
Veteran Women's Team Results
1
Devon & Cornwall
67
11 Polly Randall-Johnson
19 Caroline Chesterfield
37 Jo Church
L
2
Hampshire
91
3 Sarah Hill
23 Rachel Mellhuish
65 Heather Noad
L
3
Hertfordshire
108
25 Paula Reynolds
36 Nicola Hunt
47 Ron Singleton
L
4
Lothian & Borders
120
2 Diane Lauder
18 Gillian Duncan
100 Terri Gover
L
5
Cheshire
130
31 Trish Van Rooyen
41 Maggie Fenn
58 Susan Poole
L
6
Staffordshire
136
15 Lynne Callaghan
60 Deborah Wilne
61 Clare Davenport
L
7
Leicestershire
148
22 Natasha Hassell
35 Katrina Kemp
91 Jill Sharpe
L
8
Norfolk
181
10 Alex Smith
67 Ann Lewin
104 Debbie Pearson
S
9
Met
194
43 Jacqueline Reid
73 Mary Allieu
78 Mel McLure
L
10
Kent
238
71 Toni Mathew
72 Sharon Graham
95 Caroline Filmer
L
Minor Forces Men's Teams
1
Wiltshire
161
15 Ben Brewster
40 Ricky Lee
52 Stuart Dinwoodie
54 Sam Edwards
2
Norfolk
257
41 Kris Barnard
60 Gary Zoller
63 Stuart Barnard
93 Peter Laddiman
3
Cambridgeshire
306
24 Neil Sloan
34 Ed McNeil
69 Mike Branston
179 Dave Stilwell
4
Gloucestershire
372
29 Darren Jones