32nd British Police Fell Race
Championships 2022

Wednesday 11 May 2022


Hosted by Cumbria Police Athletics Club

From Braithwaite, Keswick, Cumbria

British Police Fell Race 2022 - Final Race Report

Thank you to everyone who took part and sorry a small number of entrants could not make it.





We had a total of 80 Entries with 73 runners taking part on the day from 21 Police Forces participating. It turned out to be a fantastic afternoon in the Lakes! The weather turned out excellent, fine and sunny, despite rain in the morning and everyone completed the course under 3.20.



The 8 to 8.5 mile course proved testing with circa 3500 feet ascent. Strong gusting winds on the tops made it challenging for many but the fine weather and magnificent views made up for the severity of the course. Many faster runners opted for the shorter but steep run directly up Eel Crag then on to Crag Hill. Many others took the slightly longer flagged course up the steadier ascent to the top of Crag Hill.



Individual Race





Oliver Dawson (23 from Cumbria) ran a cracking race in 1.15.18 with Simon Gray (35 from Cumbria) hot on his heels in 2nd in 1.18.48. Nicola Jackson (29 from Cumbria) was 3rd home (1st lady) in 1.20.16. Rob Grantham and Jeff Capper (Both 49 from Cheshire) romped home in 3rd and 4th places in 1.27 and 1.29.



Team Races



Cumbria

unsurprisingly swept the board with positions 1, 2 and 5 in the Men's and 1, 2 ,3 in the Ladies races. They also won the men's and women's team awards.

Cheshire

were 2nd and

Derbyshire

3rd with

Cheshire ladies

also team runners up.



A big thank you to Simon Gray and his team from Cumbria Police AC for hosting the 2022 race. Thank you to all the marshals, sweepers and time keepers from Cumbria and Lancashire for their valued support and help.



2023 Event – Wednesday 10 May 2023 - Derbyshire



Karl Webster and his team from Derbyshire Police AC have kindly offered to host the 2023 event in May. Date to be confirmed with Derbyshire. The proposed venue will be the Monsal Dale (Between Chesterfield and Buxton).





Results




Position
Race

Pos
Gender

Race
Number

First

Surname

Gender

Age

Pos
Class

Vet

Force

Family

Time

Prize

1

1

18

Oliver

Dawson

Male

23

1

Male Open

Cumbria Constabulary

01:15:18

1st Male Open

2

2

21

Simon

Gray

Male

35

2

Male Open

Cumbria Constabulary

01:18:48

2nd Male Open

3

1

23

Nichola

Jackson

Female

29

1

Open Female

Cumbria Constabulary

01:20:16

1st Female Open

4

3

8

Rob

Grantham

Male

49

1

MV45

Cheshire Constabulary

01:27:34

3rd Male Open

5

4

4

Jeffrey

Capper

Male

49

2

MV45

Cheshire Constabulary

01:29:22

1st MV40+

6

5

24

Ross

Jenkin

Male

41

1

MV40

Cumbria Constabulary

01:30:10

2nd MV40+

7

6

65

Craig

Jones

Male

52

1

MV50

North Wales Police

01:30:30

3rd MV40+

8

7

6

Malcolm

Fowler

Male

59

1

MV55

Cheshire Constabulary

01:32:20

1st MV55-59

9

8

83

Craig

Smith

Male

55

2

MV55

Cumbria Constabulary

01:32:39

10

9

78

Lee

Kuklinski

Male

41

2

MV40

Wiltshire Police

01:33:33

11

Guest

33

Gary

Thwaites

Male

48

Guest

MV45

Durham Constabulary

Guest

01:33:55

12

10

22

Jon

Hill

Male

43

3

MV40

Cumbria Constabulary

01:34:04

13

11

12

Anthony

Oliver

Male

55

3

MV55

Cleveland

01:35:03

14

12

32

Neil

Robinson

Male

51

2

MV50

Durham Constabulary

01:35:16

1st MV50-554

15

13

82

Chris

Huggett

Male

33

3

Male Open

Cumbria Constabulary

01:35:46

1st Male U40

16

14

14

David

Banks

Male

58

4

MV55

Cumbria Constabulary

01:37:17

17

15

15

Tony

Bolton

Male

59

5

MV55

Cumbria Constabulary

01:37:28

18

16

31

Karl

Webster

Male

52

3

MV50

Derbyshire Constabulary

01:38:50

19

17

11

Jack

Pilkington

Male

26

4

Male Open

Cheshire Constabulary

01:39:12

2nd Male U40

20

18

67

Simon

Fricke

Male

41

4

MV40

North Yorkshire Police

01:39:55

21

19

71

Thomas

Smith

Male

38

5

Male Open

South Yorkshire Police

01:42:55

3rd Male U40

22

20

35

Philip

Bussy

Male

42

5

MV40

Essex Police

01:43:05

23

21

17

Phil

Cooper

Male

46

3

MV45

Cumbria Constabulary

01:45:30

1st MV45-49

24

22

19

Zeke

Dixon

Male

37

6

Male Open

Cumbria Constabulary

01:45:44

25

23

27

Richard

Mavin

Male

58

6

MV55

Cumbria Constabulary

01:46:38

26

24

79

Bob

Salter

Male

64

1

MV60

Wiltshire Police

01:48:22

1st MV60-64

27

25

3

Jordan

Burke

Male

30

7

Male Open

Cheshire Constabulary

01:48:31

28

2

25

Mo

Kelly

Female

43

1

FV40

Cumbria Constabulary

01:50:17

2nd Female Open

29

3

81

Kathleen

Aubrey

Female

58

1

FV55

Cumbria Constabulary

01:50:56

3rd Female Open

30

26

1

Ian

Mawdesley

Male

43

6

MV40

Bedfordshire Police

01:51:06

31

27

29

Steve

Bruce

Male

37

8

Male Open

Derbyshire Constabulary

01:51:45

32

28

73

Robert

Williams

Male

29

9

Male Open

Staffordshire Police

01:52:45

33

29

62

Tim

Wright

Male

52

4

MV50

National Crime Agency

01:55:13

34

30

64

Bob

Hind

Male

68

1

MV65

North Wales Police

01:56:16

1st MV65-69

35

31

30

Tony

Rhodes

Male

44

7

MV40

Derbyshire Constabulary

01:56:40

36

32

59

Arran

Sayle

Male

46

4

MV45

Lancashire Constabulary

01:59:18

37

33

36

Dave

Callow

Male

41

8

MV40

Essex Police

02:01:38

38

34

37

Andy

Sawyer

Male

48

5

MV45

Essex Police

02:05:06

39

4

52

Janine

Fallon

Female

46

1

FV45

Lancashire Constabulary

02:05:55

1st Female 40+

40

35

5

David

Edon

Male

56

7

MV55

Cheshire Constabulary

02:07:16

41

5

26

Helen

Mavin

Female

56

2

FV55

Cumbria Constabulary

02:07:26

2nd Female 40+

42

36

40

Bryan

Lawton

Male

56

8

MV55

Greater Manchester Police

02:08:26

43

37

41

Steve

Quinn

Male

47

6

MV45

Greater Manchester Police

02:09:02

44

38

49

Ian

Miller

Male

52

5

MV50

Humberside Police

02:09:50

45

6

48

Rachel

Darling-Love

Female

53

1

FV50

Humberside Police

02:10:04

1st FV50-54

46

39

16

Graham

Chadwick

Male

36

10

Male Open

Cumbria Constabulary

02:11:31

47

40

61

Martin

Wood

Male

64

2

MV60

Lincolnshire Police

02:12:06

48

7

63

Michelle

Farrell

Female

40

2

FV40

North Wales Police

02:12:38

3rd Female 40+

49

41

70

Daniel

Preston

Male

45

7

MV45

North Yorkshire Police

02:17:30

50

42

38

Gary

Corns

Male

43

9

MV40

Greater Manchester Police

02:19:36

51

8

9

Vicky

Kehoe

Female

49

2

FV45

Cheshire Constabulary

02:21:05

1st FV45-49

52

43

86

Julian

Bramley

Male

54

6

MV50

Nottinghamshire Police

02:21:23

53

9

69

Helen

Nicholson

Female

59

3

FV55

North Yorkshire Police

02:23:24

1st FV55-59

54

44

77

Chris

Hanson

Male

49

8

MV45

Wiltshire Police

02:25:57

55

10

47

Lucy

Khan

Female

53

2

FV50

Humberside Police

02:27:58

56

11

10

Deborah

Lack

Female

43

3

FV40

Cheshire Constabulary

02:29:50

57

12

2

Mel

Beamish

Female

38

2

Open Female

Cheshire Constabulary

02:29:51

1st Female U40

58

45

75

Andy

Carnall

Male

53

7

MV50

West Midlands Police

02:31:00

59

46

34

Martin

Slevin

Male

58

9

MV55

Dyfed-Powys Police

02:33:42

60

13

80

Gemma

Sole

Female

37

3

Open Female

Wiltshire Police

02:35:58

2nd Female U40

61

47

74

Jonathan

Beard

Male

45

9

MV45

West Midlands Police

02:41:30

62

14

54

Laura

Lawler

Female

53

3

FV50

Lancashire Constabulary

02:43:00

63

Guest

55

Kate

Lawler

Female

25

Guest

Open Female

Lancashire Constabulary

Family

02:43:01

64

48

57

Mark

Porter

Male

58

10

MV55

Lancashire Constabulary

02:53:11

65

15

76

Anna

Sykes

Female

47

3

FV45

West Yorkshire Police

02:54:05

66

49

51

Phil

Corris

Male

68

2

MV65

Lancashire Constabulary

02:59:28

67

50

45

Andrew

Guest

Male

49

10

MV45

Humberside Police

03:05:50

68

51

46

Carl

Horth

Male

40

10

MV40

Humberside Police

03:05:51

69

16

39

Shannon

Davies

Female

45

4

FV45

Greater Manchester Police

03:10:57

70

17

43

Carina

Quayle

Female

63

1

FV60

Hertfordshire Police

03:14:15

1st FV60-64

71

18

66

Kate

Aspey

Female

50

4

FV50

North Yorkshire Police

03:23:58

Spot Prize

72

DNS

7

Lisa

Grantham

Female

47

DNS

FV45

Cheshire Constabulary

DNS

73

DNS

20

Tony

Everitt

Male

34

DNS

Male Open

Cumbria Constabulary

DNS

74

DNS

28

Chris

Newman

Male

41

DNS

MV40

Cumbria Constabulary

DNS

75

DNS

42

David

Wood

Male

60

DNS

MV60

Greater Manchester Police

DNS

76

DNS

44

Martina

Akrill

Female

42

DNS

FV45

Humberside Police

DNS

77

DNS

53

Dylan

Grindley

Male

27

DNS

Male Open

Lancashire Constabulary

DNS

78

DNS

58

Michael

Riley

Male

56

DNS

MV55

Lancashire Constabulary

DNS

79

DNS

68

Caroline

Glover

Female

63

DNS

FV60

North Yorkshire Police

DNS

80

DNS

72

Jay

Dale

Male

41

DNS

MV40

Staffordshire Police

DNS

81

Support

89

Andrew

Dobson

Male

55

Support

MV55

Cumbria Constabulary

Grizedale

82

Support

56

Jim

O'Donnell

Male

70

Support

MV70

Lancashire Constabulary

Marshal

83

Support

60

David

Watkinson

Male

68

Support

MV65

Lancashire Constabulary

Marshal

84

Support

50

Steve

Broadbent

Male

62

Support

MV60

Lancashire Constabulary

Organiser

85

Support

87

Sarah

Cowperthaite

Female

30

Support

Open Female

Cumbria Constabulary

Outerside

86

Support

88

Eelco

Doctor

Male

35

Support

Male Open

Cumbria Constabulary

Outerside

87

Support

84

Patrick

Gray

Male

56

Support

MV55

Cumbria Constabulary

Sweeper

88

Support

85

Daniel

Jones

Male

35

Support

Male Open

Cumbria Constabulary

Sweeper

89

Support

13

Adrian

Sowerby

Male

55

Support

Male Open

Cumbria Constabulary

Timekeeper
Team Tables
Men's Teams

Pos

Force

Runner 1

Runner 2

Runner 3

Points

Comment

1

Cumbria Constabulary

1

2

5

8

1st Men's Team

2

Cheshire Constabulary

3

4

7

14

2nd Men's Team

3

Derbyshire Constabulary

16

27

31

74

3rd Men's Team

4

Wiltshire Police

9

24

44

77

5

Essex Police

20

33

34

87

6

Greater Manchester Police

36

37

42

115

7

Lancashire Constabulary

32

48

49

129

8

Humberside Police

38

50

51

139

9

North Wales Police

6

30

52

88

10

North Yorkshire Police

18

41

52

111

11

West Midlands Police

45

47

52

144

12

Cleveland Police

11

52

52

115

13

Durham Constabulary

12

52

52

116

14

South Yorkshire Police

19

52

52

123

15

Bedfordshire Police

26

52

52

130

16

Staffordshire Police

28

52

52

132

17

National Crime Agency

29

52

52

133

18

Lincolnshire Police

40

52

52

144

19

Nottinghamshire Police

43

52

52

147

20

Dyfed-Powys Police

46

52

52

150

Ladies Teams

Pos

Force

Runner 1

Runner 2

Runner 3

Points

Prizes

1

Cumbria Constabulary

1

2

3

6

1st Ladies Team

2

Cheshire Constabulary

8

11

12

31

2nd Ladies Team

3

Humberside Police

6

10

19

35

4

Lancashire Constabulary

4

14

19

37

5

North Wales Police

7

19

19

45

6

North Yorkshire Police

9

18

19

46

7

Wiltshire Police

13

19

19

51

8

West Yorkshire Police

15

19

19

53

9

Greater Manchester Police

16

19

19

54

10

Hertfordshire Constabulary

17

19

19

55
News Latest - 09 May 2022 - Additional Information......

We are almost one month away from the 2022 race. To date we have received 81 Entries from 20 UK Police Forces. We are still accepting late entries.... Please enter using the BookitZone Portal below. EOD will also be permitted - Entry cost on day will be £20.
Weather Conditions - Update
The weather forecast is looking 'mixed' and it may attract rain and poor visibility conditions. Hopefully not, but to be safe we are imposing some changes to the KIT REQUIRMENT (See Below) This in-line with FRA Rules.
Parking
Parking for the event is the old A66 road/layby between the Braithwaite & Portinscale junctions. Please park responsibly and do not block any access to properties and fields. Parking in Braithwaite is problematic, please do NOT attempt to park in the village or at the pub. Please lift share if you can.
It is 0.7miles to walk to the start at COLEDALE INN. Please allow 10 mins.
The route from the lay-by park to the start will be flagged.

New Kit Requirements
You are now required to carry full mandatory kit:
Waterproof Top

Waterproof Bottoms

Hat

Gloves

Map

Compass

Whistle

Suitable shoes for Fell Running
Expect kit checks. NO KIT, NO RACE! You have been warned!

dditional Notes/Advice:

MAP MUST BE A HARD COPY and is no longer provided due to OS copywrite issues.
You may carry additional Sat Nav or Mapping devices if you wish.

Mobile phone – Good service for most of the route

Walking poles

and dogs on leads are also permitted.
Race Start
The race will start and finish on the green at the front of the COLEDALE INN PUB. The start will go across the road bridge (NOT footbridge) and up the first 200m of Whinlatter pass. It will be marshalled but the road will be open to vehicles. After the start, route choice between the three checkpoints is your own. The flagged route is not necessarily the fastest line.

Course Flagging and Checkpoints

These will be placed at intervals around the optimum course using footpaths marked on the OS Map.

1. Grizedale Pike – Manned – Show Race Number or use punch on race number
2. Crag Hill – Unmanned - Use punch on race number
3. Outerside – Manned – Show Race Number or use punch on race number

Retirement

If you collect your race number on the day but decide NOT to race – you MUST inform the timekeeper if fail to start. If you retire during the race, you MUST inform the timekeeper at a checkpoint and at the finish.

Race Briefing

There will be a race briefing on the green in front of the Coledale Inn at 1.20pm before the start.


Event Information


Date/Start Time

1.30pm, Wednesday 11 May 2022


Race Course
The distance will be circa 8 miles and 3500 feet ascent. It will traverse the Coledale Horseshoe from Braithwaite in Cumbria, the heart of the English Lake District.


Race Venue, Race Registration and Presentation Venue

Registration and the race start and finish will take place from the Coledale Inn, Braithwaite, Keswick CA12 5TN
CP1 Grizedale Pike in the distance!


Accommodation

As usual, there is no official accommodation provided. Competitors are asked to make their own arrangements. Bed and Breakfast and hotel accommodation can be found in the area (including the Coledale Inn) by going to the local tourist information on-line.

Directions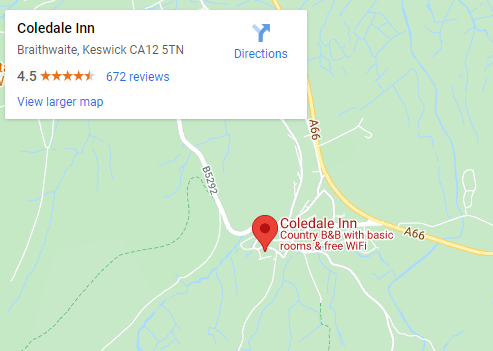 Sat Nav: CA12 5TN

Parking
At the Coledale Inn and surrounding area.

Shower and Changing Facilities

T

here are toilets provided at the Coledale Inn. There are no competitor changing or showers provided.

Start List
06 May 2022- 79 Entries received - Entry Limit Now 90


Start
At 1.30pm.

Map and Course
Distance - 8.5 Miles
Ascent 3500ft

Checkpoints:
1. Grizedasle Pike - 791m - Manned

2. Crag Hill - 832m
3. Outerside - 568m - Manned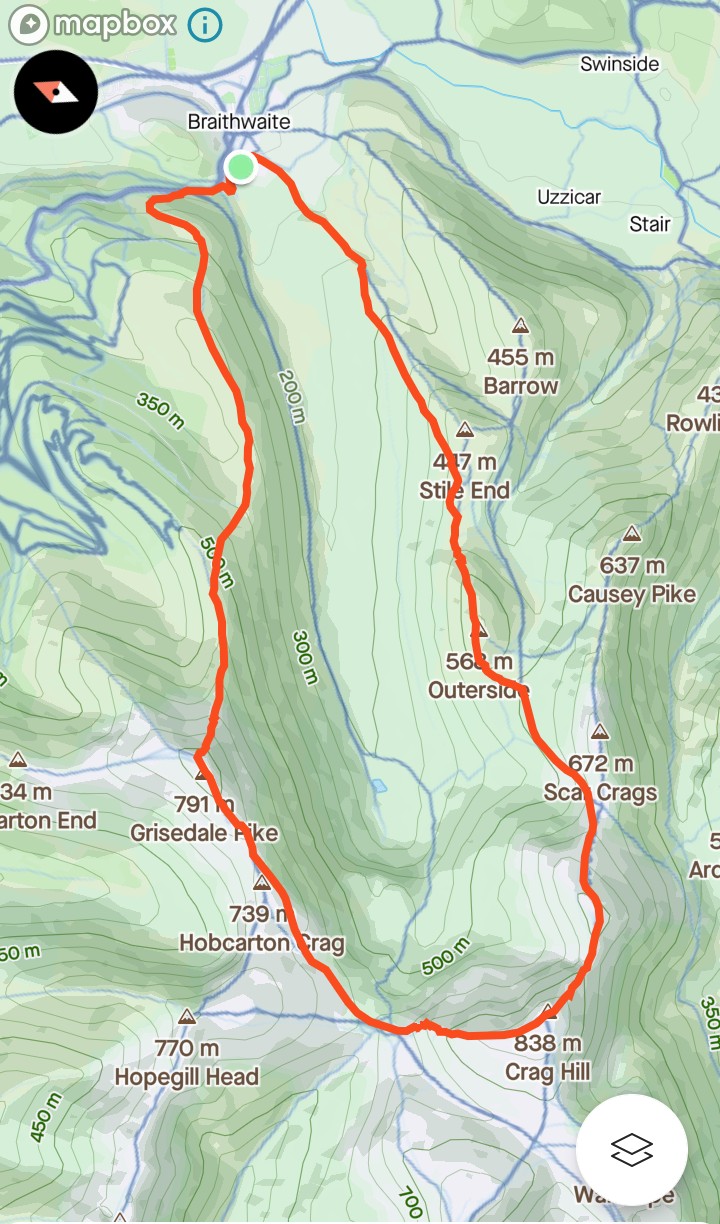 The course will be way-marked with pink and yellow flags left at intervals. This is to ensure everyone runs the same course and does not get lost. This said, all competitors must still carry the map provided and be prepared to navigate themselves should flags go missing.

All Checkpoints will be identified with an Orienteering Kite that will have a punch code that competitors need to punch their race number in sequence.
All three checkpoints will be also manned with a race marshal.


Portable Sat Nav Devices
Sat Nav devices are permitted in this event but maps should still be carried.

Route Description
The course is 8 miles and 3500 feet ascent. It traverses much of the 'Coledale Horseshoe' course.Fairly easy to navigate in good weather but in poor conditions be prepared to navigate! It is a very scenic course but has circa 3500 feet ascent so it is a tough, demanding eight-mile course.

Maps, Check-Points and Waymarks
The course is considered as tough, rugged fell terrain. It will be way-marked with pink and yellow flags left at intervals. This is to ensure everyone runs the same course and does not get lost. This said, all competitors must still carry the map provided and be prepared to navigate themselves should flags go missing or in bad weather.
There will be check point markers at each of the three points and some or all will be manned. Navigation skills are still required and all competitors must carry a map and compass. Copy maps will be provided to every competitor but we suggest you purchase a detailed 1:25000 OS Map OL4.

Novice Runners or Walking Challenge
We would like to encourage novice runners or walkers to take part in these races. Though the event is traditionally a 'race' it can also be titled as a 'Challenge' and can be run/walked at a progressive pace.
The cut-off time is 4 hours or 5.30pm. This would make it attractive to athletes wishing to complete the course at a steady but progressive walking pace.
Note: The Prize presentation will take place around 4.00pm so likely that walkers will miss the presentation but refreshments and finishing memento will be still available when you finish.

Competing in Pairs or a Group
There is no objection to competitors completing the course togeter as a pair or group. Each member would enter individually and receive a race number and carry the same kit.

Compulsory Kit Requirement
Competitors will need to carry the following equipment:-
1. Windproof top body cover
2. Map (NOT Provided)
3. Compass and Whistle
4. Suitable footwear for fell running
5. Hat and Gloves
Recommended
6. Water Bottle
7. GPS Device
8. Mobile Phone
Permitted
9. Walking Poles

Waterproof full body cover - Top and Trousers All competitors must bring these to the event. - Only if poor weather conditions are forecast we will as they be carried - This will be announce at Registration.
Each competitor should have navigational skills and be able to use a map and compass if required. Random kit checks will be carried out so please ensure you carry the required kit for the conditions. Any kit found missing will incur a time penalty. Those at the start without the required kit will not be allowed to compete.

Entry Field
Entry limit is circa 80 to 90 Pre-entry is required, though late, EOD is still an option for forces who have already entered a team before the closing date.

Registration and Pre-Race Briefing
Registration from 11am at the Coledale Inn - Pre-Race briefing at 1.20pm.

Post Race Meal and Presentation of Trophies
Soup and Roll light refreshments will be provided from 3.00pm at the Coledale Inn. This will be followed by a formal presentation of trophies and prizes at approximately at 4pm.
Note:

Cut-off time is 5pm so runners/walkers who do not finish by 3.30pm will still receive a finishing memento and the light refreshments will still be available.
Runners who wish to invite a family member or guest to the presentation may purchase an additional meal ticket costing £5. This can be done through the entry portal.


Trophies/Prizes
Men and Women
1st, 2nd and 3rd - Open
1st, 2nd and 3rd - Veteran 40+
1st, 2nd and 3rd - Under 40
1st and 2nd - Male and Female Veteran 45-49, Vet 50-54, Vet 55-59, Vet 60-64, Vet 65-69, Vet 70-75
1st, 2nd and 3rd Open Force Male or Mixed Teams (3 to count) (Lady may be included as the 2nd or 3rd counter)
1st, 2nd and 3rd Ladies Teams (3 to count)

NB: Under FRA Rules the Veteran age is 40+ for both men and women.
Family/Guest Runners: Are not eligible for individual or team qualification or contend for any prizes. They should have paid the lesser guest entry fee but will receive a race mementos and prentation meal is also included..


British Police Fell Race Entry

E

ntry fee options are displayed below. This fee covers the cost of:

* Awards and prizes (Not Family/Guests)


* Individual Race memento

* Local Craft Beer

* Post-Race Presentation light refreshments

* General organising costs


* On-Line Booking Fees


Enter

The entry fee options are:

£20 Entry Fee - Includes Entry and Prize Qualification, Mementos, Presentation meal

£18 Family Guest Entry Fee - Includes Entry, Mementos, Presentation meal BUT NO Prize Qualification
£15 Main Entry Fee - Excludes Presentation meal
£25 Main Entry Fee - Plus additional meal for spectator
£5 Additional Spectator Meal

We are using entry through our usual Book It Zone portal. The company a reputable on-line booking service and the entry costs include any booking fees.


Facebook

The British Police Fell Race is now on Facebook - Join here:
https://www.facebook.com/groups/2237701033168743/

Qualification to Enter
This event is a 'Closed' Race.
Competitors must be fully paid 'police members' of their respective UK Force Sports Clubs and be a police officer, police staff, retired police/police staff (in receipt of a police pension) or member of the special constabulary/police volunteers.
NB: We now permit Spouse/Partner of an above defined 'police member' to participate and compete the same as a full entrant

Family Guests Entry

We now permit Spouse/Partner and Siblings (over 18) of an above defined 'police member' to participate. They compete in the same race but only as a 'Guest Familiy Member' and pay the cheaper entry fee but will not qualify for individual or team prizes.

They may be defined by a Police Sports Club as an 'Honorary Member' so could be entitled to claim their entry from the Club also.

Pre-Race Recognizance
There are no objections to teams or individuals reconnoitering the course.

Closing Date
The closing date is 1 May 2022 - Entries after this date or EOD and substitutions are acceptable on request to forces who have already pre-entered some runners. Please email me to discuss. Sorry, there are no entry fee refunds but named substitutions to pre-paid entries will be allowed on the day.

Entry Confirmation
All competitors will receive a confirmation of their entry from Book It Zone and any late briefing information will be by email..
This event is ONLY open to members of UK Police Force Sports Clubs and their spouse/partner.
Please do not hesitate to contact me if you have any further questions or require any other information?

Event Contact
Vol 20785 Steve Broadbent
Police Sport UK Athletics Section – British Police Fell Race Coordinator
Lancashire Police HQ, Hutton Preston. PR4 5SB

Mobile Tel: 07974 795466
Email: steve@policesport.net

Cumbria Police AC Host Contact (Concerning Venue or Course)
Contact - Simon Gray

Email: simon.gray@cumbria.pnn.police.uk

Overall Coordinator
Steve Broadbent - Lancashire Constabulary AC

Email: steven.broadbent@lancashire.pnn.police.uk

Past Event Links

2021 Final Results

2020 - Event Cancelled


2019 Final Results

2018 Final Results

2017 Final Results

2016 Final Results

2015 Final Results


Halls of Fame 1990 to 2021


| | | | | | | | | | | |
| --- | --- | --- | --- | --- | --- | --- | --- | --- | --- | --- |
| No. | Year | Venue | Force | 1st Male | Force | Team Winners | 1st Veteran | Force | 1st Lady | Force |
| 1 | 1990 | Langdale | Cumbria | D.Orth | Greater Manchester | Greater Manchester | T.Pallister | Warwickskire | | |
| 2 | 1991 | Edale | Derbyshire | Malcolm Fowler | Cheshire | West Yorkshire | Ian Campbell | Greater Manchester | | |
| 3 | 1992 | Church Stretton | Shropshire | Malcolm Fowler | Cheshire | Warwickshire | Ian Campbell | Greater Manchester | | |
| 4 | 1993 | Rivington | Lancashire | P.Jebb | West Yorkshire | West Yorkshire | Ian Campbell | Greater Manchester | | |
| 5 | 1994 | Hebden Bridge | West Yorkshire | Malcolm Fowler | Cheshire | West Yorkshire | A.Orringe | Gwent | | |
| 6 | 1995 | Patterdale | Cumbria | Malcolm Fowler | Cheshire | Cheshire | A.Orringe | Gwent | Christine Cresswell | Nottinghamshire |
| 7 | 1996 | Rhayader | Mid-Wales | Malcolm Fowler | Cheshire | Avon & Somerset | S.Anning | Avon & Somerset | Christine Cresswell | Nottinghamshire |
| 8 | 1997 | Pendle Hill | Lancashire | Malcolm Fowler | Cheshire | Northumbria | R.Salter | Wiltshire | Christine Cresswell | Nottinghamshire |
| 9 | 1998 | Howgills | Cumbria | Malcolm Fowler | Cheshire | West Yorkshire | Jim Bentley | Greater Manchester | Katrina White | Cleveland |
| 10 | 1999 | Llanberis | North Wales | Andy Brown | West Yorkshire | Derbyshire | Jim Bentley | Greater Manchester | Christine Cresswell | Nottinghamshire |
| 11 | 2000 | Goyt Valley | Cheshire | Malcolm Fowler | Cheshire | Derbyshire | Tony Caulton | Derbyshire | Christine Howard | Derbyshire |
| 12 | 2001 | Isle of Arran | Isle of Arran | Malcolm Fowler | Cheshire | Derbyshire | M.Wood | Lincolnshire | Lisa Knights | Derbyshire |
| 13 | 2002 | Ribblehead | North Yorkshire | Malcolm Fowler | Cheshire | Derbyshire | Tony Caulton | Derbyshire | Christine Howard | Derbyshire |
| 14 | 2003 | Dark Peak | Derbyshire | Malcolm Fowler | Cheshire | West Yorkshire | D.Hall | Northumbria | Lisa Knights | Derbyshire |
| 15 | 2004 | Snowdonia | North Wales | Malcolm Fowler | Cheshire | Cheshire | Andrew Beaty | Cumbria | Christine Howard | Derbyshire |
| 16 | 2005 | Howgills | Cumbria | Malcolm Fowler | Cheshire | Cheshire | Andrew Beaty | Cumbria | Christine Howard | Derbyshire |
| 17 | 2006 | Rothbury | Northumbria | Malcolm Fowler | Cheshire | Northumbria | J.Ross | Northumbria | Christine Howard | Derbyshire |
| 18 | 2007 | Loggerheads | North Wales | Malcolm Fowler | Cheshire | North Wales | C.Smith | Cumbria | Christine Howard | Derbyshire |
| 19 | 2008 | Mungrisedale | Cumbria | Malcolm Fowler | Cheshire | Cheshire | Andrew Beaty | Cumbria | Christine Howard | Derbyshire |
| 20 | 2009 | Carlton Moor | Cleveland | Malcolm Fowler | Cheshire | Derbyshire | C.Smith | Cumbria | Christine Howard | Derbyshire |
| 21 | 2010 | Castleton | Derbyshire | Malcolm Fowler | Cheshire | Cheshire | Karl Webster | Derbyshire | Christine Howard | Derbyshire |
| 22 | 2011 | Bryntysilio | North Wales | Malcolm Fowler | Cheshire | Derbyshire | Karl Webster | Derbyshire | Christine Howard | Derbyshire |
| 23 | 2012 | Turnslack | GMP | Malcolm Fowler | Cheshire | Cheshire | Karl Webster | Derbyshire | Christine Howard | Derbyshire |
| 24 | 2013 | Askham Fells | Cumbria | Ian Phillips | Derbyshire | Cumbria | Rob Grantham | Cheshire | Kathleen Aubrey | Cumbria |
| 25 | 2014 | Abergwyngregyn | North Wales | Ian Phillips | Derbyshire | Derbyshire | Craig Jones | North Wales | Christine Howard | Derbyshire |
| 26 | 2015 | Dovedale | Derbyshire | Ian Phillips | Derbyshire | Cumbria | Andrew Slattery | Cumbria | Christine Howard | Derbyshire |
| 27 | 2016 | Osmotherley | North Yorkshire | Simon Gray | Cumbria | Cumbria | Andrew Dobby | North Yorkshire | Shelly Gordon | Cleveland |
| 28 | 2017 | Howgills | Cumbria | Rob Grantham | Cheshire | Cumbria | Andrew Dobby | North Yorkshire | Nina Walkingshaw | Cumbria |
| 29 | 2018 | Goyt Valley | Cheshire | Ian Phillips | Derbyshire | Cheshire | Andrew Dobby | North Yorkshire | Christine Howard | Derbyshire |
| 30 | 2019 | Llanberis | North Wales | Malcolm Fowler | Cheshire | Cheshire | Rob Grantham | Cheshire | Christine Howard | Derbyshire |
| 29 | 2020 | Cancelled | Cancelled | | | | | | | |
| 29 | 2021 | Winchcombe | Gloucestershire | Shaun Bott | Derbyshire | Derbyshire | Malcolm Fowler | Cheshire | Amelia Tearle | Metropolitan |
| 29 | 2022 | Braithwaite | Cumbria | | | | | | | |