34th British Police Fell Race
Championships 2024

Wednesday 8 May 2024 - Starting at 1.30pm




Hosted by North Yorkshire Police Athletics Club





Reeth, North Yorkshire



News Update - 14/11/2023

We currently have 16 entries received from 12 UK Police Forces



Event Entry URL: https://bookitzone.com/steve_broadbent/37jFFX

QR Code:


Race History and Status


This is the 34th annual British Police Fell Race. The event is not an official Police Sport UK event. However, it is approved by PSUK Athletics as an additional calendar fixture and liability insurance cover is also provided under the PSUK policy.

Race Course

The distance will be circa

10 miles and 2000 feet ascent

. It will traverse the Arkengarthdale Valley passing over the very scenic Fremington Edge and Reeth Low Moor Fells.

This area is very much 'off the beaten track' offering an exciting, undiscovered area of the Yorkshire Dales that will appeal to any fell runners.



Race Venue, Race Registration and Presentation Venue



From the Black Bull Hotel, High Row, Reeth, North Yorkshire DL11 6SZ





Accommodation

As usual, there is no official accommodation provided. Competitors are asked to make their own arrangements. Bed and Breakfast and hotel accommodation can be found in the area by visiting on-line tourist information.



The Black Bull Hotel has 9 rooms and also a large room that can accommodate up to 9 individuals. 01748 884213





Directions



Sat Nav: DL11 6SZ



Parking



Ample parking in Reeth Village Square. There is a modest £2 charge to park all day!





Shower and Changing Facilities



There are toilets provided at the Black Bull and in the square. There are no competitor changing or showers provided.





Start List


| | | | | | |
| --- | --- | --- | --- | --- | --- |
| Pos. | Forename | Surname | Sex | Force | Cat |
| 1 | Ian | Mawdesley | Male | Bedfordshire Police | MV45 |
| 2 | Tony | Bolton | Male | Cheshire Constabulary | MV60 |
| 3 | Andrew | Manson | Male | Cheshire Constabulary | MV45 |
| 4 | Richard | Mavin | Male | Cumbria Constabulary | MV60 |
| 5 | Shaun | Bott | Male | Derbyshire Constabulary | MV40 |
| 6 | Steve | Bruce | Male | Derbyshire Constabulary | Open Male |
| 7 | Stephen | Hague | Male | Hertfordshire Constabulary | MV55 |
| 8 | Steve | Broadbent | Male | Lancashire Constabulary | MV60 |
| 9 | Andy | Collings | Male | Metropolitan Police Service | MV55 |
| 10 | Bob | Hind | Male | North Wales Police | MV70 |
| 11 | Craig | Jones | Male | North Wales Police | MV50 |
| 12 | James | Wan | Male | North Wales Police | Open Male |
| 13 | Luke | Salmons | Male | North Yorkshire Police | FV40 |
| 14 | Simon | Barnett | Male | Thames Valley Police | MV45 |
| 15 | Jason | Hill | Male | West Midlands Police | MV45 |
| 16 | Bob | Salter | Male | Wiltshire Police | MV65 |

Start



At 1.30pm.





Map and Course



Distance - circa 10 Miles



Ascent circa 2000ft

This map shows a

proposed route

. There may be some changes once we have fully recced the area.There will be two road crossing points that will be marshalled.We will also provide drinks at these crossing points.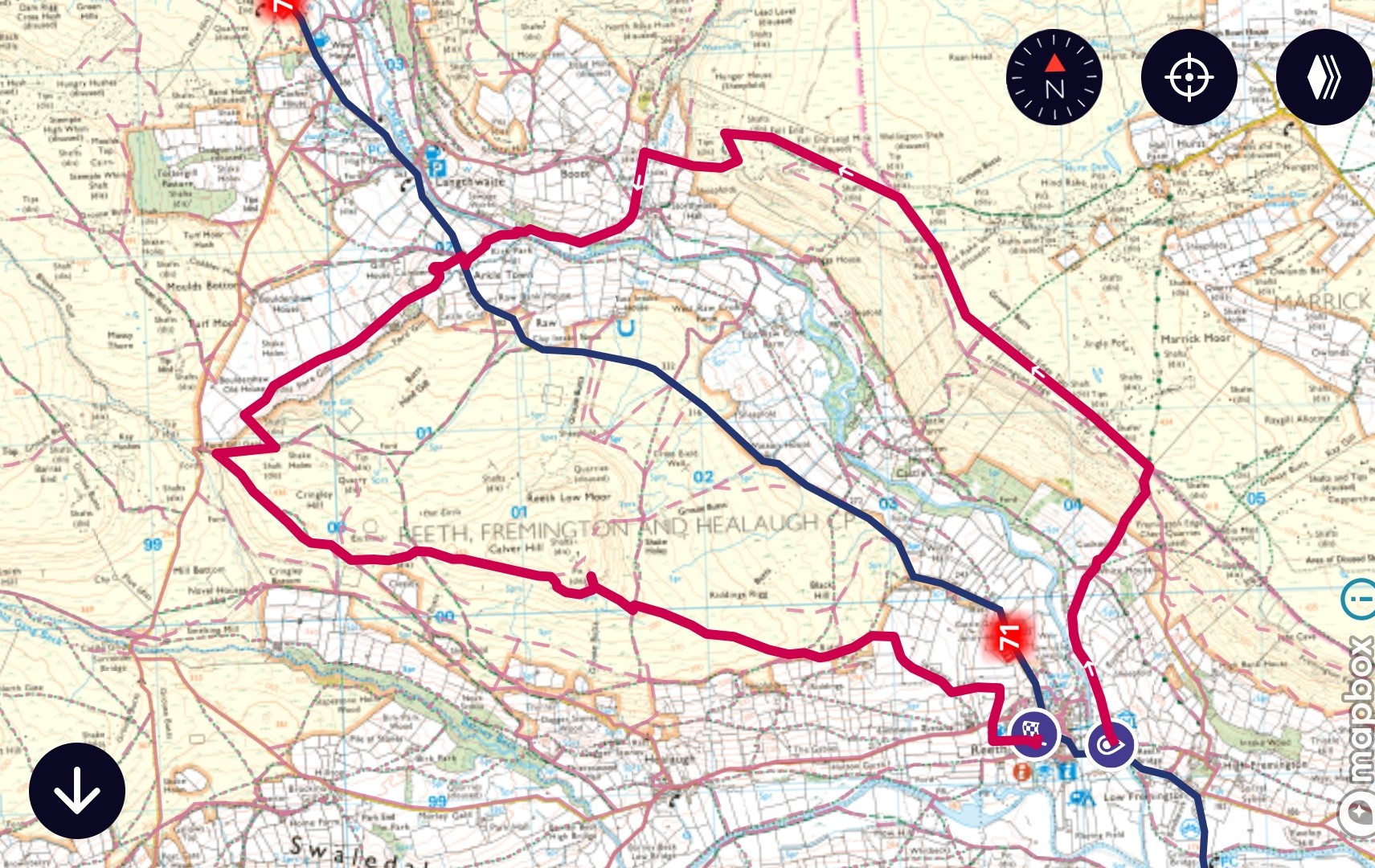 Route Description



The course is 10 miles and 2000 feet ascent. It traverses much of the Fremington Ridge and Reeth Low Moor. Fairly easy to navigate in good weather but in poor conditions be prepared to navigate! It is a very scenic course but has circa 2000 feet ascent so it is a fairly tough, demanding ten-mile course.





Maps, Check-Points and Waymarks



A printed map will be provided. The course is considered as a fairly tough, rugged fell terrain. It will be fully way-marked with flags. This is to ensure everyone runs the same course and does not get lost. This said, all competitors must still carry the map provided and be prepared to navigate themselves should flags go missing or in bad weather.





Portable Sat Nav Devices



Sat Nav devices /mobile phones are permitted and may be used as a back-up to your given map but not relied upon to navigate.. Hard copy map provided should be carried throughout the race.





Novice Runners or Walking Challenge



We would like to encourage novice runners or walkers to take part in these races. Though the event is traditionally a 'race' it can also be titled as a 'Challenge' and can be run/walked at a progressive pace.





The cut-off time is 4 hours or 5.30pm. This would make it attractive to athletes wishing to complete the course at a steady but progressive walking pace.





Note: The Prize presentation will take place around 4.00pm so likely that walkers will miss the presentation but refreshments and finishing memento will be still available when you finish.





Competing in Pairs or a Group



There is no objection to competitors completing the course together as a pair or even a group. Each member would enter individually and receive a race number and carry the same kit.





Compulsory Kit Requirement



Competitors will need to carry the following equipment:-



1. Waterproof top and bottom body cover

2. Copy Map (Provided)

3. Compass and Whistle

4. Hat and Gloves

5. Suitable footwear for fell running

6. Waterproof full body cover - Top and Trousers All competitors must bring these to the event. - Only if poor weather conditions are forecast we will as they be carried - This will be announce at Registration.



Each competitor should have navigational skills and be able to use a map and compass if required. Random kit checks will be carried out so please ensure you carry the required kit for the conditions. Any kit found missing will incur a time penalty or disqualification from competing.





Entry Field

Entry limit is circa

100

. Pre-entry is required, though late, EOD or substitution is still an option for forces who have already entered a team before the closing date.



Registration and Pre-Race Briefing



Registration from 11am outside the Black Bull Hotel - Pre-Race briefing on the village green at 1.15pm. The start is a short walk down hill and over the river bridge.





Post Race Meal and Presentation of Trophies



Soup and a roll will be provided at the Black Bull from 3.00pm at the finish. This will be followed by a formal presentation of trophies and prizes at approximately at 4pm. You may opt out of the post-race food option when you enter.





Note: Cut-off time is 5pm so runners/walkers who do not finish by 3.30pm will still recieve a finishing memento and the light refreshments will still be available.





Trophies/Prizes

Men and Women

Championship Prizes

1st, 2nd and 3rd - Open

1st, 2nd and 3rd - Veteran 40+

Age Catagory Prizes

1st and 2nd - Male and Female

18 - 40, Veteran 45-49, Vet 50-54, Vet 55-59, Vet 60-64, Vet 65-69, Vet 70-75

1st, 2nd and 3rd Open Force Male or Mixed Teams (3 to count) (Lady may be included as the 2nd or 3rd counter)

1st, 2nd and 3rd Ladies Teams (3 to count)



NB: Under FRA Rules the Veteran age is 40+ for both men and women.





Guest/Family Runners: Are not eligible for individual or team qualification or contend for any prizes.





British Police Fell Race Entry



Early Bird Entry - to 31/12/2023



Including Post-Race Food - £20

Excluding Post-Race Food - £15
Standard Entry from 1/1/24 - 1/5/2024
Including Post-Race Food - £22

Excluding Post-Race Food - £17
Late Entry or EOD - 1/5/2024 to event day - May not receive Pre-Ordered Memento

Including Post-Race Food - £25

Excluding Post-Race Food - £20
Additional Guests


The entry fee covers the cost of:



* Awards and prizes

* Individual Race memento

* Local Craft Beer memento

* Post-Race water and snack-food

* Post-Race Presentation Soup and Roll (Pre-Booked)

* General organising costs

* All event Booking Fees



This event is run by members of the police service on a voluntary basis and does not make any profit from the event entries.





How to Enter



Event Entry URL: https://bookitzone.com/steve_broadbent/37jFFX
We are using our usual BookitZone portal. The company are a reputable, secure, on-line booking service and the entry costs include any booking fees.

Qualification to Enter

This event is a

'Closed'

Race.



Competitors must be fully paid 'police members' of their respective UK Force Sports Clubs and be a police officer, police staff, retired police/police staff (in receipt of a police pension) or member of the special constabulary/police volunteers.





Family Guests Entry



We now permit Spouse/Partner and Siblings (over 18) of an above defined 'police member' to participate. They compete in the same race but only as a 'Guest Familiy Member' but will not qualify for individual or team prizes.





They may be defined by a Police Sports Club as an 'Honorary Member' so could be entitled to claim their entry from the Club also.





Pre-Race Recognizance



There are no objections to teams or individuals reconnoitering the course.





Closing Date

The standard entry closing date is 1 May 2024 - From this date, late entry, EOD and substitutions are acceptable on request to forces who have already pre-entered some runners. However, entrants

may not receive a Race Mememnto

. Please email me to discuss. Sorry, there are no entry fee refunds but named substitutions to pre-paid entries will be allowed.



Entry Confirmation



All competitors will receive a confirmation of their entry from BookitZone and ongoing briefing information will be by email and on the event webpage right through to the event.





Further Event Information

British Police Fell Race Website and Social Media

Facebook - Closed Private Group



https://www.facebook.com/groups/2237701033168743/



Web - PSUK Athletics - Public Page:



http://www.policesport.uk



What'sApp Group - Private Group



Your mobile will be added to a 2024 Fell Race WhatsApp Group where we can communicate and update on event information. If you wish to opt outof the Grroup simply do this on WhatsApp.



Finally....



Please do not hesitate to contact me if you have any further questions or require any other information?





Further information from the Organisers

Overall Coordinator: Steven Broadbent - steve@policesport.uk

North Yorkshire Police AC Contact - Kate Aspey and Simon Fricke



Information about the Overall coordinator:



Secretary of the Lancashire Constabulary Athletics Club 1991 - 2023





Experienced road, trail, XC and fell runner.





Organiser of the Lakeland Slateman Triathlon 1993, 1994, 1995




Lakeland Slateman Three Peaks 1997, 1998



1993 - 2023 Organiser of NPCCL
2000 - 2023 Organiser of the British Police Fell Races



Entry Point

Event Entry URL: https://bookitzone.com/steve_broadbent/37jFFX
QR Code: