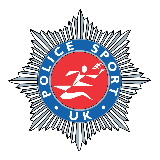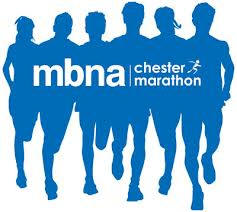 Incorporated within the 'MBNA' Chester Marathon
Sunday 6 October 2013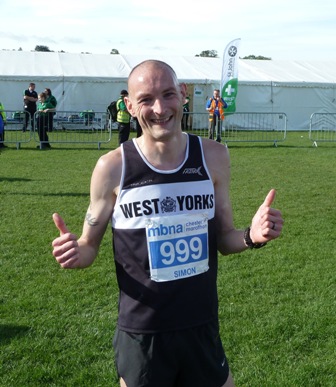 Race Report
Well done again to everyone who took part! We had 131 initial police entries with 98 starters on the day with only two runners dropping out. Fantastic!
There were some remarkable performances to be had with excellent race conditions, fine sunny weather and around a great marathon course.
Simon Newton (West Yorkshire) (sporting number 999) was back on form and cruised in first in 2.42 and was 18th overall. First lady was Sarah Hill (Hampshire) having a tremendous race finishing in 2.54 and 3rd overall and was 1st FV40 overall. Kate Towerton (Also from Hampshire) was 2nd lady and 4th overall!
Alex Daniels (Devon & Cornwall) finished 2nd in 2.49 was first MV40 and 30th overall with Richard Cockbain 3rd.
Mixed team positions were very close with ex.Lothian and Borders runners Richard Cockbain, Steve Cairnes and Craig Rendle pooling an 8 hr 45 minute time with Devon & Cornwall coming 2nd with a 9 hours pool time. West Yorkshire Police were 3rd team.
This year a one-off special award was made to the runner who had completed the 'Best in Six' PSUK marathons 2008 to 2013. Noone had completed all six but there were five contenders who had done 5 of 6. Mick Brodrick (Lancashire) was 3rd and Stuart Barnard (Norfolk) was Runner-Up. Bob Hind (North Wales) the eldest of the five contenders at 60 won the 'Best in Six' trophy with 3.16, 3.14. 3.40, 3.15 and 3.28 marathon times!
Police Sport UK would like to thank the Chester Marathon organisers Chris, Andy and Linda for allowing our Championships within their event and their cooperation throughout. The race was well organised and managed throughout.
I would also like to thanks Sally Broome and Graham Heeley for their assistance and support on the day.
I have enjoyed coordinating the last six PSUK Marathons but sadly this will be my last. May I thank everyone for their kind comments and support for the event over the years. However, I will continue to be the Lancashire force secretary, manage the PSUK Athletics website as well as coordinate the British Police Fell Race and Northern Police Cross Country League.
May I wish everyone good health and remain injury free and hope to see you at future PSUK events.
Best wishes,
Vol.20785 Steve Broadbent
Police Sport UK Marathon Coordinator
Lancashire Constabulary

Picture Gallery
Results (Based on Gun Time)
PSUK
Pos
Race#
Forename
Surname
Gun
Time
Gen
Gen
Pos
Cat
Cat
Pos
Club
10K
Pos
20K
Pos
Half
Pos
30K
Pos
40K
Pos
Gun
Time
Pos
Chip
Time
Pos
1
999
Simon
Newton
02:42:54
M
18
MSEN
11
Police-West Yorkshire
00:36:16
15
01:13:28
15
01:17:46
15
01:52:09
14
02:33:42
18
02:42:54
19
02:42:53
19
2
937
Alex
Daniels
02:49:49
M
30
M40
11
Police-Devon & Cornwall
00:40:19
65
01:20:06
55
01:24:39
52
02:00:09
41
02:40:53
32
02:49:49
31
02:49:49
31
3
993
Richard
Cockbain
02:50:59
M
34
MSEN
20
Police-Scotland
00:40:16
63
01:20:02
47
01:24:35
46
02:00:06
39
02:42:03
37
02:50:59
35
02:50:55
34
4
976
Mark
King
02:53:15
M
44
M40
13
Police-Leicestershire
00:40:27
68
01:21:07
66
01:25:44
65
02:02:08
54
02:43:46
44
02:53:15
45
02:53:08
44
5
905
Sarah
Hill
02:54:48
F
3
F40
1
Police-Hampshire
00:40:33
72
01:21:12
69
01:25:50
67
02:02:48
62
02:45:26
56
02:54:48
58
02:54:47
58
6
992
Steve
Cairnes
02:54:48
M
56
M45
7
Police-Scotland
00:40:33
73
01:21:12
68
01:25:50
66
02:02:48
61
02:45:26
58
02:54:48
59
02:54:47
59
7
1017
Andy
Day
02:56:01
M
67
M40
18
Police-West Midlands
00:41:39
124
01:23:15
111
01:27:57
108
02:05:09
92
02:47:17
72
02:56:01
70
02:55:57
70
8
939
James
Johnson
02:58:03
M
81
MSEN
43
Police-Devon & Cornwall
00:41:32
116
01:23:13
109
01:27:56
105
02:05:11
93
02:48:08
85
02:58:03
84
02:57:58
83
9
47
Kate
Towerton
02:58:33
F
4
FSEN
2
Police-Hampshire
00:42:48
244
01:25:07
206
01:29:51
193
02:07:50
158
02:49:53
104
02:58:33
89
02:58:33
92
10
1003
Craig
Rendle
02:59:15
M
97
MSEN
51
Police-Scotland
00:42:01
178
01:24:28
182
01:29:16
174
02:07:07
146
02:50:03
109
02:59:15
101
02:59:09
102
11
928
Shaun
Bott
03:03:04
M
129
MSEN
70
Police-Derbyshire
00:42:42
238
01:27:30
259
01:32:22
253
02:09:47
198
02:52:56
139
03:03:04
137
03:02:45
134
12
1004
Neil
Rutherford
03:03:52
M
134
M40
29
Police-Scotland
00:42:36
235
01:25:26
224
01:30:18
215
02:08:37
171
02:54:12
146
03:03:52
142
03:03:47
143
13
978
Princeton
Akpojaro
03:08:39
M
172
M45
29
Police-Metropolitan
00:42:26
221
01:25:23
218
01:30:26
220
02:10:13
206
02:57:40
177
03:08:39
182
03:08:33
182
14
3117
Kris
Barnard
03:09:06
M
174
MSEN
97
Police-Norfolk
00:41:19
92
01:22:35
86
01:27:13
82
02:05:17
95
02:58:02
183
03:09:06
184
03:09:03
186
15
986
Thomas
Prytherch
03:09:15
M
176
M40
35
Police-North Wales
00:43:54
276
01:28:29
278
01:33:24
268
02:12:43
235
02:58:58
189
03:09:15
186
03:08:53
184
16
980
Stuart
Barnard
03:10:32
M
189
MSEN
107
Police-Norfolk
00:42:30
225
01:25:03
202
01:29:58
200
02:09:26
188
02:58:54
186
03:10:32
200
03:10:23
198
17
983
Andrew
Terry
03:12:40
M
203
M40
39
Police-Norfolk
00:44:10
293
01:28:43
288
01:33:41
280
02:13:40
248
03:02:08
221
03:12:40
215
03:12:31
216
18
936
James
Blight
03:12:55
M
205
MSEN
117
Police-Devon & Cornwall
00:41:53
142
01:24:12
156
01:28:58
155
02:08:38
172
03:00:15
203
03:12:55
220
03:12:52
223
19
923
James
Lunn
03:14:10
M
220
M40
48
Police-Bedfordshire
00:44:06
288
01:28:40
285
01:33:34
273
02:13:35
243
03:03:10
236
03:14:10
236
03:13:59
238
20
984
Gary
Zoller
03:14:20
M
222
M45
36
Police-Norfolk
00:44:31
310
01:29:54
313
01:34:51
302
02:15:16
275
03:03:35
242
03:14:20
238
03:14:08
241
21
1007
Chris
Harris

03:14:59

M
233
MSEN
130
Police-West Midlands
00:44:04
283
01:28:22
274
01:33:25
269
02:14:30
259
03:04:29
261
03:14:59
250
03:14:44
248
22
1008
Robert
Mills
03:16:45
M
253
M55
5
Police-West Midlands
00:44:21
301
01:29:10
295
01:34:13
290
02:15:06
274
03:05:47
286
03:16:45
274
03:16:29
275
23
1014
John
Levick
03:18:03
M
268
M45
42
Police-West Yorkshire
00:41:57
158
01:24:08
142
01:28:57
150
02:08:12
164
03:05:35
280
03:18:03
291
03:18:00
298
24
1009
Stephen
Pitt
03:19:12
M
284
M40
61
Police-West Midlands
00:45:46
450
01:31:31
423
01:36:35
408
02:16:30
305
03:09:13
333
03:19:12
310
03:18:48
311
25
942
Nick
Davies
03:19:50
M
292
M50
17
Police-Dyfed-Powys
00:46:55
508
01:34:15
520
01:39:33
511
02:21:19
445
03:09:40
342
03:19:50
318
03:19:23
317
26
989
Michael
Stoker
03:20:03
M
295
M40
63
Police-Northumbria
00:45:22
375
01:31:14
384
01:36:22
374
02:17:35
349
03:08:33
321
03:20:03
322
03:19:40
320
27
977
Duncan
Malloy
03:22:46
M
331
M45
51
Police-Leicestershire
00:45:42
447
01:32:14
445
01:37:29
440
02:19:44
413
03:11:01
366
03:22:46
364
03:22:33
365
28
1013
Paul
Croft
03:23:44
M
349
M50
22
Police-West Yorkshire
00:45:32
423
01:31:27
415
01:36:38
412
02:18:48
383
03:12:30
392
03:23:44
384
03:23:31
388
29
988
Paul
Calvert
03:24:25
M
360
MSEN
194
Police-Northumbria
00:46:36
494
01:32:50
469
01:38:08
464
02:20:31
425
03:12:52
401
03:24:25
395
03:23:59
394
30
947
John
Jackson
03:24:33
M
361
M45
56
Police-Essex
00:49:22
820
01:37:36
696
01:43:03
672
02:25:46
584
03:13:41
412
03:24:33
396
03:23:58
393
31
909
Janine
Fallon
03:24:58
F
37
F35
8
Police-Lancashire
00:47:21
538
01:35:22
555
01:40:50
549
02:23:18
501
03:13:17
408
03:24:58
403
03:24:17
402
32
991
Mike
Brooks
03:25:52
M
381
M45
58
Police-Scotland
00:48:41
673
01:37:41
703
01:43:14
695
02:26:33
607
03:14:53
436
03:25:52
420
03:25:17
422
33
985
Robert
Hind
03:28:36
M
437
M60
4
Police-North Wales
00:44:32
313
01:29:38
306
01:35:02
307
02:18:50
385
03:15:34
454
03:28:36
482
03:28:21
494
34
1002
Sid
Pask
03:29:07
M
458
M60
5
Police-Scotland
00:47:56
602
01:35:28
559
01:40:50
550
02:23:33
506
03:16:09
474
03:29:07
504
03:28:34
506
35
970
Andrew
Carter
03:30:13
M
486
M45
77
Police-Lancashire
00:45:58
465
01:31:55
434
01:37:10
428
02:19:04
392
03:15:28
448
03:30:13
534
03:29:41
539
36
938
Andrew
Dudley
03:32:34
M
525
M40
123
Police-Devon & Cornwall
00:44:29
307
01:30:58
367
01:36:07
359
02:22:15
470
03:20:24
592
03:32:34
578
03:32:27
587
37
960
John
Cooper
03:33:56
M
540
M50
29
Police-Kent
00:45:27
396
01:32:41
461
01:38:08
461
02:22:38
477
03:22:02
612
03:33:56
595
03:33:34
605
38
994
Mark
Downie
03:35:59
M
580
M40
136
Police-Scotland
00:46:27
486
01:32:19
447
01:37:41
443
02:21:33
452
03:21:49
607
03:35:59
639
03:35:23
642
39
982
Dale
Cooper
03:37:35
M
597
M50
36
Police-Norfolk
00:49:32
858
01:38:18
745
01:43:51
733
02:28:32
698
03:25:26
681
03:37:35
662
03:37:00
668
40
910
Nikki
Kay
03:39:33
F
73
FSEN
25
Police-Lancashire
00:49:57
956
01:40:32
972
01:46:19
957
02:31:55
853
03:26:41
724
03:39:33
706
03:38:17
700
41
903
Emma
Roberts
03:41:49
F
87
FSEN
31
Police-Dyfed-Powys
00:52:54
1411
01:44:19
1251
01:50:01
1219
02:35:33
999
03:27:55
760
03:41:49
768
03:39:19
729
42
3130
Chris
Suckling
03:41:57
M
686
M45
112
Police-Hertfordshire
00:50:42
1054
01:41:02
996
01:46:40
979
02:31:20
827
03:27:16
737
03:41:57
773
03:39:55
742
43
914
Tracey
Llewellyn
03:43:08
F
93
F35
25
Police-North Wales
00:47:35
562
01:36:16
594
01:42:14
623
02:30:36
810
03:30:23
835
03:43:08
808
03:42:45
825
44
959
Stuart
Champion
03:43:10
M
716
M45
119
Police-Kent
00:49:04
759
01:38:19
750
01:44:00
743
02:29:41
775
03:30:21
833
03:43:10
809
03:42:32
820
45
1000
Douglas
Kirkham
03:45:19
M
756
M45
127
Police-Scotland
00:49:48
931
01:40:21
958
01:46:09
943
02:33:00
888
03:31:39
862
03:45:19
858
03:44:42
880
46
931
Kevin
Loftus
03:46:13
M
784
M55
23
Police-Derbyshire
00:53:08
1426
01:45:17
1324
01:51:05
1285
02:36:26
1068
03:32:19
882
03:46:13
893
03:44:25
867
47
900
Vicky
Kehoe
03:46:33
F
112
F40
30
Police-Cheshire
00:50:07
986
01:42:13
1050
01:48:03
1039
02:36:01
1037
03:33:17
917
03:46:33
905
03:45:15
900
48
3626
Stephanie
Thandi
03:47:43
F
119
F40
32
Police-Derbyshire
00:53:10
1433
01:46:08
1378
01:52:03
1350
02:38:42
1173
03:33:48
932
03:47:43
936
03:46:17
932
49
969
Mick
Brodrick
03:48:35
M
837
M45
140
Police-Lancashire
00:50:28
1024
01:40:30
969
01:46:21
960
02:34:31
953
03:34:38
954
03:48:35
960
03:47:32
962
50
904
Sue
Tagg
03:48:40
F
124
F45
10
Police-Gwent
00:48:10
618
01:37:32
692
01:43:26
709
02:34:04
931
03:34:59
966
03:48:40
961
03:48:10
976
51
948
Charles
Quaey
03:54:08
M
959
M45
161
Police-Essex
00:53:54
1530
01:47:57
1486
01:54:09
1481
02:43:04
1374
03:39:39
1104
03:54:08
1115
03:51:51
1086
52
987
Mark
Rees
03:56:53
M
1028
M45
172
Police-North Yorkshire
00:50:06
981
01:40:32
971
01:46:29
972
02:35:36
1000
03:41:57
1191
03:56:53
1196
03:56:40
1243
53
3120
Glen
Westley
03:57:36
M
1049
M40
235
Police-Essex
00:54:50
1671
01:48:57
1562
01:55:01
1541
02:44:09
1410
03:42:34
1200
03:57:36
1221
03:55:21
1195
54
997
Kenny
Hall
03:58:03
M
1065
M45
178
Police-Scotland
00:56:51
2012
01:53:22
1911
01:59:42
1882
02:50:00
1674
03:44:44
1275
03:58:03
1242
03:56:19
1229
55
941
Lee
Davies
03:58:39
M
1075
MSEN
530
Police-Dyfed-Powys
00:51:28
1154
01:43:31
1146
01:49:24
1129
02:38:09
1147
03:44:27
1264
03:58:39
1257
03:57:09
1257
56
918
Helen
Cutmore
04:00:48
F
199
F45
16
Police-South Yorkshire
00:54:46
1657
01:50:49
1680
01:57:09
1658
02:48:25
1565
03:47:22
1369
04:00:48
1322
03:59:08
1324
57
945
John
Rees
04:01:39
M
1155
M45
198
Police-Dyfed-Powys
00:54:34
1616
01:49:50
1616
01:56:08
1605
02:47:12
1530
03:47:14
1365
04:01:39
1362
03:59:59
1358
58
929
Gary
Goacher
04:01:42
M
1157
M50
80
Police-Derbyshire
00:52:14
1324
01:45:36
1341
01:51:39
1324
02:41:00
1277
03:46:43
1344
04:01:42
1364
04:00:42
1373
59
924
Lance
Ball
04:02:57
M
1177
M40
259
Police-Cheshire
00:56:28
1924
01:53:17
1902
01:59:39
1873
02:48:50
1591
03:48:04
1398
04:02:57
1389
04:01:10
1381
60
911
Jacqueline
Reid
04:06:37
F
233
F45
25
Police-Metropolitan
00:53:46
1509
01:51:39
1736
01:58:34
1755
02:52:33
1779
03:54:19
1547
04:06:37
1464
04:06:19
1495
61
975
David
Wilkinson
04:07:54
M
1252
M50
89
Police-Lancashire
00:50:06
980
01:42:10
1045
01:48:51
1089
02:45:44
1475
03:52:13
1495
04:07:54
1491
04:06:47
1507
62
901
Angela
Briggs
04:09:39
F
248
F40
52
Police-Derbyshire
00:53:35
1481
01:51:24
1718
01:58:08
1725
02:52:10
1770
03:54:39
1557
04:09:39
1528
04:07:53
1529
63
915
Lisa
Brazier-Watt
04:10:33
F
255
F35
60
Police-Scotland
00:56:52
2018
01:53:23
1912
01:59:43
1885
02:50:04
1681
03:56:02
1585
04:10:33
1545
04:08:49
1548
64
950
Mark
Stenhouse
04:10:59
M
1299
M45
223
Police-Gloucestershire
00:56:38
1956
01:53:14
1892
01:59:43
1884
02:51:55
1761
03:56:12
1590
04:10:59
1556
04:09:02
1555
65
920
Yvette
Arthur
04:14:55
F
289
F50
12
Police-West Yorkshire
00:50:41
1049
01:44:18
1250
01:50:35
1257
02:43:07
1375
03:50:15
1443
04:14:55
1649
04:14:20
1683
66
925
Graeme
Carvell
04:17:09
M
1391
MSEN
666
Police-Cheshire
00:56:13
1876
01:53:06
1874
01:59:35
1861
02:50:26
1702
04:00:20
1687
04:17:09
1696
04:15:20
1709
67
1011
Jonathan
Symes
04:18:10
M
1416
M40
309
Police-West Midlands
00:53:48
1514
01:48:33
1538
01:54:42
1521
02:51:45
1754
04:02:33
1752
04:18:10
1729
04:16:24
1734
68
972
Jon
Shaw
04:20:43
M
1455
M50
113
Police-Lancashire
00:55:12
1731
01:51:03
1701
01:57:24
1685
02:50:31
1705
04:03:47
1783
04:20:43
1784
04:18:12
1777
69
1018
Kevin
Swindell
04:24:41
M
1525
M50
122
Police-Wiltshire
00:54:06
1564
01:49:35
1598
01:56:15
1611
02:49:33
1632
04:04:53
1815
04:24:41
1881
04:22:33
1890
70
961
Guy
Ditcher
04:25:25
M
1546
M45
269
Police-Kent
00:51:59
1296
01:48:00
1494
01:54:39
1518
02:50:29
1703
04:07:39
1884
04:25:25
1913
04:24:20
1944
71
946
Celt
Thomas
04:25:29
M
1547
MSEN
729
Police-Dyfed-Powys
01:06:53
2844
02:13:26
2734
02:21:07
2714
03:15:32
2478
04:10:28
1955
04:25:29
1916
04:21:58
1863
72
926
Nick
Henderson
04:26:01
M
1556
MSEN
733
Police-Cheshire
00:56:12
1873
01:53:06
1871
01:59:34
1859
02:55:11
1856
04:08:14
1903
04:26:01
1927
04:24:12
1941
73
906
Clare
Halfpenny
04:26:07
F
373
F40
79
Police-Hertfordshire
00:57:07
2053
01:53:57
1952
02:00:22
1936
02:55:15
1862
04:10:25
1954
04:26:07
1929
04:24:05
1937
74
996
Steven
Gillan
04:27:12
M
1571
MSEN
744
Police-Scotland
00:53:51
1520
01:49:07
1574
01:55:39
1579
02:48:37
1572
04:08:41
1913
04:27:12
1952
04:26:42
1990
75
956
Jon
Stow
04:29:52
M
1607
MSEN
761
Police-Hertfordshire
00:55:29
1762
01:51:31
1726
01:58:00
1714
02:52:42
1784
04:12:53
2019
04:29:52
2012
04:27:51
2014
76
965
Jonathan
Turtle
04:30:18
M
1616
MSEN
768
Police-Kent
01:03:00
2545
02:05:03
2454
02:12:02
2435
03:06:25
2222
04:12:27
2010
04:30:18
2025
04:26:51
1994
77
4444
Lucy
Campbell
04:30:23
F
410
F45
48
Police-Norfolk
00:54:52
1679
01:53:15
1897
02:00:06
1919
03:00:08
2017
04:15:10
2076
04:30:23
2026
04:29:15
2066
78
1005
Graham
Watt
04:31:00
M
1622
MSEN
772
Police-Scotland
00:56:51
2013
01:53:56
1950
02:01:09
1965
03:01:04
2062
04:15:16
2081
04:31:00
2040
04:29:15
2067
79
913
Dawn
Collyer
04:31:51
F
430
FSEN
166
Police-Norfolk
01:00:25
2374
02:02:42
2379
02:10:09
2373
03:10:05
2321
04:16:25
2111
04:31:51
2070
04:29:21
2071
80
981
Richard
Collyer
04:31:51
M
1641
M45
281
Police-Norfolk
01:00:25
2370
02:02:42
2377
02:10:09
2374
03:10:04
2320
04:16:25
2112
04:31:51
2071
04:29:21
2072
81
934
Tommy
Stuart
04:32:14
M
1651
MSEN
784
Police-Derbyshire
00:59:35
2253
01:59:21
2199
02:06:10
2183
03:03:42
2152
04:14:34
2057
04:32:14
2086
04:28:47
2049
82
1012
Mark
Robinson
04:34:03
M
1667
MSEN
795
Police-West Midlands
00:54:49
1666
01:52:30
1808
01:59:27
1844
03:00:00
2012
04:17:54
2139
04:34:03
2114
04:32:09
2119
83
907
Caroline
Filmer
04:35:18
F
456
F40
93
Police-Kent
01:04:03
2674
02:07:25
2586
02:14:42
2569
03:12:16
2402
04:18:34
2157
04:35:18
2134
04:32:54
2136
84
921
Heather
Mitchell
04:36:36
F
471
F60
6
Police-West Yorkshire
00:56:41
1972
01:55:51
2051
02:04:14
2094
03:04:08
2166
04:19:28
2176
04:36:36
2165
04:34:33
2174
85
971
Simon
Lister
04:36:56
M
1698
M40
361
Police-Lancashire
00:58:00
2127
01:58:27
2157
02:05:01
2127
03:01:08
2068
04:19:24
2174
04:36:56
2171
04:34:31
2173
86
1016
Craig
Ellis
04:38:07
M
1716
MSEN
812
Police-Gwent
00:49:40
897
01:45:13
1318
01:52:23
1371
02:57:13
1926
04:20:47
2199
04:38:07
2196
04:37:41
2225
87
902
Terri
Harrison
04:44:00
F
524
F35
112
Police-Dyfed-Powys
00:53:52
1523
01:51:19
1712
01:58:25
1745
03:00:49
2053
04:26:53
2314
04:44:00
2291
04:41:25
2297
88
1006
Steven
Davis
04:45:03
M
1785
M50
141
Police-Surrey
01:00:35
2400
02:02:38
2375
02:10:02
2370
03:11:52
2391
04:28:56
2355
04:45:03
2316
04:41:09
2291
89
943
Fintan
Godkin
04:49:18
M
1831
MSEN
859
Police-Dyfed-Powys
00:59:56
2297
02:01:09
2310
02:08:23
2311
03:13:38
2444
04:31:17
2389
04:49:18
2381
04:46:17
2376
90
958
Adrian
Allen
04:50:30
M
1846
M45
316
Police-Kent
01:03:00
2544
02:05:35
2469
02:12:43
2456
03:11:40
2387
04:31:04
2386
04:50:30
2403
04:47:03
2391
91
967
David
Withers
04:53:44
M
1882
M50
157
Police-Kent
00:54:49
1667
01:50:51
1685
01:57:16
1675
02:49:24
1620
04:19:02
2165
04:53:44
2456
04:51:19
2457
92
962
Scott
Lynch
04:53:44
M
1883
M45
322
Police-Kent
00:44:52
331
01:30:59
369
01:36:24
379
02:20:40
430
04:21:03
2208
04:53:44
2457
04:53:22
2497
93
952
Andrew
Amos
05:02:05
M
1959
M50
165
Police-Hertfordshire
01:01:43
2456
02:02:46
2382
02:09:38
2357
03:10:00
2316
04:38:52
2529
05:02:05
2593
04:58:51
2591
94
954
Peter
Hern
05:28:21
M
2061
M60
38
Police-Hertfordshire
01:06:59
2858
02:15:58
2818
02:24:02
2816
03:36:38
2803
05:05:04
2782
05:28:21
2798
05:24:35
2791
95
973
Graham
Slater
06:10:38
M
2122
M50
181
Police-Lancashire
01:06:57
2853
02:26:11
2933
02:37:42
2935
04:00:07
2926
05:46:42
2926
06:10:38
2924
06:06:46
2921
96
963
Mel
Moore
06:18:35
M
2128
M45
357
Police-Kent
01:10:25
2944
02:39:16
2975
02:50:15
2970
04:19:50
2965
05:57:32
2936
06:18:35
2933
06:15:06
2930
DNF
933
Del
Pitcher
DNF
M
DNF
M40
DNF
Police-Derbyshire
00:43:01
258
01:27:50
264
01:32:53
259
02:17:26
330
00:00:00
1285
DNF
DNF
DNF
DNF
DNF
940
Jonathan
Tatton
DNF
M
DNF
M45
DNF
Police-Dyfed-Powys
00:54:32
1613
01:50:40
1669
01:56:59
1648
02:50:03
1677
05:33:57
2906
DNF
DNF
DNF
DNF
Initial Entries - DNS
| | | | | | | |
| --- | --- | --- | --- | --- | --- | --- |
| 99 | 990 | Tim | Arbuckle | Police Scotland | M | DNS |
| 100 | 935 | Ian | Baggott | Devon & Cornwall | M | DNS |
| 101 | DNS | Rebecca | Black | Surrey | F | DNS |
| 102 | DNS | Deborah | Blakeman | West Midlands | F | DNS |
| 103 | DNS | Stuart | Dinwoodie | Wiltshire | M | DNS |
| 104 | 995 | Drummond | Fyall | Police Scotland | M | DNS |
| 105 | DNS | Wendy | Gilham | Kent | F | DNS |
| 106 | DNS | Stephen | Hague | Hertfordshire | M | DNS |
| 107 | 930 | Tony | Harper | Derbyshire | M | DNS |
| 108 | 998 | Michael | Harvey | Police Scotland | M | DNS |
| 109 | DNS | Stuart | Isherwood | Lancashire | M | DNS |
| 110 | DNS | Donald | Kettrick | Police Scotland | M | DNS |
| 111 | 1001 | Steven | Laurie | Police Scotland | M | DNS |
| 112 | 944 | Richard | Lewis | Dyfed-Powys | M | DNS |
| 113 | 951 | Rick | Lloyd | GMP | M | DNS |
| 114 | DNS | Toni | Matthew | Kent | F | DNS |
| 115 | DNS | Neil | McKinnon | Police Scotland | M | DNS |
| 116 | 932 | Dean | Melbourne | Derbyshire | M | DNS |
| 117 | 955 | David | Mitchinson | Hertfordshire | M | DNS |
| 118 | 908 | Tracy | Nicholls | Kent | F | DNS |
| 119 | 916 | Avril | Pearson | Police Scotland | F | DNS |
| 120 | DNS | Gary | Pirie | Police Scotland | M | DNS |
| 121 | 1010 | John | Price | West Midlands | M | DNS |
| 122 | 1015 | Carl | Quinn | West Yorkshire | M | DNS |
| 123 | DNS | Gareth | Silcock | Kent | M | DNS |
| 124 | 964 | Chris | Spencer | Kent | M | DNS |
| 125 | 922 | Anna | Sykes | West Yorkshire | F | DNS |
| 126 | DNS | Heather | Thompson | Kent | F | DNS |
| 127 | 949 | Glen | Westley | Essex | M | DNS |
| 128 | 966 | Nicholas | White | Kent | M | DNS |
| 129 | DNS | Duncan | Whitehead | Lancashire | M | DNS |
| 130 | 917 | Heidi | Williams | South Wales | F | DNS |
| 131 | 927 | Andrew | Wilson | Cheshire | M | DNS |
Teams - Mixed - Three to count
Position
Forename
Surname
Gen
Club
Gun
Time
Total
Time
1
Richard
Cockbain
M
Police-Scotland
02:50:59
08:45:02
Steve
Cairnes
M
02:54:48
Craig
Rendle
M
02:59:15
2
Alex
Daniels
M
Police-Devon & Cornwall
02:49:49
09:00:47
James
Johnson
M
02:58:03
James
Blight
M
03:12:55
3
Simon
Newton
M
Police-West Yorkshire
02:42:54
09:24:41
John
Levick
M
03:18:03
Paul
Croft
M
03:23:44
4
Andy
Day
M
Police-West Midlands
02:56:01
09:27:45
Chris
Harris
M
03:14:59
Robert
Mills
M
03:16:45
5
Kris
Barnard
M
Police-Norfolk
03:09:06
09:32:18
Stuart
Barnard
M
03:10:32
Andrew
Terry
M
03:12:40
6
Thomas
Prytherch
M
Police-North Wales
03:09:15
10:20:59
Robert
Hind
M
03:28:36
Tracey
Llewellyn
F
03:43:08
7
Janine
Fallon
F
Police-Lancashire
03:24:58
10:34:44
Andrew
Carter
M
03:30:13
Nikki
Kay
F
03:39:33
8
Shaun
Bott
M
Police-Derbyshire
03:03:04
10:37:00
Kevin
Loftus
M
03:46:13
Stephanie
Thandi
F
03:47:43
9
Nick
Davies
M
Police-Dyfed-Powys
03:19:50
11:00:18
Emma
Roberts
F
03:41:49
Lee
Davies
M
03:58:39
10
John
Jackson
M
Police-Essex
03:24:33
11:16:17
Charles
Quaey
M
03:54:08
Glen
Westley
M
03:57:36
11
John
Cooper
M
Police-Kent
03:33:56
11:42:31
Stuart
Champion
M
03:43:10
Guy
Ditcher
M
04:25:25
12
Vicky
Kehoe
F
Police-Cheshire
03:46:33
12:06:39
Lance
Ball
M
04:02:57
Graeme
Carvell
M
04:17:09
13
Chris
Suckling
M
Police-Hertfordshire
03:41:57
12:37:56
Clare
Halfpenny
F
04:26:07
Jon
Stow
M
04:29:52
'Best in Six# Marathons - 2008 to 2013
Race No.
Name
Surname
Force
Gender
Age
Edinburgh
2008
Leicester
2009
Snowdonia
2010
Mablethorpe
2011
Jersey
2012
Chester
2013
Total Time
Est Time
2013
985
Robert
Hind
North Wales
M
60
03:16:39
03:14:33
03:40:03
03:15:47
03:28:36
16:55:38
3.25
980
Stuart
Barnard
Norfolk
M
37
03:40:53
03:52:44
03:36:19
03:08:32
03:10:32
17:29:00
3.10
969
Mick
Brodrick
Lancashire
M
47
03:39:18
04:01:49
04:35:21
03:39:25
03:48:35
19:44:28
3.38
1016
Craig
Ellis