Lakeland Slateman Triathlon 1995
The 'Slateman' events were born in 1993. These were not official PAA events but were exclusively arranged annually for PAA competitors over a six year period.
The 3rd and final Triathlon was again hosted by the Lancashire Constabulary Athletics Section led by PC Steve Broadbent. It took place in July 1995 from Glenridding Cumbria. There were 100 competitors from the UK Police with 89 starting this gruelling course and 77 finishers.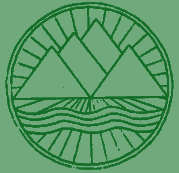 Event Summary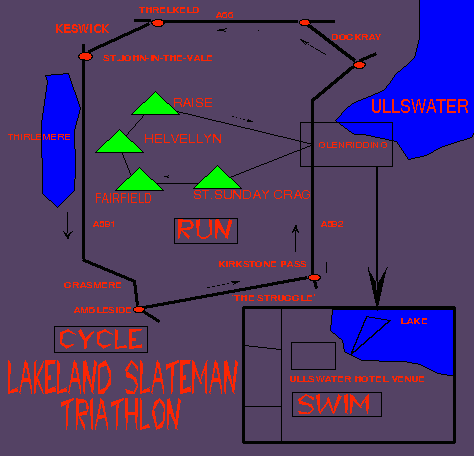 Results
| | | | | | | | | | | | | | |
| --- | --- | --- | --- | --- | --- | --- | --- | --- | --- | --- | --- | --- | --- |
| Pos | Name | Surname | Force | Vet | LADY | Swim | POS | Cycle | POS | Run | POS | Total | Race No. |
| 1 | Karl | Webster | Derbyshire | | | 00.17.03 | 8 | 02.05.53 | 9 | 02.24.56 | 1 | 04.47.52 | 19 |
| 2 | Glyn | Todd | Metropolitan | | | 00.15.07 | 1 | 01.54.34 | 3 | 02.47.55 | 5 | 04.57.36 | 63 |
| 3 | Mike | Kliskey | Essex | | | 00.17.10 | 10 | 01.53.21 | 1 | 02.48.55 | 6 | 04.59.26 | 22 |
| 4 | Peter | Horne | West Yorks | VET | | 00.18.26 | 21 | 02.02.41 | 6 | 02.39.05 | 2 | 05.00.12 | 90 |
| 5 | John | Trott | Devon+Cornwall | | | 00.17.08 | 9 | 01.54.29 | 2 | 02.59.09 | 10 | 05.10.46 | 20 |
| 6 | Tony | Caulton | Derbyshire | | | 00.21.55 | 47 | 02.12.26 | 21 | 02.39.09 | 3 | 05.13.30 | 17 |
| 7 | Phil | Whitehead | Lancashire | | | 00.15.07 | 2 | 01.59.47 | 4 | 02.59.43 | 11 | 05.14.37 | 50 |
| 8 | Brian | Horn | Cumbria | VET | | 00.24.36 | 58 | 02.14.36 | 22 | 02.40.05 | 4 | 05.19.17 | 9 |
| 9 | Simon | Devereux | Lancashire | | | 00.17.50 | 18 | 02.10.47 | 17 | 02.52.50 | 7 | 05.21.27 | 46 |
| 10 | Neil | Faulkner | Hertfordshire | | | 00.19.48 | 32 | 02.03.42 | 7 | 03.00.11 | 12 | 05.23.41 | 38 |
| 11 | Andy | Watkins | West Mercia | | | 00.21.29 | 43 | 02.04.15 | 8 | 03.00.14 | 13 | 05.25.58 | 84 |
| 12 | David | Hardaker | West Yorks | | | 00.23.58 | 57 | 02.10.27 | 15 | 02.53.46 | 8 | 05.28.11 | 89 |
| 13 | Gary | Priestley | Derbyshire | | | 00.16.25 | 5 | 02.07.07 | 11 | 03.05.18 | 16 | 05.28.50 | 18 |
| 14 | Gerwyn | Lloyd | North Wales | | | 00.19.23 | 28 | 02.12.08 | 20 | 03.04.25 | 15 | 05.35.56 | 65 |
| 15 | Mark | Ames | Metropolitan | | | 00.20.35 | 37 | 02.06.50 | 10 | 03.09.12 | 18 | 05.36.37 | 51 |
| 16 | Rob | Wilkins | Cleveland | VET | | 00.17.44 | 17 | 02.07.24 | 12 | 03.11.44 | 20 | 05.36.52 | 5 |
| 17 | Clive | Bednall | Derbyshire | | | 00.19.06 | 25 | 02.10.41 | 16 | 03.14.28 | 24 | 05.41.56 | 16 |
| 18 | Tony | Stephenson | Cleveland | | | 00.17.16 | 14 | 02.08.36 | 13 | 03.39.19 | 46 | 05.47.55 | 4 |
| 19 | Michael | Clarke | Cleveland | | | 00.16.48 | 7 | 02.09.05 | 14 | 03.22.02 | 36 | 05.47.55 | 95 |
| 20 | Steve | Pike | Devon+Cornwall | | | 00.17.15 | 13 | 02.10.56 | 18 | 03.21.56 | 35 | 05.50.07 | 97 |
| 21 | Craig | Lory | Cumbria | | | 00.19.06 | 24 | 02.35.34 | 5 2 | 02.56.14 | 9 | 05.50.54 | 10 |
| 22 | Liz | Fagan | West Mercia | | LADY | 00.16.47 | 6 | 02.02.37 | 5 | 03.29.01 | 42 | 05.52.15 | 78 |
| 23 | Andrew | Nordquist | Devon+Corn Wall | | | 00.17.13 | 12 | 0 2.10.57 | 19 | 03.25.42 | 39 | 05.53.52 | 96 |
| 24 | Mark | Graham | Cumbria | | | 00.22.59 | 54 | 02.24.13 | 35 | 03.06.57 | 17 | 05.54.03 | 8 |
| 25 | Paul | Kaye | West Yorks | | | 00.18.53 | 22 | 02.20.59 | 30 | 03.15.25 | 27 | 05.55.17 | 91 |
| 26 | Gary | Danson | Lancashire | | | 00.21.36 | 44 | 02.15.07 | 23 | 03.18.38 | 31 | 05.55.21 | 45 |
| 27 | Richard | Mavin | Cumbria | | | 00.20.33 | 35 | 02.22.35 | 32 | 03.13.13 | 21 | 05.56.21 | 12 |
| 28 | Mark | Rees | North Yorks | | | 00.16.12 | 3 | 02.19.39 | 27 | 03.23.45 | 37 | 05.59.36 | 68 |
| 29 | Richard | Harbon | Hertfordshire | | | 00.21.28 | 41 | 02.20.5 0 | 29 | 03.18.08 | 30 | 06.00.26 | 39 |
| 30 | Colin | Kerfoot | West Mercia | | | 00.21.18 | 40 | 02.26.39 | 40 | 03.13.14 | 22 | 06.01.11 | 80 |
| 31 | Bob | Hind | North Wales | VET | | 00.23.32 | 55 | 02.23.21 | 34 | 03.14.42 | 25 | 06.01.35 | 64 |
| 32 | James | Hayes | West Mercia | | | 00.21.46 | 45 | 02.29.35 | 45 | 03.09.23 | 19 | 06.01.44 | 79 |
| 33 | Chris | Morris | Metropolitan | | | 00.19.16 | 27 | 02.23.10 | 33 | 03.20.26 | 34 | 06.02.52 | 61 |
| 34 | David | Birkett | Essex | | | 00.17.27 | 15 | 02.21.38 | 3 1 | 03.24.33 | 38 | 06.03.39 | 39 |
| 35 | Paul | Simmonds | West Mercia | VET | | 00.22.38 | 53 | 02.29.10 | 44 | 03.15.10 | 26 | 06.06.58 | 82 |
| 36 | Ian | Stubbs | West Midlands | VET | | 00.19.52 | 33 | 02.30.57 | 49 | 03.16.47 | 28 | 06.07.36 | 87 |
| 37 | Paul | Hudson | Metropolitan | | | 00.21.47 | 46 | 02.28.49 | 43 | 03.19.03 | 32 | 06.09.39 | 58 |
| 38 | George | Riley | Lancashire | VET | | 00.26.42 | 63 | 02.17.42 | 25 | 03.25.50 | 40 | 06.10.14 | 48 |
| 39 | John | Sealby | Cumbria | | | 00.30.49 | 67 | 02.28.31 | 42 | 03.14.09 | 23 | 06.13.29 | 13 |
| 40 | Nigel | Brown | Hertfordshire | | | 00.19.45 | 31 | 02.19.35 | 26 | 03.34.50 | 44 | 06.14.12 | 36 |
| 41 | Ray | Reeder | Thames Valley | | | 00.18.19 | 20 | 02.16.55 | 24 | 03.40.19 | 48 | 06.15.33 | 74 |
| 42 | Peter | Hordern | Metropolitan | VET | | 00.22.16 | 50 | 02.24. 38 | 36 | 03.40.30 | 49 | 06.26.24 | 57 |
| 43 | Alan | Smith | Sussex | | | 00.19.07 | 26 | 02.25.07 | 38 | 03.43.43 | 51 | 06.27.57 | 73 |
| 44 | John | Clayton | North Wales | | | 00.19.24 | 29 | 02.25.1 2 | 39 | 03.43.21 | 50 | 06.27.57 | 66 |
| 45 | Paul | Marshall | Cumbria | | | 00.21.04 | 39 | 02.26.49 | 41 | 03.43.48 | 52 | 06.30.41 | 11 |
| 46 | Jeffrey | Mowbray | Cleveland | | | 00.18.58 | 23 | 02.20.47 | 28 | 03.51.04 | 55 | 06.30.49 | 3 |
| 47 | Phillip | Billington | Metropolitan | | | 00.16.16 | 4 | 02.43.16 | 61 | 03.34.01 | 43 | 06.33.33 | 52 |
| 48 | Peter | Hilton | City Of London | | | 00.22.07 | 49 | 02.35.12 | | 03.37.20 | 45 | 06.34.39 | 2 |
| 49 | Donald | Wright | Cumbria | VET | | 00.19.26 | 30 | 02.36.03 | 53 | 03.49.50 | 54 | 06.44.19 | 15 |
| 50 | Paul | Watts | Hertfordshire | | | 00.22.01 | 48 | 02.42.48 | 60 | 03.40.14 | 47 | 06.45.03 | 43 |
| 51 | Chris | Suckling | Hertfordshire | | | 00.18.16 | 19 | 02.29.38 | 46 | 03.58.09 | 56 | 06.45.03 | 42 |
| 52 | Robert | Smith | West Yorks | | | 00.25.36 | 60 | 02.37.07 | 54 | 03.03.05 | 14 | 06.45.48 | 93 |
| 53 | Mike | Hand | Warwickshire | | | 00.27.54 | 65 | 02.29.59 | 47 | 03.48.55 | 53 | 06.45.48 | 76 |
| 54 | Mark | Bradley | Cumbria | VET | | 00.19.59 | 34 | 02.30.00 | 48 | 03.19.51 | 33 | 06.59.51 | 6 |
| 55 | Barrie | Horridge | G.M.P. | | | 00.22.20 | 51 | 02.51.52 | 63 | 04.03.43 | 57 | 07.17.55 | 24 |
| 56 | Andy | Shaddock | Cumbria | | | 00.26.31 | 62 | 02.24.58 | 37 | 03.26.26 | 41 | 07.17.55 | 14 |
| 57 | Angie | Scothern | Essex | | LADY | 00.20.34 | 36 | 02.40.18 | 59 | 04.17.03 | 58 | 07.17.55 | 23 |
| 58 | Karen | Hussey | Hertfordshire | | LADY | 00.28.38 | 66 | 02.3 7.13 | 56 | 04.29.57 | 59 | 07.35.48 | 04 0 |
| 59 | Guy | Clamp | West Mercia | | | 00.22.30 | 52 | 02.37.11 | 55 | 04.36.07 | 60 | 07.35.48 | 77 |
| 60 | Mark | Brookes | Metropolitan | | | 00.17.36 | 16 | 02.38.13 | 57 | MISSED | | RAISE | 53 |
| 61 | Chris | Howard | Nottinghamshire | | LADY | 00.25.31 | 59 | 02.49.27 | 62 | MISSED | | RAISE | 100 |
| 62 | Andrew | Amos | Hertfordshire | | | 00.23.33 | 56 | 02.32.26 | 50 | MISSED | | RAISE | 35 |
| 63 | Martin | Slevin | West Midlands | | | 00.26.43 | 64 | 02.38.20 | 58 | RETIRED | - | INJURED | 86 |
| 64 | Andrew | Speller | Hertfordshire | | | 00.21.03 | 38 | 03.24. 28 | 64 | RETIRED | | HELP RTA. | 41 |
| 65 | David | Cross | Metropolitan | VET | | 00.17.11 | 11 | RETIR ED | - | CYCLE | - | FAULT | 54 |
| 66 | Clare | Farley | Cumbria | | LADY | 00.26.18 | 61 | RETIRED | - | ACCIDENT | | | 7 |
| 67 | Fraser | Dodds | Metropolitan | | | D.N.S. | - | INJURED | | | | | 55 |
| 68 | Iain | Ogilvie | Guest-T.Valley | VET | G | 00.16.31 | | 02.04.42 | | 02.49.58 | | 05.11.11 | 32 |
| 69 | Simon | Ward | Guest-W.Yorks | | | 00.14.11 | | 02.07.20 | | 02.56.45 | | 05.18.16 | 33 |
| 70 | Phil | Pollard | Guest-N.Yorks | | | 00.16.54 | | 02.07.25 | | 02.53.57 | | 05.18.16 | 98 |
| 71 | Steve | Pryke | Guest-Cumbria | | | 00.16.36 | | 02.06.09 | | 02.57.31 | | 05.18.16 | 26 |
| 72 | Kevin | Clark | Guest-Cumbria | | | 00.17.31 | | 02.12.12 | | 03.07.44 | | 05.37.27 | 25 |
| 73 | Paul | Scothern | Guest-Essex | | | 00.13.16 | | 02.28.17 | | 03.24.49 | | 05.56.22 | 27 |
| 74 | John | Lunt | Guest-Metpol | | | 00.17.09 | | 02.19.44 | | 03.23.51 | 99 | 06.00.44 | 99 |
| 75 | John | Swift | Guest-Lancs | VET | | 00.22.27 | | 02.35.21 | | 03.03.11 | | 06.00.59 | 29 |
| 76 | Simon | Proctor | Guest-Metpol | | | 00.14.24 | | 02.13.04 | | 03.41.50 | | 06.18.18 | 31 |
| 77 | Sue | Stockley | Guest-Merseytri | | LADY | W/DRAWN | | NOT BTA | | SANC'D | | EVENT | 30 |
Other Past Slateman Events

1993 - Lakeland Slateman Triathlon

1994 - Lakeland Slateman Triathlon

1997 - Lakeland Slateman 3 Peaks Race

1998 - Lakeland Slateman 3 Peaks Race