Runner Profiles
Mr Neil Edwards - Lancashire Constabulary
Edited May 2007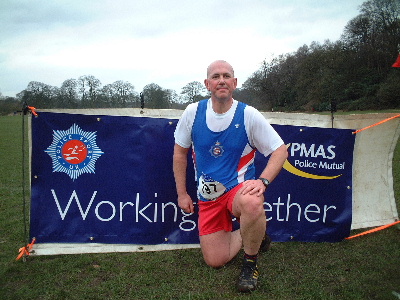 Name
Neil Edwards

Police Force
Lancashire Constabulary

Where do you work
Southern Communications Room on the main police headquarters site at Hutton, Preston

What is your rank and job title
Communications Operator

How many years have you been running
I have been running since I was at grammar school (about 28 years ago) I did the Mersey Marathon back in 1982 and the Preston half marathon in 84, 85 and 86 and then just ran for pleasure and fitness until 1998 when I did the London Marathon. After getting divorced I started to run more regularly so started to enter races and now, as well as the League, normally enter 5 or 6 races or more per year.

How many years have you been running in the NPCCL
This is my 4th season of NPCCL running - Dave Watkinson got me interested by saying it was, "good winter training and made you get out and do a bit".

What makes you keep returning to the Northern Police League each year
I've kept going to try and improve my times and enjoy the scenic courses that we run on and a certain amount of bonhomie that develops over time as you become a "regular". We also have as our focus Steve Broadbent, an enthusiastic and fully certifiable runner and masochist to boot !!

What is the highlight of your running calendar
I don't really have a running highlight as, due to shifts, I can't always do the runs I would like to do, though the "Garstang Gallop" and "Guys 10" are two good races, as is the Welcome 10k which is a course near me.
I've quite enjoyed doing the Norwest half marathon last weekend along the prom from Blackpool to Bispham.... I suppose also the fact that I did the Welcome 10k in a best time for 7 years and the Witton park winter warmer in a pb show that you don't necessarily slow down with age !!

What other types of running do you do and what other sports
As you can tell I also run road races mainly 10k's with the odd 5 miler or 10 miler thrown in when suitable, plus the occasional half marathon. Besides running I go to a gym on the days I do not run and I try and do a run one day, gym the next, run, gym doing alternate programme and the either a run or gym before having a day doing nothing - this is my ideal scenario as shifts and seeing my children can prevent me exercising !!

Do you have any other hobbies or interests outside sport
Apart from running and gym I enjoy the odd pint or three of beer and the resultant quality cuisine that entails from the resultant hunger pangs!! Living in the small village of Lostock Hall I have to walk past three take aways, 2 pizza/kebab houses and a KFC on my way home! Like most males I like watching football, I support Liverpool, and although I don't go to the matches I enjoy watching from the comfort of my local with a glass of the frothy stuff!

What are your running plans and ambitions for the future
Ambitions??? To keep as fit as possible as long as possible, run as long as I keep on enjoying it. Keep on setting little goals to achieve to try and keep on improving things. I wouldn't mind finding a nice female running partner either but hey..... !
Editor's comment: Ladies in the League, take note!