Venue
The race start/finish/HQ will be near to the children's play area at the Darley Street end of Darley Park, where there is also a small pay and display car park DE22 1DX. The best place to park is at Derby Rugby Club, Haslams Lane, Derby DE22 1EB just a few minutes jog to the start.
Additional car parking is available at the bottom of Darley Street, Darley Abbey DE22 1DX (turn left opposite the Abbey pub); however, spaces are limited to around fifty cars.

Course
Terrain is largely grass, with small amounts of hard ground and a very short (20m) road section. I intend to make very slight alterations to the course from previous years to make the route spike-friendly, although I would advise bringing a pair of trail/fell shoes in any event.
The course will be clearly marked with a mixture of blue and white police tape, temporary race signage and cones. Marshals will also be deployed to direct runners.
The race will consist of three full laps of the route below. The total distance is approximately 5.5 miles.
The race will start near to the children's play area in Darley Park. Runners will run south through the park with the River Derwent to the left. Upon reaching the Rowing Club, runners will turn sharp right and right again to follow the gravel path. After 100m runners will turn left and ascend what is locally known as 'Cardiac Hill' (a slight tweak to the course might be made at this point, prior to the ascent). The route up the hill will be clearly marked. Upon reaching Darley Park Drive, runners will turn right onto a very short road section and back into the park. In previous years, runners have then made a long and fast descent towards the start area; however, I may make a slight alteration to the course to include a short, wooded section. Runners will then be guided back into the park and will run a full, clockwise lap of the path around the cricket pitch and back to the start line. This will constitute a full lap.


2pm start.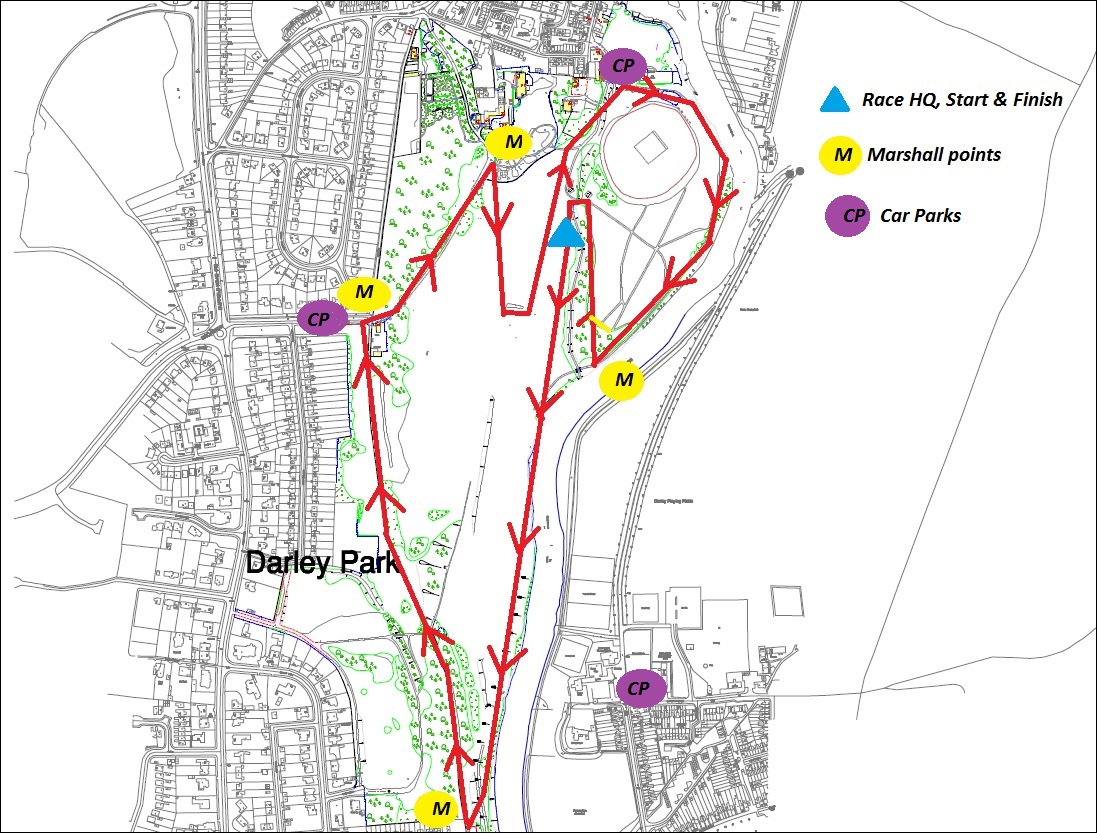 Facilities
Derby Rugby Club.

Post Race Meal
Post-race chip cobs are on offer at the Rugby Club, priced at £2 per head. The bar will also be open.



Directions
Post Code DE22 1EB - Haslams Lane, Derby