Stratford-Upon-Avon - Sunday, 7 May 2006 - 10.00am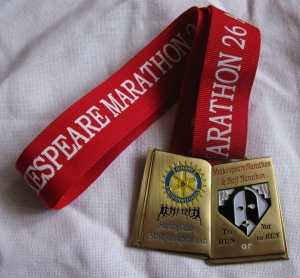 The 2006 Police Sport UK Marathon Championships took place from Startford-Upon-Avon on Sunday 7 May 2006 incorporated within the official Shakespeare Marathon event.
The race started at 10am with cloudy but humid conditions. As the morning progressed the clouds broke and the temperature rose into the 70's. This did not stop Lancashire's Mike Riley running a tremendous race finishing 2nd in the overall Shakespeare Marathon event in 2.46. Mike, 40 years, won the Police Sport UK open race and also the veteran 40+ class.
Derbyshire's Christine Howard also ran a tremendous race running a 2.51 being placed 1st lady in the overall event and 4th overall as well as 1st in the PSUK event.
Lancashire Constabulary won the team prize with Mike Riley, Ian Pudge and Steve Broadbent combined times of 9.08.
A presentation of awards and prizes took place following the event in the Stratford Manor Hotel.
Mike Riley and Christine Howard have now been put forward to compete in the 2006 European Police Marathon Championships (USPE) to be held in Turkey in November.
Results
PSUK
Position
Position Overall
Race No
Forename
Surname
Cat.
Team
Time
Prize
1
2
2653
Michael
Riley
M40
Lancashire
2:46:29
Ist Male
Ist Vet 40
2
3
2665
Peter
Orme
M47
Derbyshire
2:50:10
2nd Male
1st Vet 45
3
4
1210
Christine
Howard
F35
Derbyshire
2:51:19
Ist Lady
1st lady Vet
4
11
2658
Mark
King
M35
Leicesterhire
2:56:23
3rd Male
5
18
2648
Ian
Pudge
M32
Lancashire
2:59:52
4th Male
6
31
2657
Duncan
Malloy
M41
Leicesterhire
3:05:46
2nd Vet 40
7
64
2670
Andy
Lakeland
M34
South Yorks
3:13:20
8
82
2671
Paul
Slaymaker
M25
West Mercia
3:15:57
9
95
1211
Lynne
Callaghan
F31
Staffordshire
3:19:06
2nd Lady
10
105
2651
Steven
Broadbent
M46
Lancashire
3:21:53
3rd Vet 40
11
124
2652
Neil
Hunter
M46
Lancashire
3:26:16
12
130
2650
Simon
Banfield
M33
Lancashire
3:26:43
13
140
2761
Bob
Hind
M52
North Wales
3:28:09
1st Vet 50
14
167
2667
Peter
Hague
M33
South Yorks
3:32:24
15
191
2659
John
Cooper
M45
Kent
3:36:22
16
192
2666
Dave
Needham
M59
South Yorks
3:36:38
17
233
2656
Nick
Bryan
M38
Leicesterhire
3:43:12
18
278
1205
Isabel
McDonald
F44
Grampian
3:49:34
3rd Lady
19
283
2647
Owen
Rogers
M39
Cambridgeshire
3:50:18
20
294
2661
John
Rees
M41
Dyfed Powys
3:51:53
21
322
2655
Ron
Retalic
M52
Grampian
3:54:17
22
363
2662
James
Bentley
M48
Greater Manchester
3:57:49
23
370
1206
Debbie
James
F37
Gwent
3:58:32
24
419
2668
Mike
Smith
M34
South Yorks
4:08:07
25
483
2669
Robert
Mawhood
M47
South Yorks
4:17:45
26
487
2660
Steven
New
M40
Gwent
4:18:19
Teams
| | | |
| --- | --- | --- |
| Lancs | Leicester | S.Yorks |
| 1st | 2nd | 3rd |
| 2:46:29 | 2:56:23 | 3:13:20 |
| 2:59:52 | 3:05:46 | 3:32:24 |
| 3:21:53 | 3:43:12 | 3:36:38 |
| Totals | | |
| 09:08:14 | 09:45:21 | 10:22:22 |

Picture Gallery