Track & Field Championships 2007
PSUK Track & Field Championships
Stanley Park, Blackpool, Lancashire
Wednesday, 18 July 2007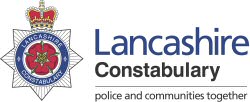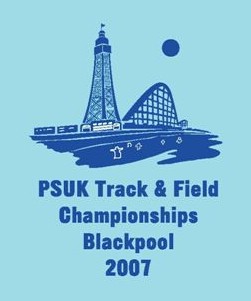 The 2007 event was a tremendous success with attendance up by 30 athletes on 2006. 154 athletes and 45 tug of war competitors attended the Stanley Park Stadium on the day as well as a 40 strong team of helpers and track and field officials.
The fine, dry and warm sunny weather put icing on the cake with not a spot of rain all day despite rumours that there was torrential rain in Preston only 20 miles away!
The Metropolitan Police attended the event with a 30 strong team scooping 8 gold, 8 silver and 10 bronze medals. However, Strathclyde went for Gold scooping 10 gold medals - 15 in total. West Midlands were third in the medal table taking 12 in total.
Top individual medal scorers were Christopher Carson (Fife) who won four gold medals and Sharon Woolrich (Hampshire) who won four silver medals.
Retired Lancashire Constabulary athlete, and 15 times champion PAA javelin thrower, Ken Taylor was in attendance at the championships officiating in the throwing events.
Lancashire's John Wiggans badly tore his Achilles in his last jump in the long jump event. Despite winning a bronze medal he later attended hospital where surgery had to be carried out.
Assistant Chief Constable Wendy Walker and Chief Inspector Martin Leveridge attended the event and Ms Walker presented the majority of medals and trophies to the athletes.
A post event dinner was held at the De Vere Hotel followed by after dinner guest speaker, 800m British athlete, football coach and sports journalist Peter Keeling. This was concluded with dancing and music entertainment through until 1am.
Event coordinator PC Steven Broadbent said, "Looking back over the last 12 months I thoroughly enjoyed organising the event. I must thank my team of dedicated helpers from the Athletics Section as well as the team of track and field officials who gave up their time to attend on the day and make this event possible".

Full Report

Picture Gallery
Results
DNS in grey shade
Men

Pos

Bib

Name

Surname

Force

Time/Score

100 metres Men - 11.30 hrs

Heat 1

1

42

Christopher

Carson

Fife

11.2

2

115

Paul

Webster

Northamptonshire

11.7

3

102

Stuart

Timms

Metropolitan

11.8

4

84

Richard

Anderson

Metropolitan

11.9

5

16

Eifion

Lewis

Dyfed-Powys

12

(Wind: +1.4m/sec)

Heat 2

1

155

Greg

Richards

West Midlands

11.7

2

104

Salah

Uddin

Metropolitan

12

3

167

Paul

Wells

West Yorkshire

12.2

4

19

Marcus

Buckley

Essex

12.9

5

23

Dave

Hiscock

Essex

13.3

64

Steve

Moon

Lancashire

(Wind: +1.2m/sec)

25

Jon

Hounslow

Essex

41

Robert

Aird

Fife

54

Jayson

Richards

Hampshire

132

Mark

MacKie

Strathclyde

100 metres Men - 13.25 hrs

Final

1

42

Christopher

Carson

Fife

11.1

2

115

Paul

Webster

Northamptonshire

11.5

3

155

Greg

Richards

West Midlands

11.6

4

104

Salah

Uddin

Metropolitan

11.8

5

84

Richard

Anderson

Metropolitan

11.9

6

102

Stuart

Timms

Metropolitan

12

7

167

Paul

Wells

West Yorkshire

12.3

8

16

Eifion

Lewis

Dyfed-Powys

12.6

(Wind: +2.1m/sec)

200 metres Men - 14.50 hrs

Heat 1

1

42

Christopher

Carson

Fife

22.9

2

104

Salah

Uddin

Metropolitan

24.7

3

91

Sam

Elikwu

Metropolitan

25.6

4

19

Marcus

Buckley

Essex

26.7

115

Paul

Webster

Northamptonshire

23

Dave

Hiscock

Essex

54

Jayson

Richards

Hampshire

164

Mark

Gilmer

West Yorkshire

(Wind: +1.5m/sec)

Heat 2

1

155

Greg

Richards

West Midlands

23.9

2

84

Richard

Anderson

Metropolitan

24.3

3

179

Ibrahim

Olateju

Metropolitan

25

4

167

Paul

Wells

West Yorkshire

25.4

5

31

Daniel

Morgan

Essex

27.2

21

Will

Cubbin

Essex

102

Stuart

Timms

Metropolitan

25

Jon

Hounslow

Essex

64

Steve

Moon

Lancashire

132

Mark

MacKie

Strathclyde

(Wind: +1.2m/sec)

200 metres Men - 16.20 hrs

Final

1

42

Christopher

Carson

Fife

22.9

2

104

Salah

Uddin

Metropolitan

24.2

3

84

Richard

Anderson

Metropolitan

24.4

4

179

Ibrahim

Olateju

Metropolitan

25

5

167

Paul

Wells

West Yorkshire

25.9

6

91

Sam

Elikwu

Metropolitan

26.9

19

Marcus

Buckley

Essex

155

Greg

Richards

West Midlands

(Wind: m/sec)

400 metres Men - 15.40 hrs

Final

1

15

Paul

Clarke

Dyfed-Powys

50.9

2

164

Mark

Gilmer

West Yorkshire

52

3

54

Jayson

Richards

Hampshire

52.3

4

148

David

Hall

West Mecia

52.7

5

96

Ralph

Hyde

Metropolitan

55.1

6

88

Leon

Christodoulou

Metropolitan

56.7

7

41

Robert

Aird

Fife

60.5

8

155

Greg

Richards

West Midlands

DNF

102

Stuart

Timms

Metropolitan

11

Kevin

Pye

Derbyshire

131

Mark

Jackson

Strathclyde

800 metres Men - 14.30 hrs

1

147

Richard

Vint

Thames Valley

2.02.6

2

15

Paul

Clarke

Dyfed-Powys

2.03.0

3

165

Simon

Newton

West Yorkshire

2.21.3

4

9

Kevin

Loftus

Derbyshire

2.42.9

11

Kevin

Pye

Derbyshire

134

Gordon

McRae

Strathclyde

150

Carl

Dunne

West Midlands

158

Martin

Williams

West Midlands

1500 metres Men - 16.00 hrs

1

147

Richard

Vint

Thames Valley

4.07.2

2

156

Harvey

Rose

West Midlands

4.28.4

3

146

Stuart

May

Thames Valley

4.36.1

4

150

Carl

Dunne

West Midlands

4.48.4

5

21

Will

Cubbin

Essex

5.03.8

6

123

Paul

Scarlett

PSNI

5.08.4

7

9

Kevin

Loftus

Derbyshire

5.31.2

8

81

Paul

Roberts

Lothian & Borders

5.43.8

97

John

Knight

Metropolitan

89

Lee

Dooley

Metropolitan

103

Peter

Tucker

Metropolitan

4

Philip

Monks

Cheshire

80

Douglas

Paton

Lothian & Borders

117

Richard

Kemp

Northumbria

158

Martin

Williams

West Midlands

165

Simon

Newton

West Yorkshire

166

Paul

Sandford

West Yorkshire

5000 metres Men - 15.10 hrs

1

103

Peter

Tucker

Metropolitan

15.22.4

2

78

Steve

Cairnes

Lothian & Borders

15.34.8

3

154

Simon

Lees

West Midlands

16.26.7

4

97

John

Knight

Metropolitan

16.57.6

5

89

Lee

Dooley

Metropolitan

17.08.9

6

34

Derek

Walker

Essex

17.13.1

7

165

Simon

Newton

West Yorkshire

17.36.4

8

66

Ian

Pudge

Lancashire

17.48.3

9

137

John

Pretty

Strathclyde

17.55.1

10

47

Wayne

Usher

Gloucestershire

17.55.9

11

79

Stevie

Laurie

Lothian & Borders

18.45.3

12

60

Mark

Osborn

Humberside

19.50.9

13

69

David

Wilkinson

Lancashire

20.20.6

14

149

Christopher

Cheek

West Midlands

DNF

15

157

Martin

Slevin

West Midlands

DNF

16

163

Neil

Dutton

West Yorkshire

DNF

24

Darren

Horner

Essex

33

Enzo

Vullo

Essex

100

Ron

Neil

Metropolitan

117

Richard

Kemp

Northumbria

156

Harvey

Rose

West Midlands

158

Martin

Williams

West Midlands

5000 metres Veteran Men - 12.55 hrs

1

3

Malcolm

Fowler

Cheshire

16.08.4

2

87

Iain

Campbell

Metropolitan

16.11.2

3

5

Ian

Wetherall

Cheshire

16.15.1

4

172

Phil

Kibble

Wiltshire

16.16.8

5

43

Michael

Harvey

Fife

17.05.5

6

171

Stuart

Dinwoodie

Wiltshire

17.17.5

7

127

Paul

Crutchley

Staffordshire

18.08.3

8

99

John

McGrath

Metropolitan

18.15.4

9

93

Rob

Harding

Metropolitan

18.49.6

10

63

Derek

Lodge

Lancashire

18.56.4

11

65

Dave

Old

Lancashire

19.17.0

12

125

John

Arnold

Staffordshire

19.42.6

13

135

David

Mitchell

Strathclyde

19.50.9

14

62

Rod

Graham

Lancashire

19.52.7

15

9

Kevin

Loftus

Derbyshire

20.00.4

16

126

Adrian

Backhouse

Staffordshire

20.10.9

17

26

John

Jackson

Essex

20.15.4

18

48

Peter

Wand

Gloucestershire

21.30.7

19

175

Taj

Wrona

Wiltshire

23.00.1

20

59

Stuart

Altoft

Humberside

23.28.2

21

174

Tim

Wadsworth

Wiltshire

24.58.4

10

Alan

McGill

Derbyshire

76

Martin

Wood

Lincolnshire

92

Terry

Fowler

Metropolitan

173

Mick

Sharratt

Wiltshire

110m Hurdles Men - 12.00 hrs

1

85

Tristan

Anthony

Metropolitan

14.7

2

98

Ian

Mawdesley

Metropolitan

18.9

3

90

George

Dunn

Metropolitan

19.7

4

68

John

Wiggans

Lancashire

22.9

(Wind: +1.2m/sec)

400m Hurdles Men - 13.45 hrs

1

90

George

Dunn

Metropolitan

60.7

2

54

Jayson

Richards

Hampshire

62.3

3

136

Kenny

Morrison

Strathclyde

65.3

4

98

Ian

Mawdesley

Metropolitan

67.4

5

55

Greg

Roulston

Hampshire

75.6

6

81

Paul

Roberts

Lothian & Borders

82.9

45

Marc

Flannery

Gloucestershire

3000m Steeplechase Men - 16.40 hrs

1

78

Steve

Cairnes

Lothian & Borders

9.47.5

2

12

Karl

Webster

Derbyshire

10.41.0

3

90

George

Dunn

Metropolitan

10.56.2

4

149

Christopher

Cheek

West Midlands

11.15.1

5

52

Mark

Evans

GMP

11.32.4

6

67

Derek

Snalam

Lancashire

13.05.2

7

61

Steve

Broadbent

Lancashire

13.47.6

8

30

Michael

Monkton

Essex

14.43.5

9

69

David

Wilkinson

Lancashire

14.43.6

66

Ian

Pudge

Lancashire

100

Ron

Neil

Metropolitan

138

Colin

Scott

Strathclyde

156

Harvey

Rose

West Midlands

3000m Walk Men - 12.15 hrs

1

145

Gary

Witton

Sussex

14.52.4

2

101

Amos

Seddon

Metropolitan

16.56.6

3

157

Martin

Slevin

West Midlands

17.16.8

4

153

Glyn

Jones

West Midlands

17.20.4

5

28

Steven

King

Essex

17.46.8

6

29

Alan

King

Essex

19.45.2

1600m Medley Relay Men - 17.20 hrs

1

Metropolitan

352.1

2

Essex A

406

3

West Midlands

407.5

4

West Yorkshire

410.8

5

Strathclyde

420.3

6

Lancashire

436

7

Essex B

452.4

Fife

High Jump Men - 12.00 hrs

1

7

Mark

Beer

Derbyshire

1.8

2

68

John

Wiggans

Lancashire

1.65

3

116

Steve

Gill

Northumbria

1.65

4

22

Carl

Habbershaw

Essex

1.55

133

Colin

McMaster

Strathclyde

Pole Vault Men - 12.00 hrs

1

7

Mark

Beer

Derbyshire

3.6

2

45

Marc

Flannery

Gloucestershire

2.8

3

91

Sam

Elikwu

Metropolitan

2.6

Long Jump Men - 15.45 hrs

1

7

Mark

Beer

Derbyshire

6.05

2

94

Richard

Horne

Metropolitan

5.94

3

68

John

Wiggans

Lancashire

5.59

4

179

Ibrahim

Olateju

Metropolitan

5.57

5

131

Mark

Jackson

Strathclyde

5.25

6

23

Dave

Hiscock

Essex

5.11

7

21

Will

Cubbin

Essex

5.02

8

16

Eifion

Lewis

Dyfed-Powys

4.81

9

31

Daniel

Morgan

Essex

4.61

10

152

Paul

Hancox

West Midlands

4.58

11

81

Paul

Roberts

Lothian & Borders

4.39

25

Jon

Hounslow

Essex

79

Stevie

Laurie

Lothian & Borders

121

Michael

McDonald

PSNI

133

Colin

McMaster

Strathclyde

165

Simon

Newton

West Yorkshire

Triple Jump Men - 14.30 hrs

1

121

Michael

McDonald

PSNI

12.88

2

68

John

Wiggans

Lancashire

12.29

3

179

Ibrahim

Olateju

Metropolitan

11.43

4

91

Sam

Elikwu

Metropolitan

11.38

5

23

Dave

Hiscock

Essex

10.95

6

21

Will

Cubbin

Essex

10.77

7

152

Paul

Hancox

West Midlands

10.53

8

32

Alex

Spur

Essex

10.15

Shot Putt Men - 14.30 hrs

1

14

Simon

Fricker

Dorset

14.23

2

8

Robert

Careless

Derbyshire

12.19

3

122

Ian

McMullen

PSNI

11.01

4

131

Mark

Jackson

Strathclyde

10.61

5

46

Mark

Ravenscroft

Gloucestershire

9.86

6

45

Marc

Flannery

Gloucestershire

9.78

7

16

Eifion

Lewis

Dyfed-Powys

8.8

8

86

Kris

Bearryman

Metropolitan

8.2

9

152

Paul

Hancox

West Midlands

8.19

10

95

Will

Hudson

Metropolitan

8.08

11

20

Owen

Clements

Essex

7.8

12

175

Taj

Wrona

Wiltshire

7.59

18

Jarron

Barnes

Essex

Discus Men - 11.30 hrs

1

14

Simon

Fricker

Dorset

42.48

2

122

Ian

McMullen

PSNI

37.81

3

20

Owen

Clements

Essex

28.83

4

32

Alex

Spur

Essex

27.82

5

46

Mark

Ravenscroft

Gloucestershire

26.55

6

53

Tim

Phillips

Hampshire

25.89

7

151

Geoff

Fullwood

West Midlands

25.63

18

Jarron

Barnes

Essex

Hammer Men - 11.30 hrs

1

8

Robert

Careless

Derbyshire

55.88

2

122

Ian

McMullen

PSNI

37.51

3

151

Geoff

Fullwood

West Midlands

31.73

4

32

Alex

Spur

Essex

25.68

5

20

Owen

Clements

Essex

20.94

44

Nigel

Sharpe

Fife

18

Jarron

Barnes

Essex

Javelin Men - 11.30 hrs

1

53

Tim

Phillips

Hampshire

53.51

2

86

Kris

Bearryman

Metropolitan

45.88

3

17

Robert

Smith

Dyfed-Powys

45.8

4

122

Ian

McMullen

PSNI

45.32

5

95

Will

Hudson

Metropolitan

44.29

6

27

Lewis

Kearney

Essex

43.76

7

23

Dave

Hiscock

Essex

40.24

8

105

Simon

Wong

Metropolitan

40.15

9

7

Mark

Beer

Derbyshire

40

10

131

Mark

Jackson

Strathclyde

38.98

11

32

Alex

Spur

Essex

35.34

12

100

Ron

Neil

Metropolitan

34.16

13

20

Owen

Clements

Essex

28.34

81

Paul

Roberts

Lothian & Borders

18

Jarron

Barnes

Essex

54

Jayson

Richards

Hampshire

94

Richard

Horne

Metropolitan

Women

Pos

Bib

Name

Surname

Force

Time/Score

100 metres Women - 11.40 hrs

Heat 1

1

143

Suzanne

McGowan

Strathclyde

13

2

118

Rachel

Archer

Northumbria

13.2

3

57

Cheryl

Croucher

Hampshire

13.9

4

124

Kelly

O'Reilly

South Yorkshire

15.8

5

35

Sarah

Brunt

Essex

16.1

6

180

Donna

Hartley

Wiltshire

16.4

(Wind: +1.2m/sec)

Heat 2

1

141

Alyssa

Fullelove

Strathclyde

12.6

2

162

Jemma

Southall

West Midlands

14.2

3

36

Sabrina

Graham

Essex

15.1

4

71

Toni

Harrison

Lancashire

15.5

5

112

Sabrina

Pacey

Metropolitan

15.8

6

177

Michelle

Nott

Wiltshire

18.6

(Wind: +2.3m/sec)

Heat 3

1

49

Helen

Du Heaume

Gloucestershire

13.9

2

77

Hayley

Fox

Lincolnshire

14.3

3

37

Elizabeth

Hall

Essex

14.8

4

38

Lisa

Keily

Essex

15.8

5

176

Amy

Hardman

Wiltshire

16.1

6

129

Lucy

Portsmouth

Staffordshire

16.2

7

178

Emma

Spooner

Wiltshire

16.9

(Wind: +2.3m/sec)

DNS

110

Amakai

Kefas

Metropolitan

100 metres Women - 13.35 hrs

Final

1

141

Alyssa

Fullelove

Strathclyde

12.5

2

143

Suzanne

McGowan

Strathclyde

12.9

3

118

Rachel

Archer

Northumbria

13.1

4

49

Helen

Du Heaume

Gloucestershire

14.1

5

57

Cheryl

Croucher

Hampshire

14.2

6

162

Jemma

Southall

West Midlands

14.4

7

77

Hayley

Fox

Lincolnshire

14.6

8

37

Elizabeth

Hall

Essex

15

(Wind: +2.6m/sec)

200 metres Women - 16.30 hrs

Final

1

141

Alyssa

Fullelove

Strathclyde

25.8

2

118

Rachel

Archer

Northumbria

26.7

3

143

Suzanne

McGowan

Strathclyde

27

4

130

Deborah

Wilne

Staffordshire

32

5

38

Lisa

Keily

Essex

33.3

6

112

Sabrina

Pacey

Metropolitan

33.4

7

129

Lucy

Portsmouth

Staffordshire

34

35

Sarah

Brunt

Essex

124

Kelly

O'Reilly

South Yorkshire

49

Helen

Du Heaume

Gloucestershire

72

Beckie

Herbert

Lancashire

(Wind: +2.1m/sec)

400 metres Women - 15.50 hrs

1

142

Erin

Leggate

Strathclyde

59.5

2

130

Deborah

Wilne

Staffordshire

70.9

3

6

Kathy

Winrow

Cumbria

75.9

4

170

Heather

Mitchell

West Yorkshire

90.1

75

Jools

Ready

Lancashire

143

Suzanne

McGowan

Strathclyde

800 metres Women - 14.40 hrs

1

120

Sally

Youden

Northumbria

2.26.8

2

139

Sarah

Barr

Strathclyde

2.38.0

3

128

Sally

Clements

Staffordshire

2.45.9

4

37

Elizabeth

Hall

Essex

2.52.1

5

107

Sarah

Green

Metropolitan

2.54.9

6

6

Kathy

Winrow

Cumbria

2.56.8

114

Sarah

Simmonds

Metropolitan

159

Toni

Bemowski

West Midlands

160

Emily

Hathaway

West Midlands

1500 metres Women - 16.10 hrs

1

114

Sarah

Simmonds

Metropolitan

4.48.4

2

1

Janine

Brown

BTP

4.57.6

3

111

Sharon

McHugh

Metropolitan

5.14.3

4

139

Sarah

Barr

Strathclyde

5.17.7

5

128

Sally

Clements

Staffordshire

5.50.8

6

74

Emma

Moon

Lancashire

5.56.6

7

113

Jacqui

Reid

Metropolitan

6.03.6

8

109

Emma

Jones

Metropolitan

6.09.3

9

169

Tracey

Marshall

West Yorkshire

6.26.2

10

170

Heather

Mitchell

West Yorkshire

6.41.8

50

Jo

Fletcher

Gloucestershire

5000 metres Women - 14.00 hrs

1

83

Diane

Lauder

Lothian & Borders

18.38.4

2

1

Janine

Brown

BTP

18.43.1

3

51

Jessica

Turnbull

Gloucestershire

19.18.5

4

50

Jo

Fletcher

Gloucestershire

19.29.6

5

107

Sarah

Green

Metropolitan

20.54.7

6

144

Louise

Rae

Strathclyde

21.53.5

7

82

Rachel

Hurst

Lothian & Borders

22.00.8

8

113

Jacqui

Reid

Metropolitan

22.14.4

9

169

Tracey

Marshall

West Yorkshire

22.39.3

10

170

Heather

Mitchell

West Yorkshire

23.18.1

11

106

Elizabeth

Blaber

Metropolitan

23.40.1

12

75

Jools

Ready

Lancashire

24.05.7

13

70

Kath

Armstrong

Lancashire

DNF

13

Christine

Howard

Derbyshire

111

Sharon

McHugh

Metropolitan

4x100m Relay Women - 17.00 hrs

1

73

Strathclyde

54

2

44

Lancashire

62.1

3

56

Metropolitan

62.5

4

39

Essex

63

West Midlands

High Jump Women - 12.00 hrs

1

142

Erin

Leggate

Strathclyde

1.65

2

58

Sharon

Woolrich

Hampshire

1.6

3

57

Cheryl

Croucher

Hampshire

1.35

4

72

Beckie

Herbert

Lancashire

1.35

Pole Vault Women - 12.00 hrs

1

77

Hayley

Fox

Lincolnshire

2.4

2

113

Jacqui

Reid

Metropolitan

1.5

3

176

Amy

Hardman

Wiltshire

1.4

Long Jump Women - 13.15 hrs

1

161

Stephenie

Morgan

West Midlands

5.58

2

58

Sharon

Woolrich

Hampshire

5.24