The 2009 Police Sport UK Track & Field and Tug of War Championships will take place at the Keepmoat Stadium, Stadium Way, Doncaster, DN4 5JW, on Wednesday 8th July 2009.

Accommodation
Rooms have been reserved at the following hotels, which are all close to the venue, it is down to the individual forces to contact the hotel of your choice to book and pay direct with the hotel.
1. Premier Inn Doncaster (Lakeside) 0870 1977074 0.1 miles to stadium
2. Premier Inn Doncaster (Central East) 0870 8506362 0.25 miles to stadium
3. Holiday Inn Express 0870 8909988 0.75 miles to stadium
(Discounted rate of £59.95 per room inc breakfast quote "Police Athletics" when booking)
4. Hotel Campanile 01302 370770 1 mile to stadium
(Special rate of £50 per room inc breakfast quote "ET-M/POLICE" when booking)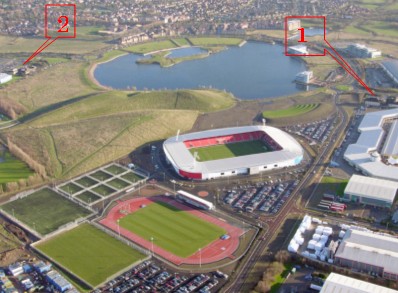 Event HQ Keepmoat Stadium, Doncaster
A reception point will be set up in the Lakeside suite of the Keepmoat Stadium on Tuesday 7th July from 4pm and at the athletics stadium on Wednesday 8th July. Athletes will be required to register at the stadium between 10 and 11am on the 8th July.

Directions and Travel Arrangements
By Train: Doncaster is located on the East Coast mainline and the train station is located only 10 minutes from the stadium. We will be running a mini bus to shuttle competitors from the station to the hotel / stadium area.
By Air: The nearest airport is Doncaster /Sheffield airport however the only flight into the airport from the UK is from Belfast, (PSNI please let me know your flight time and we can pick you up.) Otherwise the airport to use would be Manchester and then catch the train direct from Manchester Airport to Doncaster.
By Road: The stadium and hotels are located 1 mile from Junction 3 of the M18 motorway.
<![if !vml]>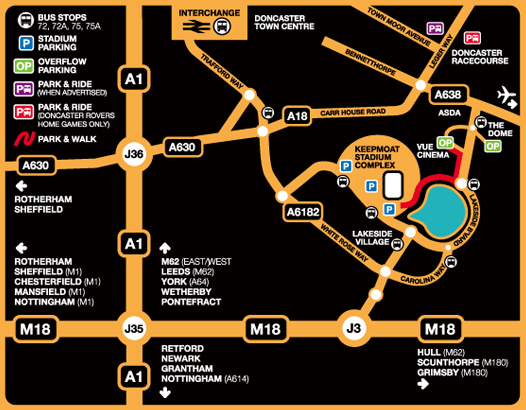 <![endif]>

Police Sport UK Entry
The entry fee will be £12 for each competitor's first event. Any additional events will be £3 each. Team relay entries will be £15 for each team. Please see separate entry form for Tug of War. As per previous events £90 per team plus £15 per extra event.
All Cheques are to be made payable to "SYP S & SC Ltd"
The entry form is attached with this document.
Please ensure that your competitors' names are correctly spelt, as this is how they will appear on the programme and on the T-shirts.

Prizes/Trophies
Police Sport UK Championships
We will give prizes to the first 3 in each Track & Field discipline. At this stage it is the intention to continue with the Veterans 5000m event and prizes for female veterans in their respective 5000m race. It is the intention to run one 5000m race for men and ladies. Prizes for the relevant categories will then come from that race. Please declare on the entries as to which race you are entering for Prize purposes. If there are a large number of entries then two separate races will be run for the vet and open categories.
Can all ensure the return of annual trophies, clean and engraved.
Presentations will take place shortly after the completion of the respective finals.

Qualification
Competitors must be 18 or over to compete. All police competitors must be fully paid members of their respective force sports clubs and be police officer, police staff, retired police/police staff or member of the Special Constabulary. (If in doubt please refer to the www.policesportuk.com website for a detailed definition). This event is for Police employees only.
Any number of competitors from any force may participate and there shall be no limit to the number of events a competitor may enter. In any relay event only one team from each force may win a prize.
All athletes must wear their force colours. Failure to do so will lead to disqualification.

Closing Date
The closing date will be 25th May. No late entries will be accepted. Entries are to be with me as per contact details on foot of this document. No entries on the day and no refunds for non attendance.

Entry Confirmation
Entry confirmation will be sent on receiving entries and entry fees. Entries will be accepted by e-mail but will NOT be confirmed until cheques have been received. Each Force's entries will be grouped in a package to be collected on attendance.

Meal / Function
There will be a 3-course meal and function in the evening of Wednesday 8th July. This will be held in the Restaurant of the Keepmoat Stadium. Dress code of shirt, tie and lounge suits for men. Equivalent for women. Meal will be at 7pm for 7.30pm followed by entertainment and a disco. Any vegetarian or vegan meals to be pre ordered please.
Cost of function is £30

Contact
All correspondence and entries to: