Himalayan 100 Mile Stage Race
3 - 7 November 2008
Darjeeling, Himalayas

Day 1 - Manybangjung to Sandakphu - 24 miles - 6hrs 15 minutes - 9,000 feet ascent

Day 2 - Sandakphu - Molle - Sandakphu - 20 miles

Day 3 - Sandakphu - Molle - Phulet - Rimbik - 26 miles

Day 4 - Rimbik - Palmajua - 13 miles

Day 5 - Palmajua - Manybangjung - 17 miles

Pre-Race Preparation - Tuesday 28 October to Sunday 2 November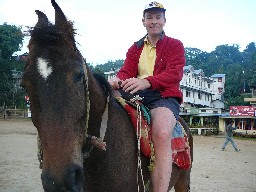 I departed from Manchester at 9.15 am on Monday 27 October and after three flights via Abu Dabi, Delhi and Bagdogra I arrived in Mirik, North East India at 2pm on Tuesday remarkably fresh. My transfer by jeep from Bagdogra airport was my first experience of Indian culture, passing through small villages with monkeys, cattle, dogs and every vehicle and pedestrian combination that could be considered.
I was the first competitor to arrive in Mirik and was made very welcome by the race director Mr C.S.Pandey and his staff. I had the pick of the hotel rooms and selected a very nice room overlooking the town, valley, lake and the Buddhist Temple.
Wednesday was a day of rest and getting over the jet-lag. On the Thursday I ran 13 miles as one of my final training runs before the big race. This was a great way to acclimatise at the modest 5,800 feet I was at. I had a great morning running in the hills among the Thurbo Tea Gardens in 80 degrees F.
I had one to one service for two days before the next two competitors arrived from UK, police woman and police gaoler from Cardiff, Cam and Amy. (a small world) Having been in the resort for two days I was able to act as a guide and show them the best sights of the area that I had already explored.
Cam and Amy were great company and they introduced me to horse riding - something that I had done in the cadets in 1977 (and not very well!) For just a couple of GB£ we had a one hour horse riding adventure around Mirik Lake. A tremendous (and scary experience at first) but I eventually got the hang of riding on a rug an no proper saddle!
By Friday, three more competitors arrived and a further eight mile run with Dave from Wigan allowed some last minute training. By Saturday afternoon a further 50 competitors arrived in time for the race briefing at 6pm. I was pleased I had arrived much sooner and felt for many of the arrivals who had less time to orientate before the race on Monday.
My new room mate was one of the later arrivals, 70 year old veteran runner Les Green from Wolverhampton. (The oldest competitor) What a great guy to share a room with. He had loads of past running experience and interesting stories to tell. We got on great throughout the whole event.
Day Trip to Darjeeling
As part of my race preparation I was able to overcome any jetlag by Wednesday and was waking up naturally at 5am every day. The early start to Darjeeling was not a problem and this fantastic trip to the 7,400 foot hill town was a must. A further trip on the steam toy train was not to be missed and provided me with a most enjoyable couple of hours.

Race Day 1 - Manybangjung to Sandakphu - 24 miles - Monday 3 November 2008
Picture: Myself with Amy, Cam and Les Green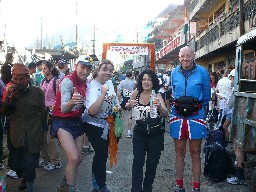 An early departure at 5am to Manybangjung village 1.5 hours away. When we arrive at 7.30 am the whole village was there to see off the 60 or so competitors.
The race started at 6.400 feet with a short, flat run through the village. This was short lived before hitting the mountainside and the climbing began with a vengeance! A 3,600 foot continuous climb to 10,000 feet gave everyone a serious challenge. As we climbed to 8,000 feet the lack of oxygen was apparent and I had to regulate my breathing with two intakes of breath to the usual one.
We descended again to 8,000 feet and climbed back to 10,000 again. A further descent again to 9,000 was followed by a third climb but this time to 11,000 feet then a steep, steady zigzag to 11,600 where the finish was in sight.
After 6 hours 15 minutes I arrived in Sandakphu!
Sandakphu was a remote cluster of bunkhouses and buildings nestling in the lower Himalayas at just under 12,000 feet. The canteen where food was provided was well organised and good, hot (but not spicy) was plentiful for all 60 or so competitors.
Our accommodation was in a bunkhouse. Basic but comfortable with some 10 persons to a room.
Day 1 complete and perhaps the hardest day over....or was it?

Race Day 2 - Sandakphu - Molle - Sandakphu - 20 miles - Tuesday 4 November 2008
Another early start rising for breakfast at 5am. There was no travelling involved as the race started and finished at Sandakphu. The sky was part cloudy so the sunrise and our possible views of Everest were obscured.
The race started at around 7am traversing the border with India and Nepal. The track was rough but not as rocky as the previous day and was patrolled by armed Indian troops who cheered us along the way. There was also less ascent and descent today and we maintained our height of circa 11,500 feet though there were some steep climbs in places.
The race today was an out and back course turning around at Molle and returning the same way. I completed the course in around 3 hours 15 minutes.
During the latter part of the race the mountain was shrouded in mist and the views were not great and the finish felt very eerie in thick fog. Back in Sandakphu everyone was served with good food and exchanged stories before retiring to bed around 9pm.

Race Day 3 - Sandakphu - Molle - Phulet - Rimbik - 26 miles - 'Everest Challenge Marathon' - Wednesday 5 November 2008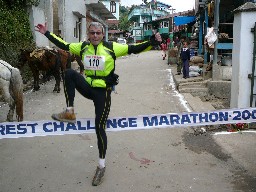 Today was to be the longest and toughest day though it was reassuring to think that much of the second half of the course was descending down to 6000 feet.
We started after 7am retracing the first 10 miles of yesterdays course. The familiar terrain helped. Today the conditions were much clearer and we had spectacular views of Kangchenjunga and toward mount Everest on the far distance. The course extended to Phulet with a tough climb to the summit before returning to Molle. The altitude was still taking its toll and though not as bad as Day 1 and 2 I still had to take deep breaths as I increased my pace on the ascents.
The race then turned sharply and descended down toward Rimbik. This was no ordinary descent. It was one of the toughest I have ever experienced with the track changing from huge steps to narrow gullies and terrain traversing exposed tree roots and steep embankments. Toward Rimbik I descended to small clusters of houses where it was reassuring to see civilisation and smiling faces along the way.
The trail descended very steeply down winding steps and narrow gullies before crossing a river over a very rickety bridge. The course then ran along a riverbed for about a mile before climbing steadily for two or three miles along the valley before arriving in Rimbik and the completion of the Everest Challenge Marathon.
I finished in the centre of the village in 5 hours 46 minutes and 10th overall jumping triumphantly over the finishing tape. One of my slowest marathon times but perhaps one of the toughest I have ever done.
Rimbik was much more civilised place to stay and our accommodation was more comfortable and there were many shops to look around. The villagers were very friendly and no one bothered you other than being greeted with friendly smiles. Again the food was very good with most of the men accommodated at the same lodge.

Race Day 4 - Rimbik - Palmajua - 13 miles - Thursday 6 November 2008
A later start today as the distance and terrain was much more forgiving. The temperatures were higher too with warm sunshine and clear blue skies.
The course started from the centre of Rimbik. Today it was not necessary to carry any provisions, wear to much clothing and I was able to wear my lightweight trainers as most of the course was on road or dirt track. This helped greatly and I felt much lighter than the previous three days. In addition, we were back at 6000 feet where the reduction in altitude increased my performance despite having now run 70 miles in three days.
I set-off enthusiastically launching myself into first position as the course descended a windy road out of the village. I led the field for the first couple of miles before being passed by the course leader (and eventual winner), Austrian, Hubert Gantioler. The course levelled out before ascending again steeply toward the finish near Palmajua. I ran the 13 mile course in just under two hours finishing today in 9th position overall.
We were then bussed back to Rimbik were we were fed and watered and also provided with some local evening campfire entertainment at the main lodge.

Race Day 5 - Palmajua - Manybangjung - 17 miles - Friday 7 November 2008
Today we were bussed back to Palmajua from where the final leg of the course continued to the finish in Manybangjung. I was showing in the results as 11th overall. Only six minutes or so separated me from 10th position held by Yorkshire man Mark Dalton. I was now feeling pretty fit after four days of gruelling running and decided to try and pull a place. I passed Mark at around five miles and managed to get out of his sights. However, Mark had the advantage of seeing my recorded time at each of the ten or so checkpoints that we passed and despite me pulling out the stops I was unable to get ahead of him. Nonetheless, the attempt made both of us work to our maximum on the last leg of this tremendous race.
As I arrived in Manybanhjung I was greeted by cheering local school children and villagers, a pipe band and dancers. A very warm welcome and a terrific finish to this epic five day adventure race.
We were bussed back to Mirik where a prize presentation and dinner took place.

Post Race Tour of central India - Saturday 8 November to Tuesday 11 November 2008
30 Hour Train Journey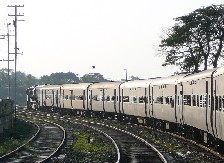 On Saturday I decided to return to Delhi over-land and departed from Mirik with many of the staff from the race heading for the local railway station in Siliguri. At mid-day I boarded a train bound for Delhi embarking on a 30 hour adventure by rail. This was a fantastic way to see India and meet local people on board the train experiencing Indian culture close up.
The journey was tremendous assisted greatly by having the Himalayan Challenge staff to look after me on the train. They were great company and were able to advise on what food to buy as well as keeping an eye on my luggage!
I was accommodated in 2nd class and the whole journey cost me only a few pounds. I watched the sun set and rise again from my train window and this journey was perhaps as memorable as the Himalayan Challenge.
Austin Ambassador Taxi to Agra
As I approached Delhi I decided to leave the train at Tundla where I got a connection to Agra for my long awaited visit to the Taj Mahal. At Tundla I took a taxi ride to Agra in an old Austin Ambassador. (Another great feature of the journey) In Agra I checked into a decent hotel where for the first time since arriving in India I had a degree of luxury including a great massage in the health spa.
Rickshaw Taxi to the Taj Mahal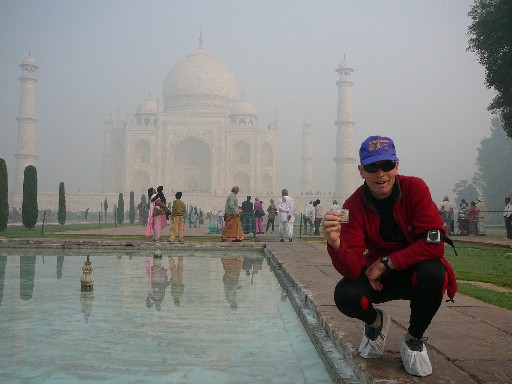 On Monday I did the Taj Mahal. I arrived at the West Gate in my Rickshaw at 8am where my driver was happy to wait for my return. I apparently picked a good time as there were no queues and was able to get around the whole site easily and take some great pictures. (as well as doing my first Indian Geocache!)
I then checked out of my hotel and hired a taxi to take me to the 'Bharatpur Bird Sanctuary' (40km west) then continue on to Delhi. The ride to the nature reserve was easy and I spent three hours there with my own guide who showed me lots of interesting wildlife including Kingfisher, Woodpecker, Storks, Mongoose, Spotted Dear and several rare Owls. Another reason for my visit here was to bag a new unfound GeoCache that I was duly first to find! (Another mission accomplished!)
Scary Taxi Ride to Delhi
The next leg of the journey was perhaps one of the worse car journeys I have ever experienced. How I was not killed driving the four hours to Delhi I do not know. The taxi driver (to give him his due) was actually a good driver and managed to avoid around 300 collisions between Agra and Delhi!! I am not exaggerating! Needless to say, I live to tell the tale but what an horrendous journey.
New Delhi
I arrived in Delhi after my scary journey around 9pm and found a decent hotel for £50 a night. There was a nice vegetarian fast food restaurant next door and I had a great meal there.
My last day in India was spent in Delhi. I was ready for home but I managed a rickshaw tour around the city as well as spending a few hours at New Delhi rail station where I enjoyed watching thousands of travellers come and go on the aged (but very interesting) Indian rolling stock.

Conclusion
All in all a tremendous experience from start to finish where I met many interesting people. I will particularly remember my room mate, Les Green and Cam
The Himalayan 5 Day Challenge was the main focus of the trip. This was very well organised with excellent ground support including great food, race check-points that were well coordinated.
Mr C.S. Pandy was a great host and has clearly fine-tuned this race over the years. I would definitely recommend this race to any runner wanting to experience a mountain running challenge. The cut-offs are generous and really anyone who is relatively fit could complete the challenge.

Gallery

Results