Prague Marathon
Prague - Czech Republic - 23 May 2004
Each year, the Athletics and Running Section organise a number of running fixtures that form part of their calendar of events. In more recent years some of these trips have ventured far and wide to more exotic locations around Europe. These weekend trips offer an ideal opportunity for members to represent the Club in a competitive sporting event and in addition combine a cultural social activity to destinations that one may not normally venture. Members are often accompanied by there partners or friends.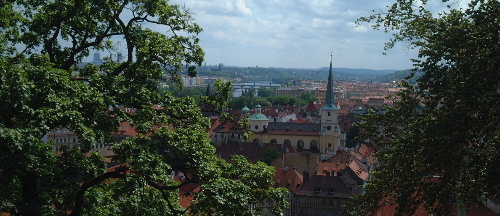 Prague City - Picture taken from the Royal Summer Palace grounds looking down the
river Vitava
In May 2004, five members of the Athletics and Running Section travelled to Czech capital, Prague. The team, Steve Broadbent, Mick McKortle, David Watkinson, Roger Scarborough and Phil Levens along with their wives.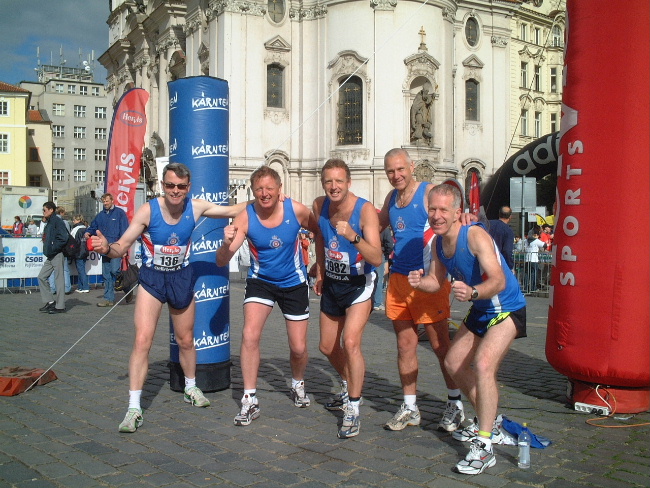 Before the race - ready to take on Prague - the team, Steve Broadbent, Mick McKortle, David Watkinson,
Roger Scarborough and Phil Levens - Lots of running experience - The five veteran runners had a combined
age of around 245 years!
We flew by BMI Baby from Manchester to Prague airport where we were met by our pre-arranged accommodation hosts Praguer.com who took us to our respective self-catering apartments in the heart of the City.
Praguer.com was a good find as they provided complimentary transport to and from the airport as well as being allocated very nice, newly furbished city apartments right in the city centre. All apartments had modern Ikea style fittings in very old and charming renovated Czech buildings. Breakfast was included in the price too, this was catered for by simply obtaining a receipt from our local cafe - The Bohemian Bagel. Prices were very cheap anyway but Prager reimbursed the cost at the end of the trip! Apartments - including the extras cost £55 a night for two people - bargain!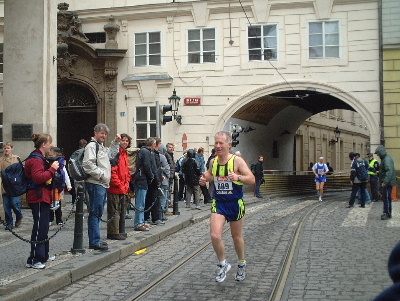 Phil Levens looking good at at 15 miles on his way to a PB.
The Marathon
The start of the race was a two minute walk from our accommodation. The event start was well organised, pretty informal and no hassle. The race meandered around the old part of the city and along the river before spurring off along a 'contraflow' section following the river some five miles out of the city then returning to cross the river. We then contraflowed another five miles along the opposite side of the river.
The 'contraflow' meant returning the same way but had the advantage of being able to see my fellow runners passing by passing a wave or a 'high five' as I went.
A band of rain hit the course around 18 miles before coming sunny again through to the finish.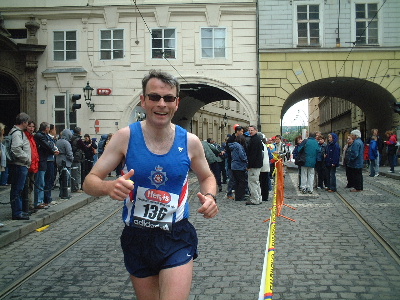 Steve Broadbent also looking good at at 15 miles
The five intrepid veteran runners all achieved excellent results in Prague with a combined age of 245 years. I ran a very nice 3.09 with Phil Levens hot on my tail finishing in 3.12. The oldest of the group, Roger Scarborough finished in a tremendous 3.55 with David Watkinson crossing the line in 4.06. New to marathon running and only his second race, Mick McKortle finished in an excellent 4.16 time.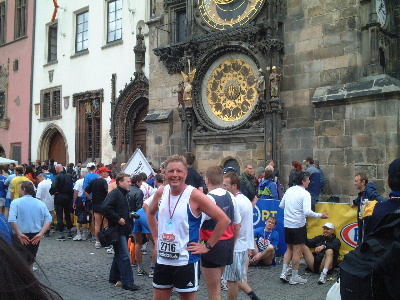 Mick McKortle looking fresh at the finish sporting his well earned medal
The weekend included visits to all the historic sights in and around Prague. After the marathon, I took pity on my tired legs and my wife and I took a train journey to Plzeň. This was a smaller Czech City that was more typical of the everyday life in this country with less tourists to be found.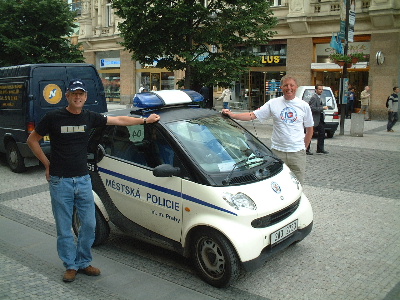 David Watkinson and Mick McKortle evaluate some new transport for
the Penwortham beat
Results

Steve Broadbent - 3 hours 09 minutes 15 seconds

Phil Levens - 3 hours 12 minutes 02 seconds

Roger Scarborough - 3 hours 55 minutes 47 seconds

David Watkinson - 4 hours 06 minutes 27 seconds

Mick McKortle - 4 hours 16 minutes 01 seconds
Thinking of Visiting Prague?
Marathon Score Ratings
Organisation
Registration - 8/10
Start/Finish - 8/10
Course - 8/10
Location
Registration - 7/10
Start/Finish - 10/10
Course - 6/10
Overall
Recommended - 8/10
Trip Costs

BMI Baby Flights - Manchester - Prague - £80

Mini Bus Transfer - Included in accommodation cost

Self Catering Room/Breakfast - £55 two persons

Marathon Entry Fee - £40

City Tour Bus - £15
Links

Praguer.Com Accommodation - Recommended