North Wales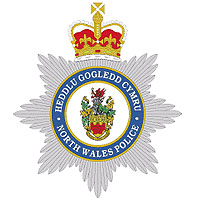 The 2011 British Police Fell Race Championships will take place in the Bryntysilio Mountain Region, nr. Llangollen, Eastern North Wales on Thursday 19 May 2011 starting at 1pm.
This event is sanctioned by the Police Sport UK but is not an official Police Sport UK Championship event. The race venue and course for the 2011 event has been kindly hosted and assisted by members of North Wales Constabulary Athletics Section.

2011 Entries

Final Results

Race Course
Course will be of 8.5 miles and 2700 ft ascent located in the Bryntysilio Mountain eastern fells of North Wales.

Race Venue, Race Registration and Presentation Venue
<![if !vml]>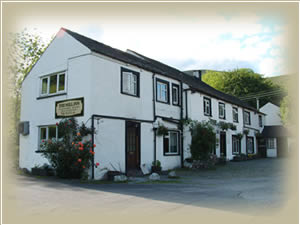 <![endif]>
The race will start and finish at the Ponderosa Cafe, Horseshoe Pass, Llangollen. LL20 8DR.


Local Host/Contact
Dave Owens
Uwcharolygydd Dros Dro/Temporary Superintendent
Rhanbarth Dwyreiniol/Eastern Division
Estyniad/Extension: 39502
Llinell Union/Direct Line: 01745 539502

Accommodation
As usual, there is no official accommodation provided. Competitors are asked to make their own arrangements. Bed and Breakfast and hotel accommodation can be found in the area.

Directions
Sat Nav to: Ponderosa Cafe, Horseshoe Pass, Llangollen. LL20 8DR

Parking
Ample parking at the venue

Shower and Changing Facilities
No official shower or changing but toilets are available at the Ponderosa cafe.
<![if !vml]>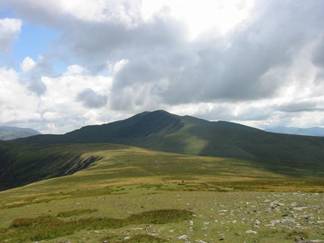 <![endif]>

Start
The start and finish will be close to the race registration point.

Map and Checkpoints
Start: Ponderosa Cafe - Horseshoe Pass
CP 1: Cairn - Moel Y Gamelyn - GR176465
CP 2: Track 'T' Junction - East of Cymmo - GR172450
CP 3: Metalled Road Junction - GR150450
CP 4: Cairn - Moel Y Gamelyn - GR176465
Finish: Ponderosa Cafe - Horseshoe Pass

Course Map jpg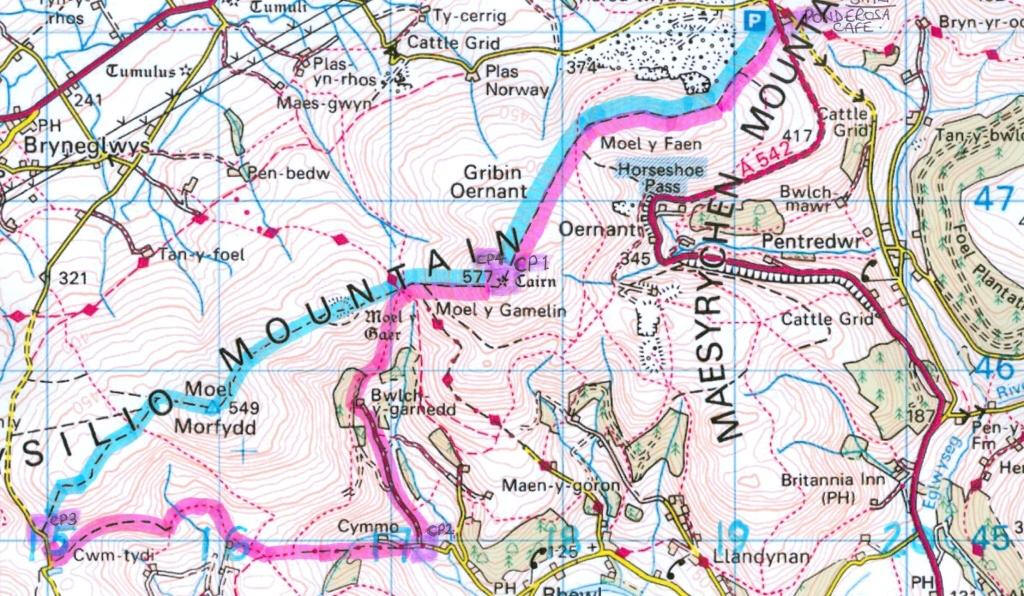 Compulsory Kit Requirement
Competitors will need to carry the following equipment:-
1. Windproof top body cover
2. Map
3. Compass and Whistle
4. Suitable footwear for fell running
5. Waterproof full body cover (Only if poor weather conditions)
This is a serious event over difficult terrain. Each competitor should have navigational skills. Kit checks will be made prior to the start.

Entry Field
The Championships are likely to attract between 50 and 70 runners from 20 UK police forces.

Registration and Pre-Race Briefing

Race numbers and pins will be issued. A final pre-race briefing will take place at 12.55pm at the start.

Post Race Meal and Presentation of Trophies
A hot meal will be provided from 2.30pm at the The Ponderosa Cafe. This will be followed by a formal presentation of trophies and prizes at approximately 3.30pm.

Trophies/Prizes
Men:
1st, 2nd and 3rd - Open
1st, 2nd and 3rd - Vet 40+
1st - Vet 45, Vet 50
1st, 2nd and 3rd Open Mixed Force Teams (First three to count including ladies)
1st - Veteran 40+ Mixed Team (First three to count)
Women:
1st, 2nd and 3rd - Open
1st - Vet 40+
NB. Additional prizes may be added subject to entry volume.

British Police Fell Race Entry
The entry fee will be £12.00. This fee covers the cost of the presentation buffet and the awards and prizes. The official entry form accompanies this document.

2011 Event Entry Form - Word Document

Qualification
Competitors must be fully paid members of their respective force sports clubs and be a police officer, police staff, retired police/police staff (in receipt of a police pension) or member of the special constabulary/police volunteers. (If in doubt please refer to the www.policesportuk.com website for a detailed definition)

Pre-Race Recognisance
There are no objections to teams or individuals reconnoitring the course.

Closing Date
The closing date is early May 2011 - There are no entry fee refunds but name substitutions to pre-paid entries will be allowed on the day.
Note: Late or on-day entries will be accepted from forces who have already submitted the bulk of their teams. Other late entries will be discretional with discussion with the event coordinator.

Entry Confirmation
Team managers will receive a confirmation of your entry and any late briefing information by email.
Please do not hesitate to contact me if you have any further questions or require any other information.
SC 9785 Steve Broadbent
Police Sport UK Athletics Section – British Police Fell Race Coordinator

Work Tel: 01524 596424

Mobile Tel: 07974 795466

Email: Steve Broadbent

Local Host/Contact
For information about the race course and venue contact:
Dave Owens
Uwcharolygydd Dros Dro/Temporary Superintendent
Rhanbarth Dwyreiniol/Eastern Division
Estyniad/Extension: 39502
Llinell Union/Direct Line: 01745 539502
2010 Event

Final Results and Pictures
2011 Event

Final Results and Pictures