100km Del Sahara Marathon
Sahara Desert - Southern Tunisia 7 - 14 March 2010

I have always wanted to run a desert marathon. I have run a few marathons in hot climates but never the desert.
This event is similar to the Marathon Des Sables. (Cheaper to enter and there is no three year waiting list!)
I will be travelling with colleague and running mates, Dave Watkinson and Les Green so I am sure the whole event is going to be an enjoyable experience!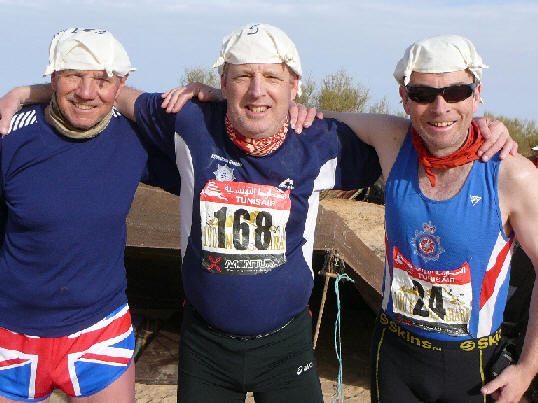 Website: 100km Del Sahara

Results
| | | | | | | | |
| --- | --- | --- | --- | --- | --- | --- | --- |
| Position | Race No. | Name | 15 Miles | 9 Miles | 26.2 Miles | 13 Miles | Total |
| 41 | 24 | | 02:20:10 | 01:13:50 | 04:06:40 | 02:05:10 | 09:45:50 |

Overall Event Experience
Where do I start - This was a superbly organised event package that I would well recommend. We flew to Milan where we met up with the race organisers and the other 175 or so competitors who were flying from Milan to Tozuer.
From Tozeur airport we were escorted to a nice hotel for overnight stay before travelling by Jeep to Kazar Gilane, an oasis in South Tunisia. Here the event started and we went through the formalities of race registration and briefings and also had our first glimpse of the sand dunes of the Sahara Desert.
Day 1 - 15 Miles - 2:20:10
A windy start in cooler temperatures in the 70's. The dunes were difficult to run over but the sand gaiters worked well and kept my Walsh PB fell shoes totally sand free for the duration of the race.
In the last half hour of the race the weather got worse with stronger winds and light rain and a sand storm emerged! It was still warm and I finished the 15 miles in 2.20. I arrived in out tented village but found that the sand storm was getting worse and we had to baton down the hatches in camp to keep our belongings dry and sand free.
My friends Dave and Les were out longer and crossed the line having experience worse weather on the road than I had. However, excellent food provided son after the race, mid afternoon and then again in the evening made up for it.
Day 2 - 9 Miles - 1:13:50
The wind dropped in the night and we were back in the 80's degrees today. Just a short nine miler today over rugged terrain and more sand dunes. A fast run though that I enjoyed placing me in 44th position out of 175 runners.
Again, excellent catering and camp facilities made for a great campfire evening and overnight stay in our six man Bedouin tents shared with our French and Canadian friends.
Day 3 - 26.2 miles - 4:06.40
Full marathon day and the temperatures were in the 80's again. The competitors went off in waves, the slower runners first with myself last out at 10am. What a tremendous marathon course! A mixture of all sorts of desert terrain. From sand dunes to rocky ground, gravel tracks and dirt roads. I dropped to 36th place in the race today.
Not a bad effort at 4.06 considering the temperatures got into the 90's degrees. Another great overnight camp with great camaraderie in camp as we built up a good rapport with our French friends.
Day 4 - 13 miles - 2:05:10
This was the hardest day under foot. The dunes were big, very big and it was like a fell run on the flat! It is amazing how the short 20 -30 feet climbs take it out of your legs. The Oasis town was soon in sight and the 'Gateway to the Sahara' prominent on the horizon.
Thinking of Running the 100km Del Sahara Marathon?
Marathon Score Ratings

Organisation

Registration - Excellent

Start/Finish - Excellent

Course - Excellent

Location

Registration -

Start/Finish -

Course -

Overall
Recommended -

Trip Costs

Flights - UK - Milan - £100

Inclusive 7 nights - Transfers - Accommodation - Food - Marathon Entry Fee - £1500
Links

100km Del Sahara
Further Information

Contact: Steve Broadbent