"The Long Way Up"

Land's End to John o' Groats run via...

London Marathon

Snowdon Summit

Sca Fell Summit

Ben Nevis

Lochaber Marathon
1300 miles - 14 marathons on foot - 900 miles by cycle* - Britain's Three Highest Peaks - 27 Days - 1 April to 27 April 2008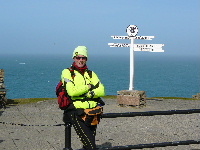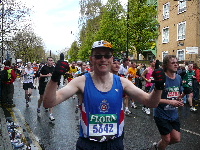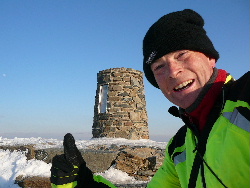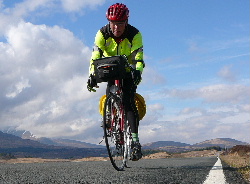 In 1983, I cycled from John O' Groats to Land's End via the 3 peaks. I completed the journey in just 14 days raising £2500 for a local charity. I always said I would like to return to run the same distance on foot.
25 years on, I plan to set off from Landís End on 1 April and run to London where I will complete the Flora London Marathon on 13 April.
I will then continue through the Thames Valley to Birmingham and into Wales where I will run to the summit of Snowdon. I will continue north through Lancashire where I will run Sca Fell Pike then on to the Scottish Highlands. In Fort William I will run Britainís highest mountain, Ben Nevis before competing in the Lochaber Marathon on 27 April. I will then continue north finishing at John O' Groats by the 30th April.
I would like to raise funds for Cancer Care and invite my friends, colleagues or anyone else to sponsor me. This will give me all the encouragement I need to complete this massive challenge that I have set myself. I propose to run the distance unsupported and carry my own tent and sleeping bag most of the way, simply camping on the roadside as I go.
The event will involve running 50 x 26.2 mile marathons in 30 days. I will warm up doing one marathon a day, for 12 days until I reach London. After running London I should hopefully be fit enough to run two marathons a day for the remaining 17 days. Added together, this will total around 1300 miles distance and the equivalent of 50 marathons within the given 30 days. As far as I know this 'End to End' route has never been attempted before.
To sponsor me go to: www.justgiving.com/slateman Here you can make a tax free on-line donation. Thank you to all those who have kindly sponsored me so far.
Daily Report and Route
I am travelling extremely light and taking my laptop along is out of the question. However, a brief diary of my journey will be updated every two to three days. A full report with pictures will follow on completion of the journey. Let's hope I make it!!
Updates - Summary
2/4/08 - The original plan to camp most nights has changed and I have now opted for the easier option of a warm bed each night without having to carry a tent and sleeping bag!
*14/4/08 - Due to injury to feet after reaching London the plan has changed and I will now cycle the remaining 900 miles to John O' Groats. I will still run each of the peaks as well as run the Lochaber Marathon on the 27th April. I haven't ridden a bike for some years so the cycling option may well prove to be just as big a challenge!

Picture Gallery
Date

Destination

Day

Sleep

Daily Stage Report

Daily

Miles

Total

Miles

Feet of Ascent

Run

Feet of Ascent

Cycle

Monday 31/03/08

Penzance

Tent

Flew from Manchester to Newquay this afternoon. Journey to airport was not without drama.

Train to airport delayed and helped passenger travelling to Milan to catch his plane by running from rail terminal to check-in desk to ask them to keep his desk open for him - which they did and he caught his plane. Supplied him with sponsor form in return for mega-run through terminal. Bright yellow kit and shoes helped visibility!! Hope he sponsors me. Caught bus to Truro and train onwards to Penzance. Camped overlooking Land's End. Still a few miles to do in the morning prior to start of epic journey. Wild and windy night.

Tuesday 01/04/08

Land's End - Cambourne

Day 1

B&B

Radio Lancashire and Radio Cumbria called first thing (7am) to do live interviews. Walked the three miles to Land's End and then set off at midday with clear blue skies and sunshine. Very hard 26.3 mile run to Cambourne. Shoulders aching from rucksack. Checked into pub B and B where mine hosts were extremely kind and dried out all my kit and sleeping bag ready for tomorrow. Looking forward to good night's kip ready to face the next marathon challenge.

Total ascent today was 1650ft.

26.3

26.3

1,650




Wednesday 02/04/08

Cambourne - St Austell

Day 2

Hotel

Set off at 10am. Decided to jettison the tent and sleeping bag to save weight. The luxury of staying in a b and b is sooo much more inviting with the long journey ahead. Another long journey through Redruth and Truro and onwards to St Austell. Some long mind-blowing stretches of road. Two marathons now taking their toll on my feet but hopefully will overcome this. Legs fine. Shoulders still sore but backpack much lighter now. Total ascent today was 2,400 ft.

26.6

52.9

4,064

Thursday 03/04/08

St Austell - Callington

Day 3

Guest House

Set off at 10am. Had to take a couple of detours due to roadworks and road closures which added extra mileage and, consequently, didn't reach Tavistock as planned. High mileage today with 5,706ft of ascent in 65 degrees. Very hilly round here!! Tough day. Staying in lovely guest house.

36.2

89.1

9,770

Friday 04/04/08

Callington - Moreton Hampstead

Day 4

Hotel

Went via Tavistock and over Dartmoor to Moreton Hampstead. Misty on the tops. Dramatic scenery. Another long day. Feet are very sore but legs holding up.

Arrived at Moreton

Hampstead about 7pm.

Staying at the White Hart.

4,747 ft of ascent.

31.63

120.7

14,517

Saturday 05/04/08

Moreton Hampstead - Honiton

Day 5

B&B

Fine, pleasant day - part cloudy. It's been a very hard day today and this kind of mileage is more than enough. I have now caught up with my schedule. Again the legs are totally ok but my feet are terribly sore and blistered. Staying at Ellis Hayer Farmhouse B and B just two miles outside Honiton. 3,368ft of ascent.

33.5

154.23

17,886

Sunday 06/04/08

Honiton - Yeovil

Day 6

B&B

Woke up to snow which cleared quickly and set off. Snow flurries all day and a cold wind. Found small hotel just outside Yeovil called Yeovil Court Hotel. Kindly allowed me to wash and tumble dry clothing too! Getting a bit smelly. Gave me complimentary dinner and looked after me very well. 4,397ft of ascent.

29.5

183.7

22,283

Monday 07/04/08

Yeovil - Shaftesbury

Day 7

B&B

Radio Lancashire and Radio Cumbria both phoned to carry out live interviews before breakfast. Changed running shoes in Yeovil and got new pair to replace others which were worn out! Hopefully these will last a bit longer! Ran via Sherborne to Shaftesbury (home of the Hovis advert hill) and found nice B&B on outskirts of village. 2,952ft of ascent.

26.4

210.1

25,234

Tuesday 08/04/08

Shaftesbury - Stonehenge (Amesbury)

Day 8

B&B

Set off at 11am from Shaftesbury to Amesbury via country lanes and villages to Tisbury and then along the very narrow and extremely busy A303 to Stonehenge. This was the only route to get me to Stonehenge and the nightmare traffic conditions prompted me to pick up the pace and run hard to the Stone Circle. Ran round the perimeter and down to Amesbury. Found very nice small hotel called the Antrobus and enjoyed lovely hot bath. Feeling very much in my stride now. Feet still sore but blisters seem to be disappearing. 2476ft of ascent today.

29.03

239.2

27,710

Wednesday 09/04/08

Amesbury - Winchester

Day 9

Hotel

Ran the 26.2 miles from Amesbury to Winchester today. Helped a stranded motorist to get his broken down car going. In return for the repairs was offered a lift to Winchester! Declined the offer. Strong run then into Winchester. My legs feel fine but my feet are very sore and have developed more blisters which made it very hard going. Really struggling. Made it to the Royal Winchester Hotel. 2075ft of ascent today.

26.2

265.2

29,784

Thursday 10/04/08

Winchester - Farnham

Day 10

Hotel

Ran the 28.9 miles from Winchester to Farnham via the Mid Hants Railway. Tackled the A31 with a vengeance and can reveal, after much research, that 1 in 30 motorists definitely feel I should be running on the grass verge. The other 29 respectfully indicate and pull out. My feet are still terribly sore but London is in sight. Must say because of the painful feet I am considering a Plan B to cycle the remaining 1,000 from London, via the three peaks, to John O'Groats. Will make that decision on Sunday. 2248ft of ascent today. Staying at The Mulberry Hotel.

28.9

294.1

32,032

Friday 11/04/08

Farnham - Leatherhead

Day 11

B&B

Completed the 26.2 miles from Farnham to Leatherhead. Brief spells of hail, sleet and rain - the first since I started this journey. Interviewed by Radio Cumbria at 4.20pm. Good pace throughout but terrible blister on left foot is really hampering progress. Arrived Leatherhead at 4.30pm (3,246ft of ascent) and, after quick change, travelled into London to register for the marathon. Anne was waiting at the hotel when I got back.

26.2

320.3

35,278

Saturday 12/04/08

Leatherhead - Blackheath

Day 12

B&B

Navigated my way through South London via Epsom, Cheam, Mitcham, Streatham and Detford (and a few other places I had never heard of) and on to the blue start line of the London Marathon . Encountered the first heavy rainfall for 12 days just after finishing. 3,535ft of ascent.

26.4

346.5

38,823

Sunday 13/04/08

Flora London Marathon Blackheath - The Mall

Day 13

B&B

London Marathon Day- completed the marathon in 4hrs and 28mins. Feet totally shot at! Have made the very difficult decision not to give up but to continue the remaining 1,000 mile journey by bike. Thanks to everyone for all good wishes, texts and phone calls throughout the day. Much appreciated. Will still run each of the three peaks as planned and finish with the Lochaber marathon.

26.2

372.7

39,423

Monday 14/04/08

The Mall - Aylesbury

Day 14

Hotel

Caught train into London and cycled to The Mall (where I finished the marathon yesterday) to re-start my journey by bike. London gridlocked - interesting journey navigating out but eventually made it to the A5 and A41 towards Watford. Fairly tough going because I haven't ridden a bike any great distance for some years so the cycling is going to be just as challenging but at least the feet won't be suffering any more! Due to late start decide to finish at Aylesbury after 36 miles allowing me to break myself in gently. Legs feel fairly good after the marathon. Staying at Holiday Inn in Aylesbury. 2,900ft of ascent. Radio Cumbria did another interview.

36

408.7

2,900

Tuesday 15/04/08

Aylesbury - Berkswell

Day 15

Family

Cycled the 65.6 miles to Berkswell (just south of Birmingham) with 3115ft of ascent. Bit of a downpour passing Coventry. Really enjoying the cycling and not too saddle sore. Arrived at Mary and John's to warm welcome and a lovely meal. This was followed by a much needed and most welcome massage from Martin Slevin, of West Midlands Police, who came to Mary and John's home. Feel very looked after as Mary (an ex nurse) has been giving me treatment for my toes. Feel a lot better today. Planning a long day tomorrow.

65.6

474.3

6,015

Wednesday 16/04/08

Berkswell - Oswestry

Day 16

Hotel

Cycled from Berkswell to Oswestry via the centre of Birmingham and out via Staffordshire, Bridgnorth, Seven Valley Railway, Shrewsbury and onto Oswestry in Shropshire. Problems with knee but stopped at chemist and strapped it up. As the journey progressed the pain eased although still apparent and swollen. Could be the saddle and pedal position. Puncture five miles from Oswestry so forced to stop and change the inner tube. Half a mile from Oswestry got another puncture but managed to pump enough air into the tyre to allow me to coast down to the Oswestry Travel Lodge. Total ascent 6118ft!!

82.0

556.3

12,133

Thursday 17/04/08

Oswestry - Betws-y-Coed

Snowdon Summit (3,560')

Day 17

Hotel

Bit of a late start today due to fixing punctures properly. Went via Chirk and Betws-y-Coed to Pen-y-pass at base of Snowdon. Swapped cycling shoes for fast ascent. Felt very strong and it only took 1.5 hours to climb up through the snow to the summit arriving at 7pm. Glorious sunshine, very cold but amazing views. Tricky descent over ice but made it to the bottom in 40 minutes. Snowdon 3560ft. Cycled back to Betws-y-Coed to B & B. Total ascent on bike was 5800ft and running 3200ft. Cycled 70 miles and ran 8 miles. Great day. One peak down and two to go! Staying at The Waterloo Hotel which has pool and steam room. Sheer bliss!

70.0

8.0

634.3

42,623

11,918

Friday 18/04/08

Betws-y-Coed - Preston Brook

Day 18

Friends

What a hard day. Cycled 30 miles along the Expressway into strong 25mph easterly head wind and, consequently, did not get as far as planned. Decided at 66 miles to abort for the day having got a slow puncture which needed repairing. Contacted good friends Sue and John and arranged to stay with them at their Cheshire home. Five star luxury, wonderful meal and great bubble bath. Bliss! Right knee fine now but a little bit of pain in le3ft knee but nothing to worry about. 3882ft of ascent.

66.2

700.3

15,800

Saturday 19/04/08

Preston Brook - Caton

Day 19

Home

Another tough day into 25 mph cold north-easterly head winds. I was met at the start of this leg of the journey by Adrian Royles who I joined the force with as a cadet in 1976. Adrian was a welcome companion and made the journey through Warrington, Wigan into Lancashire much easier. Met at Broughton by running pals Bill Murray and Derek Snalam. Stopped at my mother-in-law's in Garstang for a quick cuppa then over Quermore to Caton to finish. Total 64 miles today, 3,860 feet ascent.

64.1

764.6

19,660

Sunday 20/04/08

Caton - Leck - Langdale

Scafell Pike (3210')

Langdale

Day 20

Home

First headed to Leck for launch of CancerCare 25th anniversary appeal arriving at 11.55am. Cycled with Ian Johnston and Ben Slinger. Met by Lady Shuttleworth and members of the Cancer Care team. Given a great reception and made very welcome. Continued to Langdale. Joined by Shaun Carthy and his son. Chilly headwinds (again) into the lake district to Ambleside and to Langdale for run up Scafell Pike. Arrived at Langdale later than expected due to one or two unforeseen delays. However, the weather was fine and the cloud-base was high so visibility on the tops was clear. Met again by Adrian Royles at Esk Hause and we both ascended Scafell together returning to Dungeon Gill by 8.30pm. 12 mile run over Scafell aggravated swollen left toe but will hopefully recover for final runs up Ben Nevis and the Lochaber Marathon later in the week!

3,200 bike 3,800 run

48.1

12.0

824.6

46,423
22,860

Monday 21/04/08

Langdale - Gretna Green

Day 21

B&B

Ian Johnston ran me up to Dungeon Gill at Langdale where I jumped on my bike and cycled back into Ambleside to meet the Westmorland Gazette photographer for a phot-call. Ian was waiting on his bike and we cycled on and over Dunmail Raise. There another former colleague Myles Newman was waiting for us in his camper van. Really appreciated the support and numerous hot cups of tea throughout the day in the comfort of the camper van. Could have done with one of these in Cornwall! Cycled on via St John In The Vale and on to the A6 through Carlisle. Diverted from the A74 because of roadworks and took a longer route than planned. Still cycling into strong headwinds but will turn North West tomorrow into Scotland and hopefully the wind will be behind me. Made it to Gretna Green for 6pm and decided to stay overnight. Said goodbye here to Ian and Myles. Found hotel with pool, sauna and steam room. 4250ft of ascent. Right knee painful again.

65.6

890.20

27,110

Tuesday 22/04/08

Gretna Green - Dumbarton

Day 22

B&B

Cycled 118 miles via Dumfries, Thornhill, Kilmarnock, Glasgow, over the Erskine Bridge and along the A82 up to Dumbarton today arriving at 8pm. Fair old mileage but a tail wind and glorious weather for most of the journey really helped. Had puncture at 80 miles which ate half an hour. Feeling good and right knee not causing too many problems although still painful. Rear spindle might prompt an early pit stop tomorrow. Staying in pleasant pub at Dumbarton and enjoyed haggis, neeps and tatties! When in Scotland...

5673 ft of ascent

118

1008.20

32,783

Wednesday 23/04/08

Dumbarton - Fort William

Day 23

B&B

Rain at first but did not get too wet. Eased off by midday and turned into a glorious sunny day and probably the most memorable day in terms of scenery. Stopped at a bike shop in Helensburgh to get the spindle checked out. Everything ok. Route took me via Loch Lomond, Crianlarich, Bridge of Orchy over Rannach Moor to Glen Coe. Had a puncture as I entered Glen Coe but couldn't have picked a better place to stop and repair it - spectacular. On to Ballaculish. Stopped on the bridge to admire the sunset over Loch Linnie before travelling on to Fort William. Staying at the Alexandria Hotel in the centre. Very pleased with progress today and ready to run up Ben Nevis in the morning before cycling on towards Inverness. 6525ft of ascent today.

98.2

1104.20

39,308

Thursday 24/04/08

Fort William - Ben Nevis (4409') - Fort Augustus

Day 24

B&B

Bought new rear tyre first thing as the other had worn out! Cycled to Glen Nevis and parked at Visitor Centre where warden kindly offered to look after my bike. He warned of the treacherous conditions on Ben Nevis but was happy that I was competent and had all the right kit to go up there. At 3,000 ft hit cloud, snow and blizzard conditions. Navigated well through the deep snow towards summit although at one point realised I was on a huge cornice and exited quickly away from it! Nobody on the summit but met a group of mountaineers on the descent. Quick, straight descent to Glen Nevis - four hour round trip. Feet and fingers numb with extreme cold and ice. Cycled 34 miles on to Fort Augustus via Spean Bridge and Invergarry. Sunny weather and great scenery made an excellent finish to this memorable day. Ben Nevis 4409 ft of ascent and 2100ft of ascent on the bike. Cycled 34 miles and ran six miles.

40.3

1148.5

50,873
41,408

Friday 25/04/08

Fort Augustus - Golspie

Day 25

B&B

Cycled the 79 miles alongside Loch Ness, up to Beauly, bypassing Inverness north up the east coast to Golspie. Wet and rainy for most of the journey but clearing towards the end of the day. The worst weather so far but still enjoyable. Only 72 miles to go now. Will hopefully meet the welcome party at 4pm at JOG tomorrow before heading back towards Fort William for the Lochaber Marathon on Sunday. 3,600ft of ascent.

79.4

1227.9

45,013

Saturday 26/04/08

Golspie - John O' Groats

Day 26

B&B

The last day cycling.... and another enjoyable one! A tail wind and sunshine all the way up the A9 and A99 up the east coast of Caithness. Quite hilly around Helmsdale with some steep ascents (but great 40mph descents!) Almost got blown over as I descended one hill as I turned across the wind on a bend. Anne set off from Cumbria early morning and she phoned me from Newtonmore to say the petrol garages were out of petrol there! (Panic! Would I have to turn around and cycle back to Inverness perhaps??) A further phone call confirmed she had filled up with fuel near Inverness (With a 70 mpg car there should be enough to get home). Anne caught me up at Wick and we had a spot of lunch before I cycled the last 17 miles to the 'Top'. I arrived at John O' Groats just after 4pm right on schedule. No brass band or fan-fair and the photographer with the 'fingerpost sign' had left early for the day! However, Anne, Cass and I celebrated the occasion in a fairly low key way. Notwithstanding all this, there was still a marathon to run tomorrow to complete the challenge! We drove down to the Dumnadroichit Hotel on Loch Ness (One of the few hotels that took dogs!) for an overnight stay.

3650 feet ascent.

70.2

1298.1

48,663

Sunday 27/04/08

Lochaber Marathon

Day 27

Hotel

It was just an hour's drive from Loch Ness to Fort William where I registered for the race in good time for the very civilised 11am start. Lochaber is a fairly low key but well organised marathon event with only 500 or so field. The weather was fine, sunny and cool - ideal conditions. I started well and up to 12 miles was on course for a sub 3.30. However, my left quad tightened up considerably (followed by the right). (Perhaps something to do with having just cycled 900 miles since my last Marathon!) In hindsight a massage would have helped but nonetheless I continued on and crossed the finish line in 4.18.

The challenge was complete!!!!

A big thank you to everyone who has supported me along the way. A special thanks to my wife Anne for updating this daily blog as well as all her support with my mad antics during the past 28 days!

It is looking as though I may be on target to raise £2500 for Cancer Care which is absolutely fantastic. In the coming week, I will personally make contact with all those who have kindly sponsored me.


Picture Gallery

26.2

1324.3

51,773

Amount raised so far for

Cancer Care

circa £4500

A big thank you to all my

sponsors

for your kind donations!

Grand

Totals

Total

Miles

Run

425

Total Miles Bike

900

Total

Height

Run

51,773

Total

Height

Cycle

48,663

Total Miles

Run/

Bike

1325

Total Feet ascent

Run/Bike

100,436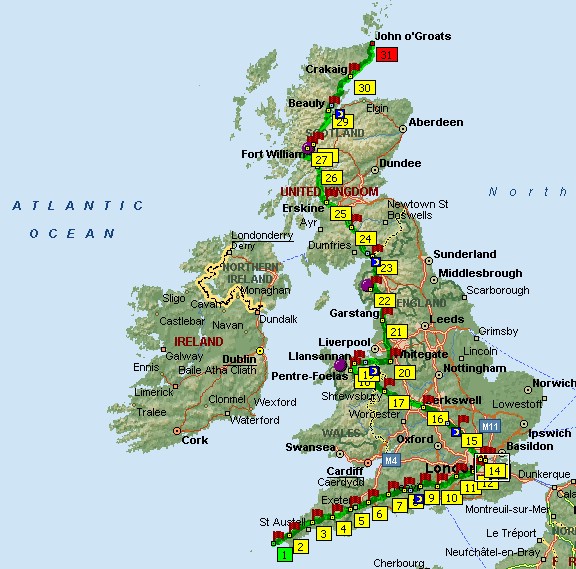 Legend shows Day 1 to Day 30 (1 April to 30 April)