Sport - Fitness and Training Advice
Running - By distance runner - Steve Broadbent
I don't profess to be an expert and I am certainly not fast runner. I consider myself a plodder but admit that my forté is distance rather than speed.
I have enjoyed running since my first school cross-country run when I was 14. I hated football and enjoyed seeing my mates scowling at the teacher when he announced football was off due to waterlogged pitches and cross country was on! A chance to get my own back off the pitch I thought, I was one of the minority in school who seemed to enjoy running.
So it was the early days that allowed me to develop a positive attitude toward what is perhaps considered to be a solitary, minority sport - You do have to get some kind of personal satisfaction out of it - if you hate it then its an uphill struggle. If you take to it, you will soon learn that it is not as solitary as one might think and you will realise that you are not in a minority. To find out more then read on........
There are five distinct advantages gained from Running....

Good health and fitness

Weight loss

Personal achievement

Meeting new people

Seeing new places
I will now attempt to expand on my advice. I don't propose to go into great detail as I intend this article to be a 'quick start' method.
Getting started.......

Kit
You don't need to go out and spend a fortune on kit. Most people will have a pair of trainers, top, bottoms and so on. It is not a fashion parade out there so just sling some kit on and get started. Think about upgrading your shoes and kit in a few weeks, once you properly hooked.

Don't run until you can walk
If you are a novice or haven't run for some time then just spend the first week or so walking. Many make the mistake of belting off down the road and get out of breath within minutes and this can be off putting and can reverse the whole process!
About 20% of my distance training involves walking. For example, I vary my training patterns by going off hiking for the day with my wife. No running involved but a 10 mile walk over four or five hours has more benefit than the same distance run done in just over the hour. I am on my pins four times longer and this builds stamina. It is also very sociable, allowing a relationship to flourish by sharing an outdoor activity.

Mileage and Distances
You don't have to run great distances to get fit. It is all relative to your level of fitness at any particular time. I run an average of 50 miles a week. However, a newcomer need only run say five or ten miles in a week (a couple of hours) to experience the same benefit.
20 - 30 minutes a day five or six days a week is a good bench mark to begin with.

Where?
Everyone I speak to thinking of taking up running says the sport is boring. You need to choose the right place. Parks, canal tow paths, promenades and quiet country lanes are my favourites. Steering clear of people and traffic is advisable. It helps to be inconspicuous as possible and away from exhaust fumes to make your run time more enjoyable.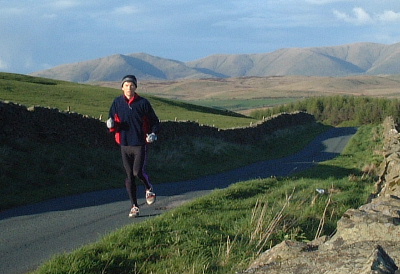 Good training ground - Quiet country lanes

When?
Fit your training in around your routine. You need to make or find time to get out. It is very easy to convince yourself there isn't enough time to get out for half an hour. Before work, to and from work, lunchtimes, before bed. There is always a half hour slot somewhere in the day.

With Who?
I generally train alone as it makes it easy to organise my valuable training time. I also find the time alone gives you time to think, collect your thoughts and feel more relaxed.
Progress....

Join a club or gym
If you prefer company while you train then consider joining a running club or gym. This way you can meet up with other like minded runners that can assist in overall progress and encouragement.
Or why not join your very own Club - the Lancashire Constabulary Athletics Section? You are then able to take part in any of the running related fixtures held throughout the year. By enrolling as a member you will be e-mailed the latest fixtures and also be affiliated to the AAA's giving you discounted race entry fees.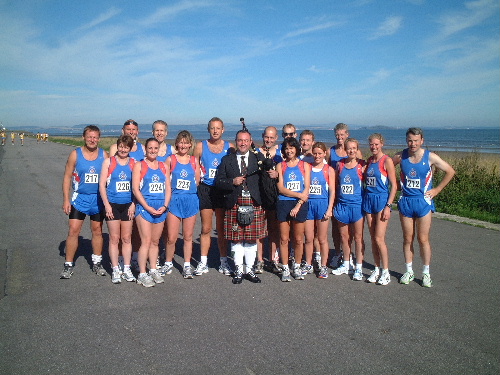 Members of the Lancashire Constabulary Running Club line up in Edinburgh for the
PSUK 10 mile road race 2002

Enter Races
The thought of entering a race can be daunting for the first time. However, look on them as structured training days rather than races. Again, a chance to meet up with people and bench mark yourself over a measured distance. Races also discipline you and get you out on a given date and time.
Many races have finishing medals and these can go a long way with novice runners in assisting their overall enthusiasm to continue running. Bettering your time in the next race gives you a target and this is what gives runners that all important 'drive' to continue the sport.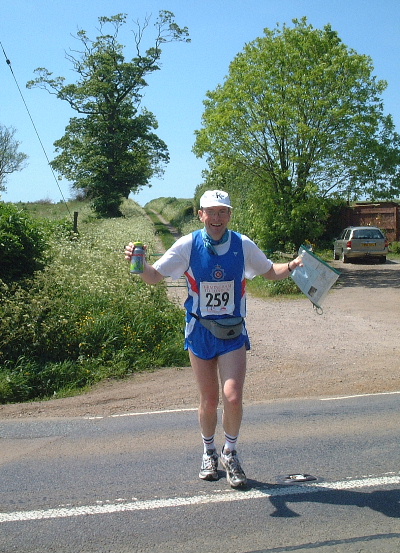 Grand Union Canal Race 2003
Other Running Tips.....

Subscribe to "Running" magazine
This is the best monthly running publication that is packed with tips on health and fitness, training advice, race calendars, running kit sales, shoe guides and so on. It won't be the first time that I have read a copy of 'Running' at breakfast then gone out on an unplanned run with enthusiasm.

Don't Become Obsessed
It is easy to catch the running bug. However, obsession can lead to injury and burn-out. Take it easy and always allow one day a week rest. Or if you need to get out - go walking instead.

Try Cross-training
Swimming and cycling are perhaps the best cross sports that would benefit your overall running performance.

Swimming

Cycling

Variety
Don't forget you can consider other terrain to make your runs more interesting and enjoyable. Cross country, fell running, walking trials and canal tow paths.

Weight is the 'Golden Key' to Success
Your weight is the key to improving your performance. If you are already skinny then skip this section! - however, most people do have a few pounds to shed and this can make a marked difference on your performance. It is not easy to lose weight while training as one tends to eat more to compensate for the burnt calories. It is a case of getting the balance right.
I cut out alcohol from my diet, not every ones favourite choice to abstain from but it made a significant difference to my marathon times and this is how I now achieve continued sub 3 hour marathon times.
My simple philosophy is that as you begin to lose weight you notice the difference and feel lighter - by feeling lighter you don't tire as quick and can train longer and harder - by training longer you lose more weight......and so it goes on, an upward spiral. However, please beware, this advice is easier said than done - you need to be very disciplined.
Finally.....

Aim High - Set Yourself Targets
In 1983 I ran my first marathon race in Windermere in 4 hours 02 minutes. Five years on, in 1988, I ran the Berlin Marathon in 3 hours 02 minutes knocking one hour off my time.
From 1988 to 1997 I ran twenty five more marathons attempting to break 3 hours. It was only until 1997 that I eventually got my training/diet right and ran 2 hours 54 minutes! Mission accomplished.
My next goal is to break 2.50 - 8 years on I am still at it - I will do it. Again, I just have to get the timing right. This is what drives me forward - determined and.....you must never say you are too old - Watch this space!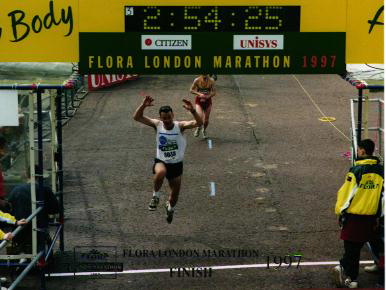 At long last - Mission accomplished - the first of four sub 3 hour marathons
Good Luck and enjoy your running!
After 30 years of very enjoyable running I am still learning and could keep throwing in lots of other advice and tips. I will stop here but please contact me if you want to ask any further questions and require any further tips or advice.

Further Running advice
I propose to publish a further article toward the end of the year discussing more advanced training methods including schedules, race preparation, health and diet.
Steve Broadbent