Past Times - Classic Car
Triumph Spitfire 1500 - 1980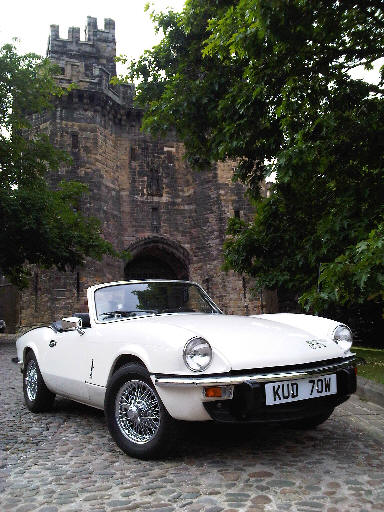 This was my 1980 Triumph Spitfire 1500 with overdrive in 3rd and 4th gears. This was one of the last to be made before the model ceased production in late 1980.
This little car is a seriously understated classic overshadowed by the TR and MG models. However, its sleek stylish design has to be admired. It looks well in most of the colours of that era but white has makes the model pretty timeless.
In 1981 I purchased a white Spitfire MK4 1972 model. This was my first two seater sports car and ran it for 12 months before progressing to a Triumph Stag followed by a number of other classics. The Spitfire was always my favourite, a fun car, easy to drive, work on and maintain.
In November 2009 I spotted this one on EBay with 9 minutes to bid. I was unable to bid to its reserve but it did not sell anyway. It was for sale close to where I lived so it could not be easier to visit and view the car under no pressure to buy. After a look over by mechanic Peter Yates it was confirmed that it was an excellent restoration job with only a spot of TLC required on the carbs and some electrics to get it through the MOT.
What a cracking example and a very lucky find. Over the winter I serviced the carbs and starter motor and it passed the MOT no problem in the Spring 2010.
Lots of polish and some improvements were added to bring it up to showroom condition:-

Chrome Wire Wheels

Chrome Mirrors

Retro Radio/Cassette

Mudflaps
I still have work to do under the bonnet. Mainly, a repaint or clean-up of many of the engine parts to ensure the car becomes in show class condition.
Saying all this the car has seen some good service in its first summer having done 2500 miles and even had to raise the classic car insurance mileage! Now I'm 50, it is as much fun to drive now as it was when I was 21! The 'colour coordinated border collie dog Cass enjoys the ride too!
Update - 2018
Sadly the car was not being used as much as the earlier years as I bought a Motorhome in 2013 and most of my leisure trips were in the motorhome. To make space in the garage for my model railway the Spitfire had to go.It was sold to a gentleman from Penrith who was going to take the car to his holiday home in France to be used there. I hope the car continues to have a great life in France!