Work - On-Board Crew - Virgin Trains

30 January 2012 - I start my three week training course at the Virgin Trains Academy - Crewe
On 20 February I started my first day as train crew working in First Class serving customers or working in the on-board shop in Standard Class.
Between 20 February 2012 and 6 December 2012 I worked 165 days. I thoroughly enjoyed my train crew experience. Made many friends and served countless customers on board.
The experience I gained in customer service and retail selling was priceless. Working for Virgin Trains was one of the best jobs I have done but decided to leave in December and move on to other things. I will alsways enjoy my time with this excellent company and employer.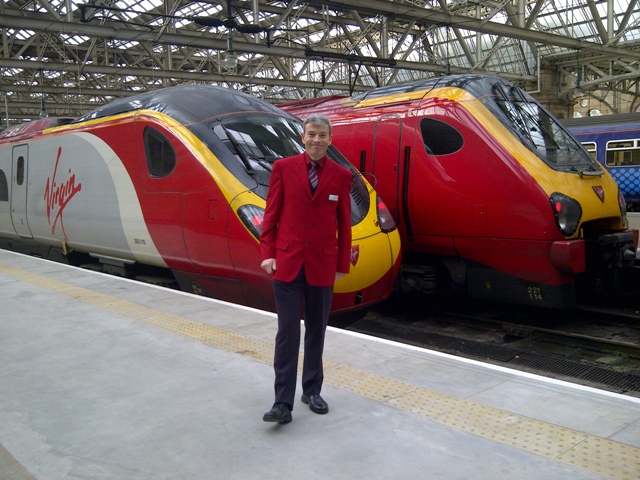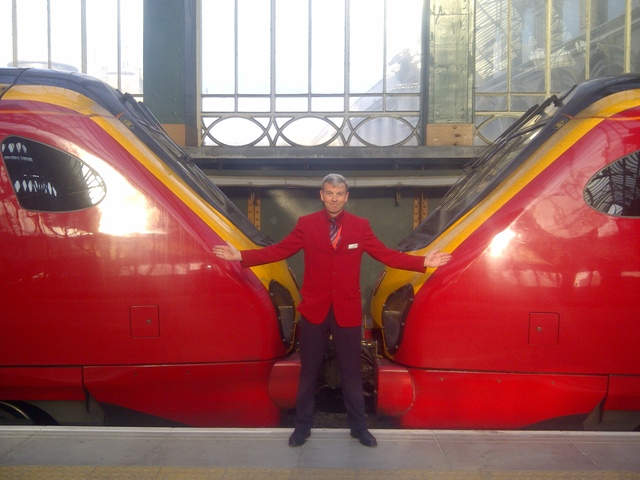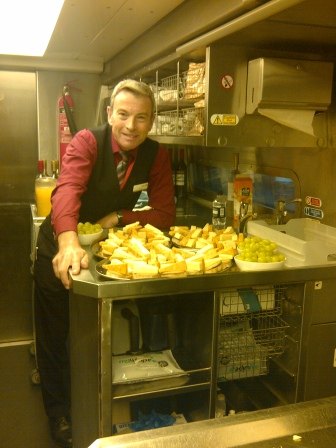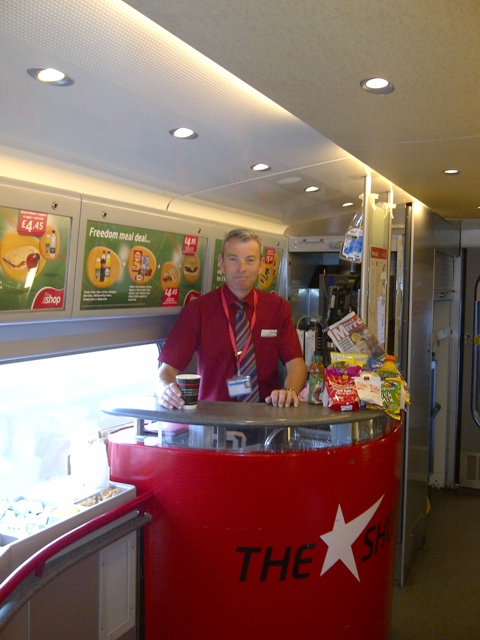 Working Diagrams
Wk
Day
Date
On
Off
41 Hours
Base
Dest 1
Dest 2
Dest 3
Dest 4
Dest 5
1
Monday-20-Feb-12
5.18
12.30
7:12
Preston
Warrington
Glasgow
Preston
2
Wednesday-22-Feb-12
5.18
12.30
7:12
Preston
Warrington
Glasgow
Preston
3
Thursday-23-Feb-12
6.26
12.54
6:28
Preston
London
Preston
4
Saturday-25-Feb-12
5.30
16.30
11:00
Preston
Lancaster
Birmingham
Glasgow
Preston
5
Sunday-26-Feb-12
10.28
23.13
12:45
Preston
London
Stafford
London
Preston
6
Tuesday-28-Feb-12
9.28
21.55
12:27
Preston
London
Liverpool
London
Preston
7
Wednesday-29-Feb-12
15.49
23.13
7:24
Preston
Liverpool
London
Preston
8
Saturday-03-Mar-12
6.49
19.30
0:00
Preston
Carlisle
London
Carlisle
Preston
9
Thursday-01-Mar-12
15.29
23.19
9:50
Preston
London
Liverpool
Preston
10
Sunday-04-Mar-12
8.30
19.55
0:00
Preston
London
Birmingham
London
Preston
11
Tuesday-06-Mar-12
7.28
19.53
12:25
Preston
London
Liverpool
London
Preston
12
Thursday-08-Mar-12
13.22
23.18
13:12
Preston
Edinburgh
Birmingham
Preston
13
Friday-09-Mar-12
15.49
23.13
7:24
Preston
Liverpool
London
Preston
14
Saturday-10-Mar-12
11.43
23.34
0:00
Preston
London
Liverpool
London
Preston
15
Monday-12-Mar-12
6.29
13.53
7:24
Preston
Manchester
London
Preston
16
Tuesday-13-Mar-12
6.26
12.54
6:28
Preston
London
Preston
17
Thursday-15-Mar-12
7.23
17.26
9:43
Preston
Edinburgh
Birmingham
Preston
18
Friday-16-Mar-12
7.28
19.53
12:25
Preston
London
Liverpool
London
Preston
19
Saturday-17-Mar-12
6.10
17.06
0:00
Preston
Carlisle
Edinburgh
Birmingham
Preston
20
Sunday-18-Mar-12
9.47
14.06
0:00
Preston
Birmingham
Preston
21
Monday-19-Mar-12
17.26
23.54
6:28
Preston
London
Preston
22
Tuesday-20-Mar-12
16.23
22.53
6:30
Preston
Glasgow
Preston
23
Wednesday-21-Mar-12
11.47
23.03
11:16
Preston
Birmingham
London
Birmingham
London
Preston
24
Thursday-22-Mar-12
12.28
23.54
11:26
Preston
London
Manchester
London
Preston
25
Friday-23-Mar-12
12.28
23.54
11:26
Preston
London
Manchester
London
Preston
26
Monday-26-Mar-12
4.43
10.53
6:10
Preston
London
Preston
27
Tuesday-27-Mar-12
6.46
18.45
12:19
Preston
London
Liverpool
London
Preston
28
Wednesday-28-Mar-12
7.23
17.06
9:43
Preston
Carlisle
Birmingham
Preston
29
Thursday-29-Mar-12
6.26
11.53
5:27
Preston
London
Preston
30
Friday-30-Mar-12
6.26
12.54
6:28
Preston
London
Preston
31
Saturday-31-Mar-12
11.28
21.41
9:25
Preston
London
Birmingham
London
Preston
32
Tuesday-03-Apr-12
12.12
19.53
7:41
Preston
Lancaster
London
Preston
33
Wednesday-04-Apr-12
7.23
17.06
0:00
Preston
Edinburgh
Birmingham
Preston
34
Thursday-05-Apr-12
12.12
19.53
7:41
Preston
Lancaster
London
Preston
35
Friday-06-Apr-12
10.32
17.53
7:21
Preston
Manchester
London
Preston
36
Saturday-07-Apr-12
8.38
19.13
11:05
Preston
Glasgow
Kilmarnock
Chester
Birmingham
Preston
37
Monday-09-Apr-12
11.47
21.05
9:18
Preston
Birmingham
London
Birmingham
Preston
38
Tuesday-10-Apr-12
7.28
12.54
5:26
Preston
London
Preston
39
Wednesday-11-Apr-12
10.00
14.00
40
Thursday-12-Apr-12
6.29
13.53
7:24
Preston
Manchester
London
Preston
41
Sunday-15-Apr-12
8.30
16.55
0:00
Preston
London
Preston
42
Monday-16-Apr-12
4.43
10.53
0:00
Preston
London
Preston
43
Tuesday-17-Apr-12
5.46
14.06
0:00
Preston
Birmingham
Preston
Crewe
Preston
44
Wednesday-18-Apr-12
4.43
10.53
6:10
Preston
London
Preston
45
Thursday-19-Apr-12
6.26
18.45
12:18
Preston
London
Liverpool
London
Preston
46
Friday-20-Apr-12
9.28
21.55
12:27
Preston
London
Liverpool
London
Preston
47
Monday-23-Apr-12
5.30
16.30
11:00
Preston
Birmingham
Glasgow
Preston
48
Tuesday-24-Apr-12
7.28
19.53
12:25
Preston
London
Liverpool
London
Preston
49
Friday-27-Apr-12
5.30
14.30
9:00
Preston
Crewe
London
Carlisle
Preston
50
Saturday-28-Apr-12
5.47
15.30
9:43
Preston
Birmingham
Edinburgh
Preston
51
Sunday-29-Apr-12
8.30
16.55
8:25
Preston
London
Preston
52
Monday-30-Apr-12
5.30
14.30
0:00
Preston
Crewe
London
Carlisle
Preston
53
Wednesday-02-May-12
4.43
10.53
6:10
Preston
London
Preston
54
Thursday-03-May-12
6.26
18.45
12:19
Preston
London
Liverpool
London
Preston
55
Friday-04-May-12
9.28
21.55
12:27
Preston
London
Liverpool
London
Preston
56
Monday-07-May-12
9.47
14.06
4:19
Preston
Birmingham
Preston
57
Tuesday-08-May-12
5.18
12.30
7:12
Preston
Warrington
Glasgow
Preston
58
Monday-14-May-12
9.28
20.53
11:25
Preston
London
Liverpool
London
Preston
59
Tuesday-15-May-12
10.32
23.16
12:44
Preston
Manchester
London
Chester
London
Preston
60
Thursday-17-May-12
7.23
17.06
9:43
Preston
Edinburgh
Birmingham
Preston
61
Friday-18-May-12
15.29
23.10
7:41
Preston
London
Liverpool
London
Preston
62
Monday-21-May-12
5.30
14.30
9:00
Preston
London
Carlisle
Preston
63
Tuesday-22-May-12
6.29
13.53
7:24
Preston
Manchester
London
Preston
64
Wednesday-23-May-12
5.30
14.30
9:00
Preston
London
Carlisle
Preston
65
Thursday-24-May-12
4.37
11.53
7:16
Preston
Lancaster
London
Preston
66
Friday-25-May-12
7.28
19.53
12:25
Preston
London
Liverpool
London
Preston
67
Monday-28-May-12
13.23
23.01
9:53
Preston
Edinburgh
Birmingham
Preston
68
Friday-01-Jun-12
16.23
22.52
6:29
Preston
Glasgow
Preston
69
Saturday-02-Jun-12
10.11
19.56
0:00
Preston
Oxenholme
Glasgow
Hellifield
Preston
70
Sunday-03-Jun-12
7.56
18.40
10:44
Preston
Crewe (TX)
Lancaster
Crewe
Lancaster
Preston
71
Monday-04-Jun-12
10.47
16.43
5:56
Preston
Chester
Birmingham
Chester
Preston
72
Wednesday-06-Jun-12
4.37
11.53
7:16
Preston
Lancaster
London
Preston
73
Thursday-07-Jun-12
16.23
22.52
6:29
Preston
Glasgow
Preston
74
Monday-18-Jun-12
10.32
23.16
12:44
Preston
Manchester
London
Chester
London
Preston
75
Wednesday-20-Jun-12
10.32
23.16
12:44
Preston
Manchester
London
Chester
London
Preston
76
Tuesday-19-Jun-12
16.28
21.55
0:00
Preston
London
Preston
77
Friday-22-Jun-12
13.28
23.54
11:26
Preston
London
Manchester
London
Preston
78
Monday-25-Jun-12
13.23
23.16
9:53
Preston
Edinburgh
Birmingham
Preston
79
Wednesday-27-Jun-12
4.43
10.53
6:10
Preston
London
Preston
80
Thursday-28-Jun-12
4.43
10.53
6:10
Preston
London
Preston
81
Friday-29-Jun-12
4.43
10.53
6:10
Preston
London
Preston
82
Saturday-30-Jun-12
11.43
23.34
11:51
Preston
London
Liverpool
London
Preston
83
Monday-02-Jul-12
4.37
11.53
7:16
Preston
London
Preston
84
Tuesday-03-Jul-12
4.37
11.53
7:16
Preston
London
Preston
85
Wednesday-04-Jul-12
5.30
16.30
11:00
Preston
Lancaster
Birmingham
Glasgow
Preston
86
Monday-09-Jul-12
5.46
14.06
8:20
Preston
Birmingham
Preston
Birmingham
Preston
87
Tuesday-10-Jul-12
5.30
11.53
6:23
Preston
London
Preston
88
Wednesday-11-Jul-12
5.46
14.06
8:20
Preston
Birmingham
Preston
Birmingham
Preston
89
Thursday-12-Jul-12
5.46
14.06
8:20
Preston
Birmingham
Preston
Birmingham
Preston
90
Friday-13-Jul-12
5.18
12.30
7:12
Preston
Warrington
Carlisle
Preston
91
Monday-16-Jul-12
7.28
19.53
12:25
Preston
London
Preston
92
Tuesday-17-Jul-12
7.28
19.53
12:25
Preston
London
Liverpool
London
Preston
93
Friday-20-Jul-12
6.29
14.53
8:24
Preston
Manchester
London
Preston
94
Saturday-21-Jul-12
11.23
21.14
9:51
Preston
Edinburgh
Wolverhampton
Preston
95
Monday-23-Jul-12
7.28
13.53
6:25
Preston
London
Preston
96
Tuesday-24-Jul-12
11.47
23.08
11:21
Preston
Birmingham
London
Birmingham
London
Preston
97
Wednesday-25-Jul-12
16.23
22.52
6:29
Preston
Glasgow
Preston
98
Thursday-26-Jul-12
11.11
23.16
12:05
Preston
Carlisle
Birmingham
Preston
Birmingham
Preston
99
Friday-27-Jul-12
17.41
23.54
6:13
Preston
London
Preston
100
Monday-30-Jul-12
8.28
20.53
12:25
Preston
London
Birmingham
London
Preston
101
Tuesday-31-Jul-12
14.11
20.10
5:59
Preston
Glasgow
Preston
102
Wednesday-01-Aug-12
10.00
13.30
103
Thursday-02-Aug-12
4.43
10.53
6:10
Preston
London
Preston
104
Friday-03-Aug-12
14.11
20.10
5:59
Preston
Glasgow
Preston
105
Monday-06-Aug-12
6.26
19.28
12:19
Preston
London
Liverpool
London
Preston
106
Tuesday-07-Aug-12
8.57
18.06
9:09
Preston
Crewe
London
Chester
Crewe
Preston
107
Wednesday-08-Aug-12
6.29
13.53
7:24
Preston
Manchester
London
Preston
108
Thursday-09-Aug-12
7.28
19.53
12:25
Preston
London
Liverpool
London
Preston
109
Tuesday-14-Aug-12
6.26
19.16
12:50
Preston
London
Birmingham
London
Preston
110
Wednesday-15-Aug-12
7.28
12.53
5:25
Preston
London
Preston
111
Thursday-16-Aug-12
6.54
19.29
12:35
Preston
Manchester
London
112
Friday-17-Aug-12
9.28
20.53
11:25
Preston
London
Liverpool
London
Preston
113
Monday-20-Aug-12
6.54
19.29
12:35
Preston
Manchester
London
Preston
114
Wednesday-22-Aug-12
6.54
19.29
12:35
Preston
Manchester
London
Preston
115
Saturday-25-Aug-12
11.23
21.14
9:51
Preston
Edinburgh
Wolverhampton
Preston
116
Sunday-26-Aug-12
10.28
22.58
117
Monday-27-Aug-12
13.23
23.16
9:53
Preston
Edinburgh
Birmingham
Preston
118
Wednesday-29-Aug-12
15.49
23.08
7:19
Preston
Liverpool
London
Preston
119
Friday-31-Aug-12
6.26
19.16
12:50
Preston
London
Birmingham
London
Preston
120
Tuesday-04-Sep-12
6.54
19.29
12:35
Preston
Manchester
London
Preston
121
Wednesday-05-Sep-12
9.28
20.53
11:25
Preston
London
Liverpool
London
Preston
122
Thursday-06-Sep-12
13.44
21.37
7:53
Preston
London
Liverpool
Preston
123
Monday-17-Sep-12
4.43
10.53
6:10
Preston
London
Preston
124
Tuesday-18-Sep-12
5.30
16.30
Preston
London
125
Wednesday-19-Sep-12
6.26
18.45
Preston
London
Liverpool
London
Preston
126
Thursday-20-Sep-12
7.28
12.53
Preston
London
Preston
127
Friday-21-Sep-12
4.37
10.53
Preston
London
Preston
128
Monday-24-Sep-12
7.28
12.54
5:26
Preston
London
Preston
129
Tuesday-25-Sep-12
11.47
23.08
11:21
Preston
Birmingham
London
Birmingham
London
Preston
130
Wednesday-26-Sep-12
16.23
22.52
6:29
Preston
Glasgow
Preston
131
Thursday-27-Sep-12
11.47
23.08
11:21
Preston
Birmingham
London
Birmingham
London
Preston
132
Friday-28-Sep-12
17.41
23.54
6:13
Preston
London
Preston
133
Monday-15-Oct-12
5.18
12.30
7:12
Preston
Warrington
Glasgow
Preston
134
Tuesday-16-Oct-12
4.43
10.53
6:10
Preston
London
Preston
135
Wednesday-17-Oct-12
4.43
10.53
6:10
Preston
London
Preston
136
Thursday-18-Oct-12
5.18
12.30
7:12
Preston
Warrington
Glasgow
Preston
137
Saturday-20-Oct-12
6.59
18.30
11:31
Preston
Carlisle
Carlisle
London
Carlisle
Preston
138
Sunday-21-Oct-12
10.28
23.13
12:45
Preston
London
Liverpool
London
Preston
139
Monday-22-Oct-12
16.23
6.40
16:00
Preston
Glasgow
Oxenholme
Carlisle
Preston
140
Wednesday-24-Oct-12
17.26
23.54
6:28
Preston
London
Preston
141
Friday-26-Oct-12
7.23
17.06
9:43
Preston
Edinburgh
Birmingham
Preston
142
Monday-29-Oct-12
7.00
15.00
Preston
Crewe
Preston
143
Tuesday-30-Oct-12
4.43
10.53
6:10
Preston
London
Preston
144
Wednesday-31-Oct-12
7.28
19.53
12:25
Preston
London
Liverpool
London
Preston
145
Friday-02-Nov-12
7.28
19.53
12:25
Preston
London
Liverpool
London
Preston
146
Monday-05-Nov-12
5.46
14.06
8:20
Preston
Birmingham
Preston
Birmingham
Preston
147
Tuesday-06-Nov-12
4.43
10.53
6:10
Preston
London
Preston
148
Wednesday-07-Nov-12
4.43
10.53
6:10
Preston
London
Preston
149
Thursday-08-Nov-12
5.46
14.06
8:20
Preston
Birmingham
Preston
Birmingham
Preston
150
Friday-09-Nov-12
5.18
12.30
7:12
Preston
Warrington
Glasgow
Preston
151
Monday-12-Nov-12
9.28
20.53
11:25
Preston
London
Liverpool
London
Preston
152
Wednesday-14-Nov-12
7.28
19.53
12:25
Preston
London
Liverpool
London
Preston
153
Friday-16-Nov-12
4.37
11.53
7:16
Preston
London
Preston
154
Saturday-17-Nov-12
6.25
14.06
7:41
Preston
Carlisle
Birmingham
Preston
155
Monday-19-Nov-12
6.26
18.45
12:19
Preston
London
Liverpool
London
Preston
156
Tuesday-20-Nov-12
8.28
20.53
12:25
Preston
London
Birmingham
London
Preston
157
Wednesday-21-Nov-12
13.23
23.16
9:53
Preston
Edinburgh
Birmingham
Preston
158
Friday-23-Nov-12
7.23
17.06
9:43
Preston
Edinburgh
Birmingham
Preston
159
Monday-26-Nov-12
9.28
21.55
12:27
Preston
London
Liverpool
London
Preston
160
Friday-30-Nov-12
6.26
12.54
6:28
Preston
London
Preston
161
Saturday-01-Dec-12
6.25
14.06
7:41
Preston
Carlisle
Birmingham
Preston
162
Sunday-02-Dec-12
10.21
22.50
12:29
Preston
Carnforth
Birmingham
Glasgow
Preston
163
Tuesday-04-Dec-12
9.28
21.55
12:27
Preston
London
Liverpool
London
Preston
164
Wednesday-05-Dec-12
15.49
23.08
7:19
Preston
Liverpool
London
Preston
165
Thursday-06-Dec-12
15.29
23.10
7:41
Preston
London
Liverpool
Preston