Stockholm Marathon
Stockholm, Sweden
Saturday, 3 June 2006
I have visited Stockholm twice before as my wife's French school exchange pal, Brigitte Hjortblad now lives there having emigrated there in the early 1990's. It is a lovely City and the Swedish people are always very warm and welcoming.
So it was appropriate therefore that I should complete a marathon in this City at some time sooner than later. We flew there on the Thursday and spent a couple of days acclimatising in the lovely 80 degree sunshine.

Registration
This was in a large enclosure behind the 1912 Olympic Stadion. A fairly small exhibition area, very well organised and had everything one needed to register for the race. Included were a number of trade stands and other City marathon stands to whet the appetite for next time!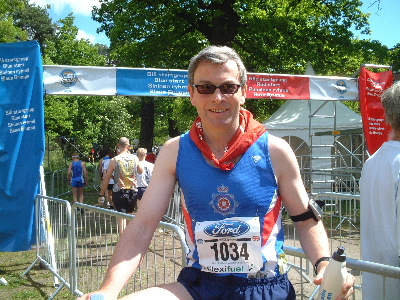 Race Day
What an excellent time to start a race - very civilised at 2.15 pm on a Saturday afternoon. Again, a very well organised set-up. my race number was colour coded and there was a strict entry limit to the four different enclosures.
Considering there were some 14,000 starters the start assembly area was very civilised, trouble free, plenty of free space and probably the most laid back I've seen.
My wife, our friend Mike Marsland and I spent the hour before the race very relaxed allowing time to gently take on water and relax. Tremendous!
Twenty minutes before the start I entered the start enclosure. The heat of the day was rising into the 80's so I prepared well with plenty of sun block and my trusty Barbados neck scarf for protection. Again, in the start area I found it to be spacious with no pushing and room to do some last minute stretching.

The Race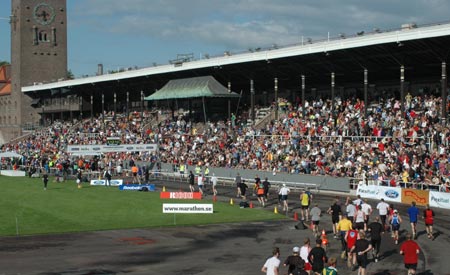 When the gun went off I was able to get up to speed without any crowding and able to wave to my wife and friend as I was swept away through the streets of Stockholm.
What an excellent course! Very interesting passing many of the sights of the City. Plenty of drink and food stations and the crowd support was excellent. It was almost a two lap course apart from some sections that were different from the first making it more interesting second time.
The predominantly flat apart from a long climb (twice) over the Västerbron Bridge. By the second lap the heat of the day was rising but a cool breeze from the sea kept it bearable and in fact a most enjoyable 26.2 mile run.
I entered the 1912 Olympic Stadion with the hairs on the back of my neck tingling. A mementos finish and luckily spotted my wife and Mike in the crowd. I was pleased with my 3.40 time achieved despite some sciatic pain and the warm conditions.

Results
Results
Bib no
1034
Name
Steven Broadbent
Born
59
Group
Män
Team/Country
England
Position
2147
Time
3.40.53
Gross time
3.41.56
Average pace
5.14/km
Distance
Total time
Lap time
Pace
Pos
5 km
0.24.50
24.5
4.57/km
2374
10 km
0.48.47
23.57
4.47/km
2220
15 km
1.13.41
24.53
4.58/km
2330
Half marathon
1.45.44
32.03
5.15/km
2567
25 km
2.05.09
19.24
4.58/km
2376
30 km
2.32.05
26.56
5.23/km
2351
35 km
2.59.46
27.4
5.32/km
2228
40 km
3.28.22
28.36
5.43/km
2124
Finish
3.40.53
12.3
5.41/km
2147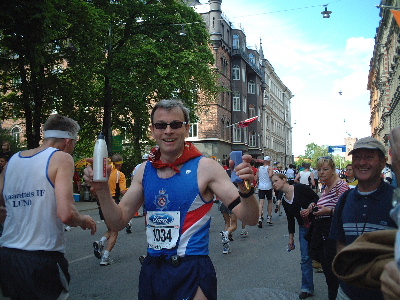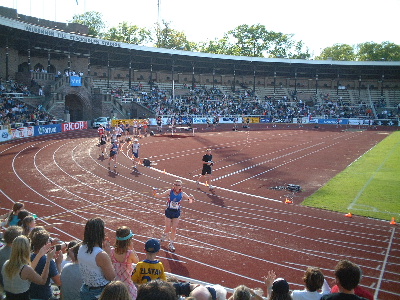 Thinking of Running the Stockholm marathon?
Marathon Score Ratings

Organisation of:

Registration - 9/10

Start/Finish - 10/10

Course - 9/10

Location

Registration - 8/10

Start/Finish - 8/10

Course - 8/10

Overall

Recommended - 9/10

Trip Costs

SAS Airways Flights - Manchester - Stockholm - Used Airmiles cost us only £30 taxes - Normal price £140 Ryanair are cheaper costing £30 to £60.

Accommodation - Stayed with friends - Hotels cost around £60 - £80 a night

Marathon Entry Fee - £30

Links

Further Information

Contact: Steve Broadbent