PDSA
My chosen charity is the Peoples Dispensary for Sick Animals. This is a small charity organisation who support people who cannot afford to pay vets fees when their pet becomes ill or injured. Pets can give people a good deal of pleasure and are ideal companions for the elderly who may not always be able to afford expensive vets fees.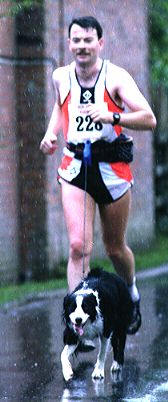 As a dog owner myself, I know how much benefit you can get from a pet. My dog, border collie, Cass is an ideal training partner and has also competed in one or two races.
My previous dog, Moss ran with me in the 1995 New Forest Marathon when we finished the course in 3.21. We were greeted at the finish of the race by the race VIP - Only Fools and Horses star, the late Buster Merryfield.
As I run four or five marathons a year I do not fundraise for every event as it hard work and I do as I think you can overdo it. However, I sport the PDSA vest in the London Marathon each year and make a personal donation to the charity.
My last big fundraising event was in 2003 when I ran from Paris to London and I raised £507 for the PDSA.
In the next couple of years I intend to take on another big marathon task when I will run again for the PDSA.


PDSA Website